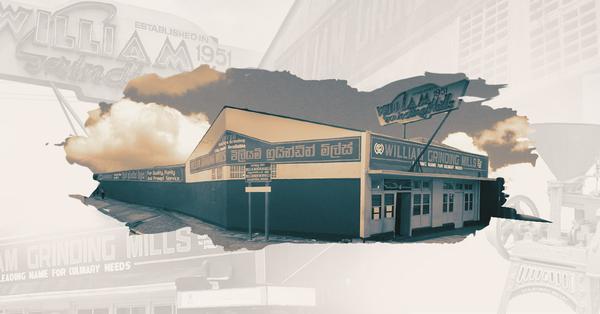 With its neon red and green signage lighting up the night, William Grinding Mills in Dehiwala was a familiar landmark down the old Colombo-Galle road. It was one of those buildings that older people in the family would point out when passing by, sharing anecdotes of how their grandparents would get their spices ground from the mill. Going by its word-of-mouth fame, the mill was often considered the best of its kind in Colombo—or even in the country.
A local landmark since 1951, the Williams Grinding Mills' building has remained largely unchanged by time. The notice announcing its closure at the end of June, therefore, came as a shock to many.
The history of Williams Grinding Mills dates back to the era before packaged goods became the norm, and flour and spices were still ground by hand. "Most villages had the pounding of rice [at each homestead], to make flour," historian Frederic Medis told Roar Media "The rice was first boiled and then dried. It would later be pounded to make rice flour. This was how the grinding of spices began."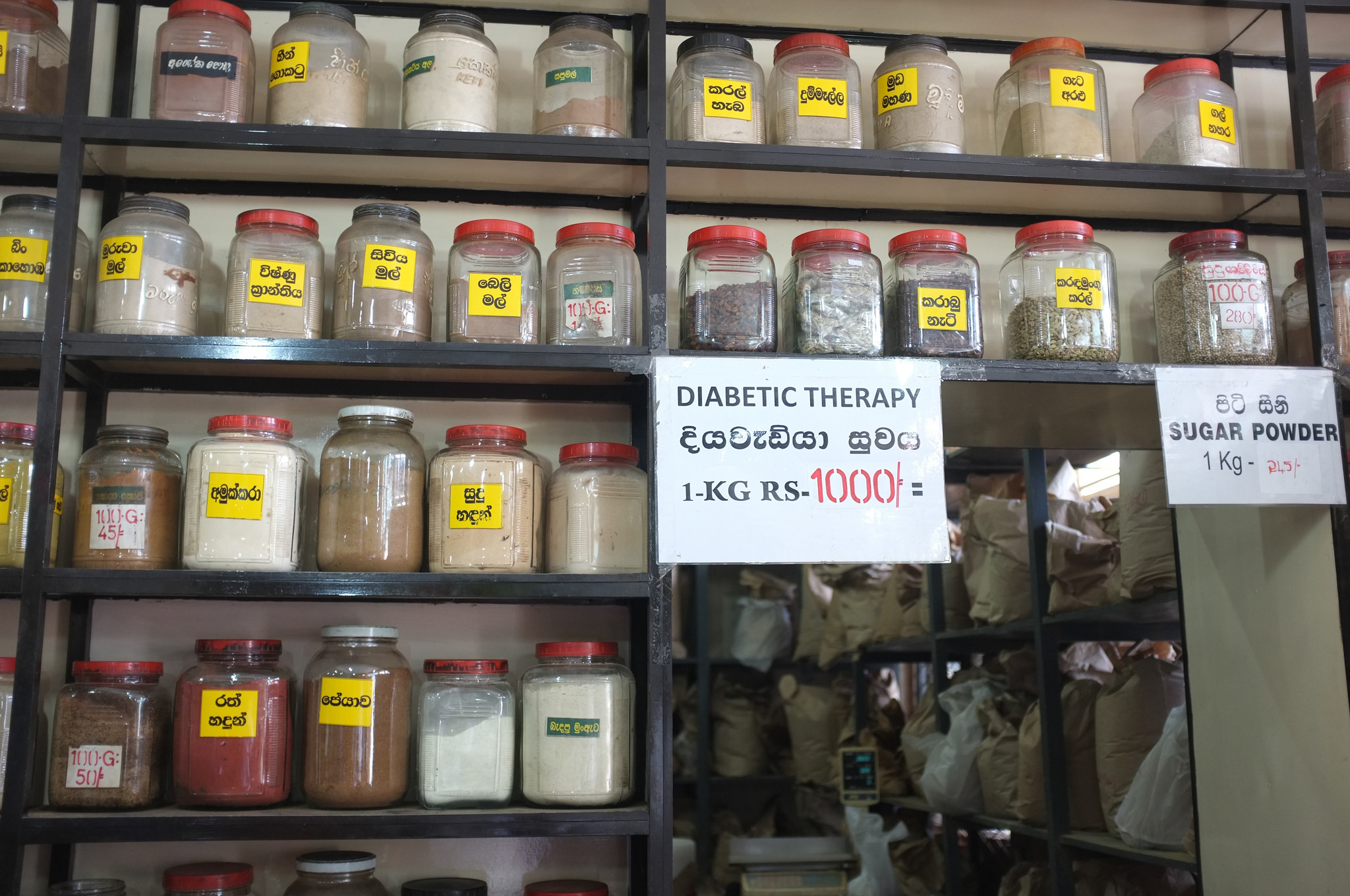 Coffee Vs Spice
While Williams Grinding Mills also ground coffee beans, this wasn't always the case, Medis said. According to him, there were between 30-40 'coffee houses' which specialised in collecting, grinding, and distributing coffee beans all over Colombo.
The spice mills had special designated functions.
"Most spice mills were outstation," Mendis said, while the coffee houses were located in the city. However, this changed when mechanised spice mills started opening up around the city. Many have since run out of business and shut down.
From pepper and chilli to turmeric and even Maldive fish, the mills ground all sorts of condiments., Their repertoire ranged from curry powder to sugar and powders for 'diabetic therapy'.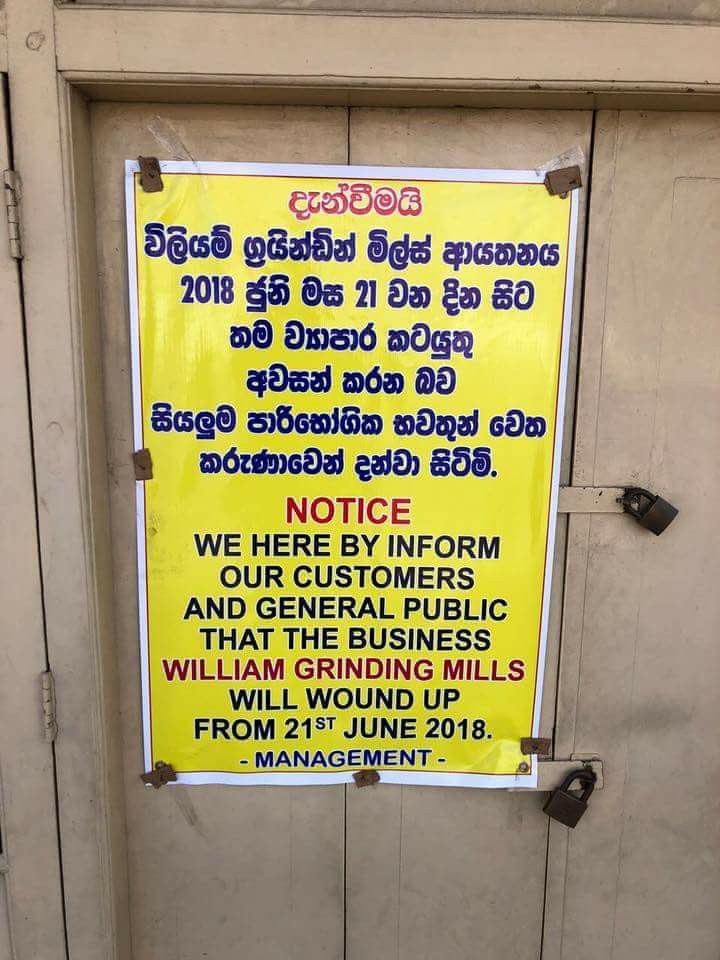 Changing Neighbourhoods
William Grinding Mills wasn't just a nostalgic memory — for the little businesses in the area, it was also a means of attracting customers.
Jayasena has been vending fruit outside the mill for 16 years now. He sells pani dodang (oranges) and mangoes, and has noticed a drop in customers over the last month, since the mill shut down.
"Whenever people used to come to get their spices ground, or to buy something, they would almost always stop by here and buy something from me as well," he told us. The losses he faces amount to around Rs. 3,000 per month, as his customers are now mainly passers-by. He is unsure of whether he will be able to continue his business in the same location, or if he would have to eventually move elsewhere.
"I think I'll stay here for another month or two and see how things are. If there is no improvement, I might just go home," Jayasena said.
He is saddened by the mill's closing, not only because it helped boost his income, but also because of how long it had been around.
This sentiment was also shared by Dr. M. Anton, proprietor of the optical store opposite the mill.
"Our customers would often park here and then ask us if it was okay to keep the vehicle for a few minutes longer, while they went to the mill across the road. The mill also made it really easy for us to give directions to new customers, because of what a prominent landmark it was. There was a sense of community associated with it—it's sad that it has been sold now," she said.
For her, and many other customers who dropped by when Roar Media visited, the sale of the mill was unexpected. However, one of the street vendors located near the mill, informed us on the condition of anonymity that the owners of the mill had been trying to sell the property over the last year, but that the deal had been finalised only recently.
According to the vendor and other salespeople in the neighbourhood, the mill was sold to a vehicle motor company, and will be converted to a showroom in due course.
Customers Left Guessing
The neon signage has been taken down now, and the doors and windows are barred. Bits of paper and rubbish litter the entryway, and the sign which announced its closure just over a month ago, is now missing.
Regular customers seem to be unaware that the mill has ceased operations, and arrive at its closed doorstep with bags full of dried black pepper and chillies. They then ask the fruit vendor when the mill will open again, and are shocked to learn that it will not.
"I have been coming here for the past 20 years," said Balasubramanium, a grocer. "I had no idea this was closed. It's very sad. This is where I get all my spices mixed and ground every month. We make it the Jaffna way, heated and ground at perfect temperatures so there's a distinct flavour to our food—and this was the best place to grind them." "No mixing happened here, it was pure," he said, no doubt echoing the sentiments of the mill's many loyal customers.
No one seems to know why exactly the business was sold. The last customer we spoke to alleged that a dispute between the brothers who owned the mill led to its sale, while others merely claimed that it was bought out for a good price. We were unable to contact the owners for a clarification.