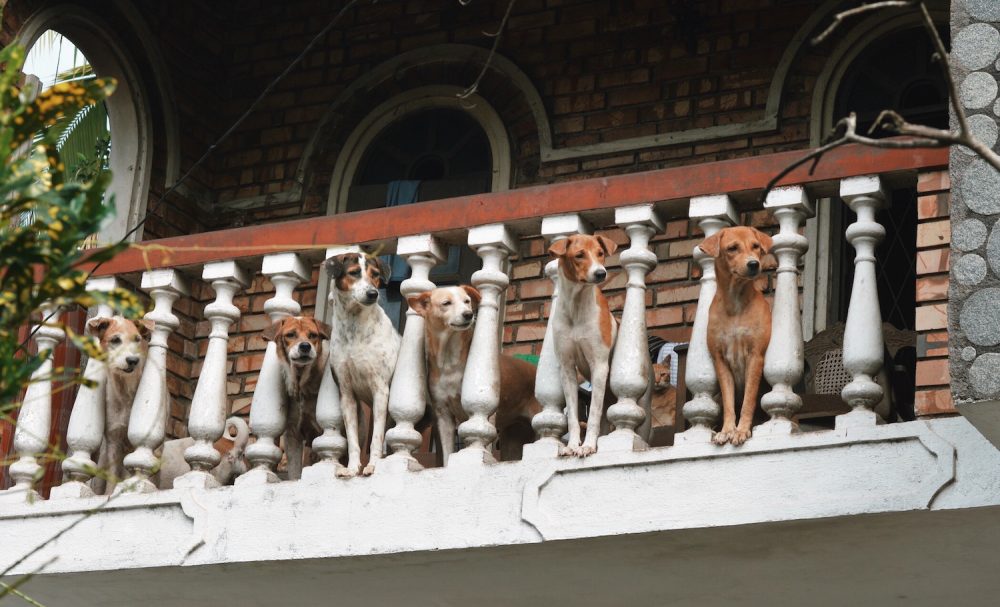 Not many people may notice an ageing widow who lives on her own in a decrepit house outside of the city, and looks after about 17 dogs every day. Some may think that what she's doing is a trifle, but these are likely to be people who don't own dogs. For, truth be told, we're not just talking about sheltering them: we're talking about feeding, bathing, and grooming them, regularly taking them to the vet (not the easiest thing to do if you don't own a car or van and if the nearest vet is 20 minutes away), and yes, having someone who can fund all these. There's an ageing widow who does all this without any funds. She isn't grumbling.
Her name is Nandani Gallage, and she lives in Piliyandala, more specifically in Wewala. The last time this writer met her, she said that she couldn't remember a time when she wasn't taking care of a dog or puppy. "I started with four street dogs near my house, back when my husband was still alive. Word got around that a woman was taking care of dogs that were being dumped on the road. I guess people thought I'd take care of their dogs better than they could, because as the months dragged on, the number kept on increasing." Problems tend to multiply in more ways than one, she said: there was one dog she'd taken into her care that apparently gave birth to 10 pups.
House Full
Her house isn't in the best condition today, not surprisingly. As you enter it you come across the inevitable stench, and dogs running, barking, and sleeping everywhere, even in the kitchen! "They haven't left a single chair or mattress intact, bless them!" she beams, and then sobers. "Things would have been much better if my husband was with me, but he died three years ago, and so financing all this has become a big problem."
Initially, she hadn't thought of how to fund her little shelter, and she even had to borrow from neighbours: "I remember getting Rs. 4,000 from one of them, but that was some time back. I don't borrow money anymore, not because they won't lend me, but because I can't bring myself to ask for more." She has a daughter who sends her what she can, but that clearly isn't enough.
What strikes one about Nandani is that she's absolutely devoted to her dogs. Twice this writer suggested to her that she'd do better if she was to hand them over to various NGOs or shelters that have the bucks to spend on them, and twice she refused. "I've been with these dogs for more than two years now. It's hard, I know, and you may think I'm mad, but I just can't bear the thought of parting with them," she explains. Friends have come and gone and she has received a number of calls from people who've promised to help her out, but in two cases out of three they've come to nothing.
The Struggle For Sustenance
"I used to buy rice-crumbs from a nearby shop that sold them for Rs. 30 a kilo. I asked them as to why or how they cost so much when a kilo of normal rice costs around Rs. 70, but their argument was that those crumbs would sell in the market for Rs. 40 a kilo!" The 'rice-crumbs' she's been given all this while is what you'd have expected: a flea-and-dirt infested mess that shopkeepers sweep to a corner and collect every day.
She's no stranger to tragedy, that much is clear. Her husband had once lent some Rs. 2 million to a colleague of his, which he had used to go to Naples. The colleague hadn't returned the money (even when her husband was ill and in need of medical attention towards the end of his life), and when, after her husband's death, Nandani had asked him  for the money, he had agreed to pay about Rs. 7,000 a month. "He hasn't paid a cent to this day," she tells me, adding that she's given up hope on that count now.
How Can We Help?
Nandani would need food for the dogs, or money to buy food, but some would suggest that she shouldn't just take on dogs who are dumped by her doorstep. After all, one of the most common reasons for the stray dog problem in Sri Lanka is that people keep dumping them in public places. People like Nandani have good intentions, and they aren't hard to come by, but all too often they're preyed on by those who want a quick fix for their unwanted puppies.
Her biggest challenge, hence, would be to build a self-sustaining model which meets her needs and those of her canine friends, but then that begs the question: how? Ask people about a workable solution and they'll give you the same answer: "Give the dogs away." That's not something she's willing to agree to, of course. The only plausible solution would then have to be charity.
Nandani clearly has survived on charity, but this intriguing lady who lives alone and fends for herself (except for help from her daughter) and these dogs needs more. Words aren't enough to explain what she does every day – it's a marvel, at one level, for a woman of her position to sacrifice so much for some street dogs – but at the end of the day, all guesses are that helping her is the best way we can acknowledge what she's doing. She refuses to call her house a 'dog shelter' – she prefers not to label what she's doing – but if it were a shelter, it certainly is overcrowded today. And she's still not grumbling.
If you'd like to help Nandani and her pooches, she can be contacted on 0725235416.
Featured image credit: Roar.lk/Minaali Haputantri