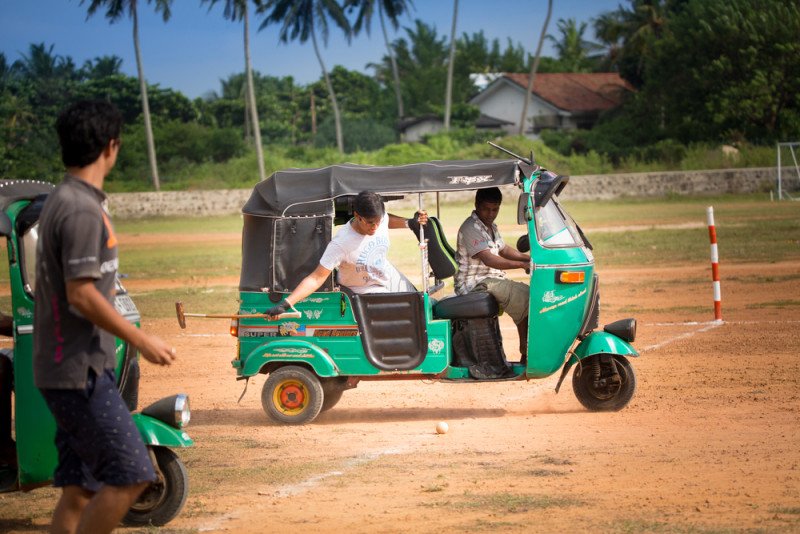 If, a few years ago, anyone had predicted that the trundling little tuk tuk would one day star in its very own sport, we'd have found it a little hard to believe. The three-wheeler, or tuk tuk as it is fondly known for the sputtering sound made by its engine, is many things: quick, nippy, nimble in traffic, easy to park, the one mode of transport we just can't do without; but sporty? Um… not so much. However, it appears that all you need is a bit of imagination, some creative thinking, and a guy like Geoffrey Dobbs at the helm, and voila! We have ourselves a whole new unique sport: tuk tuk polo!
It sounds a little like the punch line of a bad joke (what has three wheels, four arms, and a mallet? A three-wheeler in a tuk tuk polo match), but this wacky sport is very real, and if you head down to Galle this Valentine's season, you can witness the whole crazy spectacle for yourself.  We've seen tuk tuks perform all kinds of impressive stunts on our Sri Lankan roads, from speeding and overtaking, to packing ten-odd people in its back seat and navigating through non-existent spaces in traffic, but never before has the world seen something like this. In fact, it looks a little insane, all these tuk tuks charging across the terrain, kicking up clouds of sand as the mallet wielding players attempt to take whacks at the ball, but once you have gotten over the quirkiness of the whole thing, you will notice that everyone, from the umpire and the players to the tuk tuk drivers, look like they are having the time of their lives. No matter if half the people in the fray are of foreign nationality; there is something irresistibly, blissfully Sri Lankan about the scene that makes you feel like packing your bags and going straight over there to be a part of the fun.
Tuk Tuk Polo ‒ How It All Began
The concept is bizarre, unique, and just plain weird, but nobody can say it isn't fantastic. This wacky new sport was founded by Anglo-Australian expat Geoffrey Dobbs, the same guy who brought us The Galle Literary Festival. On the lighter side of things, not only did he introduce the game of Elephant polo (basically, a game of polo using elephants instead of horses, a pretty cool idea, though I doubt animal rights activists would agree), which is strange enough, but he also went one step further and came up with something even crazier ‒ tuk tuk polo.
The first tuk tuk polo tournament was played in March 2013 at the Galle Dutch Fort, followed by the second one last year, in 2015, and the response seems to be promising. Organised by the Ceylon Polo Club, the game certainly seems to have generated a lot of enthusiasm among foreigners and locals alike, with many people showing interest in the next event, which is happening soon in Galle, on the 19th of this month.
How Is It Played?
The whole thing sounds pretty impractical… how the heck do you play polo in a three-wheeler? But it turns out that it works perfectly well. Tuk tuk polo is exactly what its name implies ‒ a game of polo played from the back seat of a trishaw rather than the back of a horse, or elephant. After all, if you can do it on horseback and elephant-back, why not in a tuk-tuk?
The game comprises of three players per team. Each vehicle is manned by a driver, with the player taking up position in the back seat (while you can handle the horse and the mallet at the same time, the same cannot possibly be said of the tuk tuk. Not unless you want to end up wrapped around one of the goal posts). Tuk tuk polo makes use of the speed and easy maneuverability of the trishaw, the exceptional navigational skills of the driver, and some really brilliant hand-eye coordination from the players, to score by whacking the ball into the opponent's goal.
In spite of its quirky nature, tuk tuk polo comes with its own set of rules and regulations, just like any other sport. Games are supervised by an umpire and are open to both males and females, though to quote the rule set down by the Ceylon Polo Club, "Gentlemen may only play with their right hand, while ladies may use both hands. In the event of a dispute about a player's sex, the umpire's decision will be final." (Well, they certainly seem to have thought of everything). Acts that constitute a foul include hooking the opponent's stick, deliberately crossing a tuk tuk from which the ball is being played, and intentional hitting of opponents or the umpire, though they hasten to assure us that hitting a team member is encouraged. Anything for some entertainment!
All that said, tuk tuk polo definitely trumps regular polo in some aspects, especially in Sri Lanka. After all, a tuk tuk doesn't need feeding, grooming, stabling, and exercise; nor is it likely to get skittish, tired, nervous, or strained during a game. All it needs is re-fuelling now and then, with a few occasional repairs. Plus, maintaining a tuk tuk wouldn't cost half as much as it would to maintain horses, which is a pretty expensive business in this country. Besides, tuk tuk polo is definitely a ten on the fun scale. Just take a look at the players and drivers ‒ they simply can't seem to wipe those grins off their faces!
If you are interested in tuk tuk polo, or want to find out more about the upcoming event, you can get more information on the website www.tuktukpolo.com, or check out their Facebook page.