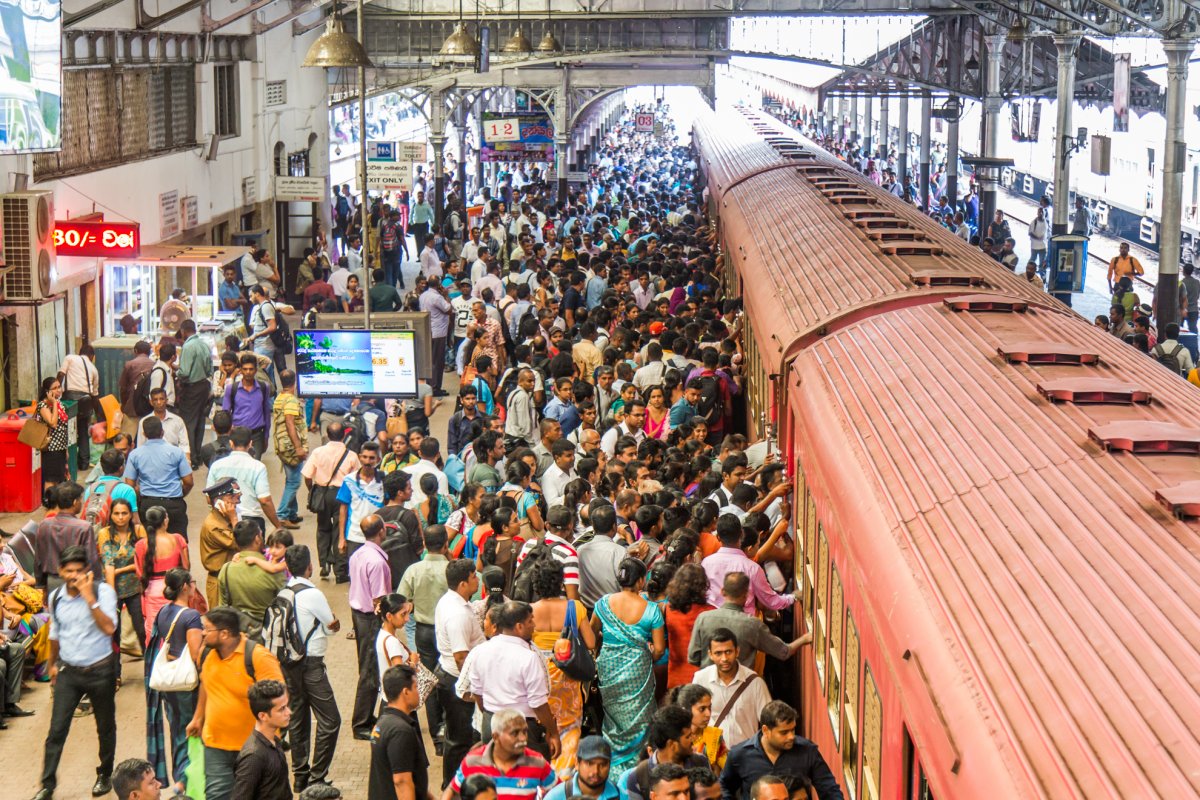 Picture a ride on what is considered one of the world's most beautiful train journeys, which takes you through a variety of landscapes: eucalyptus and pine forests, carefully cultivated tea plantations, and mountains swathed in greenery. The Colombo-Badulla railway route, which winds its way through the Kandyan hills and beyond, is famed as one of the must-dos when in Sri Lanka. What many travellers—both locals and foreigners— don't anticipate is that the adventure begins with trying to book  tickets for the train. Many are also unprepared for how uncomfortable the journey is, devoid of most amenities.
Upgrades And Challenges Over The Last Two Centuries
"…one had to go to the station and book directly, and I had to send a [Sri Lankan] friend of mine to book our tickets." – Urvashi Prakash, tourist.
It would be unfair—and inaccurate—to say that the railway sector has not been developed since its inception in the 1800s. What started primarily as a service to transport goods for the British government, slowly fell into disuse as road systems developed and industries opted to use them instead. Over time, the main use of trains was to commute cheaply, especially over long distances. Railway ticket prices remain at subsidised prices, with fares per kilometre starting from 50 cents and only going up to Rs. 2.
This means that you can get to Jaffna for around Rs. 300 for a third-class carriage. Likewise, it is only ten rupees from the Hunupitiya Station to Fort — a ride which costs close to Rs. 30 if you're taking the bus.
While the subsidies make trains the most affordable means of public transport, they also make it impossible to upgrade the railway system, especially as the sector runs on losses.
According to the think tank Advocata, Sri Lanka Railways has been losing money since 1947.  Costs exceed revenues, while revenues are insufficient to cover employees salaries.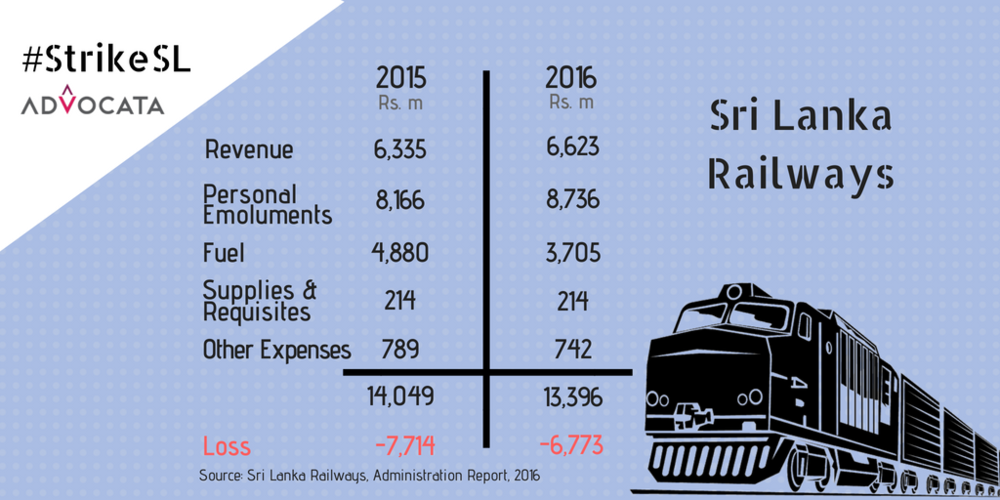 Upgrades have been few and far between, and do very little to make one's commute convenient and hassle-free. According to S.M Abeywickrama, Railways General Manager, nine carriages have been renovated recently. He informed the media that more renovations were underway, with help from the private sector. However, the changes seem negligible as the trains are poorly maintained, with extremely filthy toilets that are rarely clean.
As far as the trains themselves go, all locomotives within the system are over ten years old — with the exception of several diesel locomotives and DMUs (Diesel Multiple Units), which were purchased in 2013.
For Urvashi Prakash, her trip to Sri Lanka was marred because of uncomfortable, and daunting rail experiences.    
"You can see that some of these carriages are straight from colonial times," regular rail commuter, Nadeesha Paulis, said. "Some of them are really old, rusted, and barely moving. Others, if you take the AC once which go to Nuwara Eliya, are super comfortable. You can barely feel the bumps and rattles."
According to Paulis, stations in destinations popular among tourists are beautifully maintained. She highlights the Mount Lavinia railway station as a prime example: "It's quite good, clean toilets and all that, and the [Mount Lavinia] hotel takes care of it," she says.
Using trains adds at least two hours to her day, and costs half of what commuting in the bus would, making this her preferred mode of transport. She observes that improving the railway sector will ease traffic on the road, and encourage people to use public transport with regularity. If the government were to focus on this, she says, congestion and pollution within Colombo would probably reduce drastically, as "everyone who uses their car can just switch to trains — it's much faster also."
However, speed isn't the only factor at play here: there needs to be reliability and punctuality, which Sri Lanka's railway service lacks. While Paulis prefers trains over buses— to stretch both time and money—relying on regular service is impossible. "The trains are not on time, and it's almost always on strike…there's one at least once or twice a month," she says.
"Privatise the train service, we had enough of these protests" angry Train passengers launch protest opposite Colombo Fort Railway Station against sudden strike action by railway trade unions at 3pm today without any prior notice over a Salary issue pic.twitter.com/WGeaUDS4qx

— Azzam Ameen (@AzzamAmeen) August 8, 2018
Data sourced by Advocata reveals that only 42% of trains run on time.
Why Private Companies Can't Operate Here

Some of the old carriages were given a makeover by a few private luxury operators in 2011; the coaches were air-conditioned, carpeted, had more comfortable seating, and provided meals as well. Two well-known operators were Exporail and Rajadhani Express, which targeted tourists and wealthier patrons. Both coaches began services from Colombo to Kandy; Exporail then expanded to Vavuniya, Trincomalee and Badulla, while the Rajadhani Express covered Matara and Badulla. The websites of both services are now defunct.
According to Exporail's Facebook page, they suspended operations in April 2017 before winding them up in November that year.
According to most sources we interviewed, privatisation is near impossible because of politicisation, and trade unionists wanting to monopolise the service sector.
"Exporail and Rajadhani are not in operation," a source said. "Expo pumped five million into five carriages, refurbished, and operated these carriages as a luxury service. Despite the carriages being luxurious, the rail tracks were faulty."
This was out of the control of  private operators —as were frequent delays in services and strikes by trade unionists.
Every time the unions went on strike, private carriage operators incurred additional costs as they had to find alternate modes of transport for their clients.
"It's something the private sector can't make a profit of," the source added.
Tourism And Government Response
Rasika Jayakody, Media and Communications Consultant for Sri Lanka Tourism, stated that the Tourism Ministry works closely with the railway sector to upgrade facilities for tourists.
"We've had many successful engagements with them to upgrade facilities in railway stations in some key tourist destinations [Kandy, Ella, down south, and the Cultural Triangle]," he said. "But this is a work in progress and we will continue to work with the railways department on behalf of the tourism industry in Sri Lanka."
Meanwhile, the Deputy General Manager of Sri Lankan Railways, Wijaya Samarasinghe, told Roar Media that the railway sector increased the frequency of trains for the Kandy Perahara in July this year. This, we were told, was one of the measures taken to improve commuters' railway experiences. When we asked him about digitisation and making reservations more convenient, Samarasinghe informed us that online bookings, were, actually, possible.
While making reservations through the site is still impossible, bookings can be made through telecom service providers, up to two weeks in advance.
"All you need to do is dial 365," he said. "You can get all the information you need, and book online through that number as well."
Despite what Samarasinghe says, only Mobitel users can dial 365 — it isn't a facility available for everyone, and is especially inconvenient for tourists who would like to reserve tickets through the website before they arrive. Dialog has its own booking system — dial 444 to reserve tickets. The ticket prices will be added to your monthly bill. If you are on a prepaid account, you need to have sufficient credit to make the booking. Bookings can be made upto a month in advance, and two hours prior to departure — the latter is subject to availability.
For tourists like Prakash, the experience is disappointing and difficult."Coming from India, where one of the most important means of transportation for us is the railways (and we've gone quite ahead with that), I expected to see something like that in Sri Lanka also," she said. "Which to my disappointment, I didn't really find."
Cover image credit: ft.lk