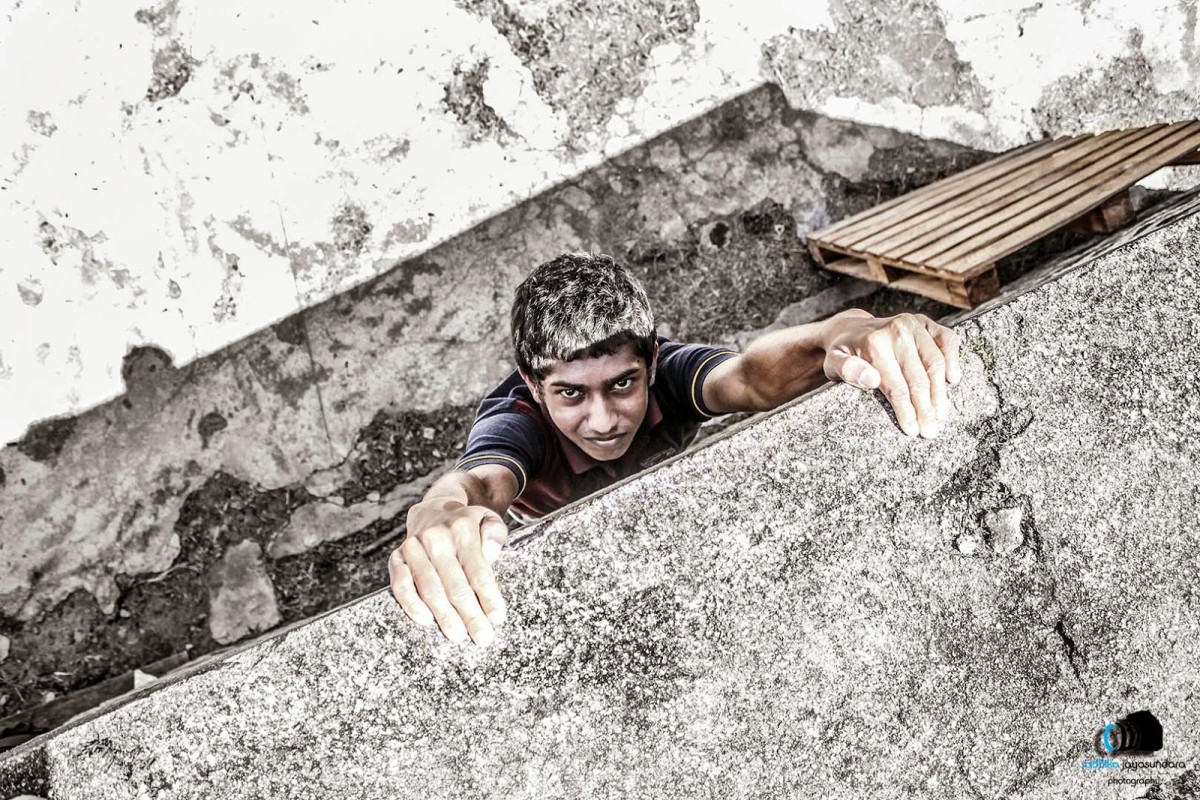 Pushing the boundaries of human flexibility and teasing gravity, in a display of mind-blowing stunts, Parkour is now officially in Sri Lanka.
But what the devil is Parkour, you ask?
In its simplest terms, parkour is the act of moving from point A to point B using obstacles in your path to boost your efficiency. That sounds simple enough, but it gets more exciting… These obstacles help 'boost your efficiency' by assisting you in executing death-defying back-flips, leaping over wide open gaps, climbing, swinging, mantling, vaulting, jumping, rolling and other similar movements to get to point B.
The origins of parkour are just as fascinating as the sport. Tracing back to the late 80's, it was developed based on special military training given to the French Special Forces. The training they received was called 'Parcours du Combattant', meaning the path of the warrior. Parkour (with a 'k' instead of a 'c') was developed by David Belle, whose father was in the French Special Forces, and a group of friends who referred to themselves as the Yamakazi.
Parkour sparked off in Kurunegala
Surprisingly, or not, the art of Parkour isn't new to Sri Lanka – even if it wasn't known by name. Until recently there was no collective group actively pursuing training or the 'Parkour way of life'.  Introducing it as a sport in Sri Lanka, the SFPF – The Sri Lankan Freerunning Parkour Federation –  started by Radhika Jayasundare, has been active for a few years and is dedicatedly training while gathering more members.
The story of these Sri Lankan daredevils begin with Radhika Jayasundare (21), a student from Kurunegala, who saw movies such as 'Yamasaki' in 2009 and decided that walking on walls is what he would like to do for the rest of his life. At first, it was similar movies that got him copying the moves, but at the age of 17, he made a friend who introduced him to the world of Parkour. Now that he discovered the name of the game, he started paying more attention to the YouTube tutorials and for the first time, started learning the technicalities behind the jumps, flips and runs. With the inspiration of Jesse La Flaire, Kyle 'Epic' Mendosa and David Belle, Radhika expanded his movements and took further risks.
On the rise in Sri Lanka
Radhika's 'crazy' behaviour of constantly jumping off walls, sliding off tables and doing backflips wherever he could soon lead to the spread of parkour through the streets of Kurunegala. Milan Earnasto (18) joined SFPF in 2014 when someone told him that there's a guy who's doing all these crazy stunts and asked him whether he'd be interested to have a look. With his background in martial arts, Milan was the perfect fit. However, this is not the only reason he fit in so easily.
As Radhika praised, 'The scariest thing about Parkour is fear. If you are scared, you are not going to do it. Your body will know it can take this jump, but your mind will hold you back. Milan changed all that for me. He removed the fear factor. When I would have second thoughts about a jump, he would encourage me and remind me to trust in my body'.
The membership of SFPF sways up and down depending on the commitment. So far, the highest they've had was 7 members. Currently, there are only three 'active' members – that is Radhika, Milan and Jeeth Karunasinghe (18). Jeeth met them through a cadet camp when SFPF was invited to train cadets with their land training.  From the cadet camp, Shanike Bandara (18) along with few others joined in for practices, but due to exams and parental worries, their attendance became slow and irregular.
Practicing parkour in Sri Lanka is not easy
In a country where activities involving the fine art of Parkour are considered a sure way to break a bone or worse, SFPF has a hard time finding practice locations and at the moment is practising in a little clearing in the middle of a jungle with homemade wall boxes surrounded by monkeys. They even have a hard time performing at public locations with bewildered people calling the cops. Too many times the cops have come in when they jump from public staircases or do flips off walls, and they've all been sent home with the warning 'Please don't break any bones'. The parents add to this concern with warnings such as 'Don't come home with any injuries' or 'please don't kill yourselves'.
'People around here care about us. I guess they see us as their own children who are about to do something stupid'.
Radhika explains, however, that they are not reckless in their stunts. 'We practice on safe grounds before we pull it off in public. All our movements are calculated and we are 100% sure we can do them before we attempt them'.  Other than a few sprained ankles, knees and one landing on the head, they've been quite lucky – 'The thing about this is that there's no protection. There are no big shoulder pads or knee guards, the only thing you need is an unlimited supply of shoes.'
The difference between Parkour and just doing backflips or jumps is that you need to mark your starting point and the end point. 'When you are jumping off one ledge to another, you can't land too far or too near. You need to aim where you are jumping and jump to the exact spot. Else it's a long way down.' This involves control in how much power they need to put behind each movement to land on the precise spot they need to, which is not an easy task as we witnessed.  
Taking the show on the road
As any sports person would admit, once you develop a passion for what you do, it is hard to stay away from it. Just as that, SFPF members keep pushing their mind and body to take upon stunts that are more dangerous, require more dedication, and of course, give a higher adrenaline rush.
They would like to recruit more members who are interested in Parkour and Freerunning, and register it as an official sport in Sri Lanka. They are planning to take the show on the road by visiting other towns to hold an exhibition to promote SFPF and raise awareness of it as a sport and not as 'million ways to break a neck'.
Until then, Radhika and the team at SFPF would like to say 'if you are interested in the sport, utilise your natural surroundings. You can make your own wall boxes and gunny bags filled with sand. Learn about the different styles of jumping, running and flips, and then give us a call!'