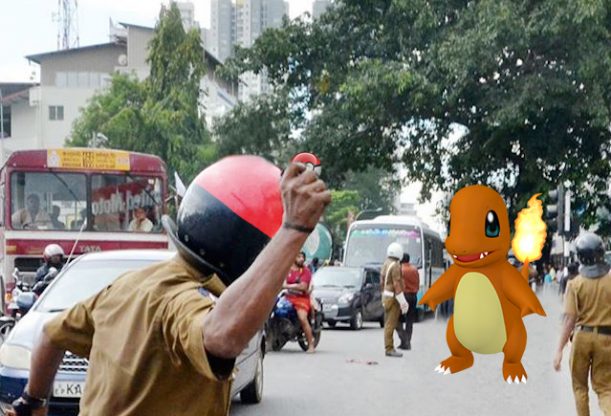 It's been at least a week since Pokémon Go was released in the United States, United Kingdom, and New Zealand. Even though the game has yet to be released in Asia, the West-exclusive release has not stopped the rest of the world from finding a way around this, downloading the game through an apk mirror site or through switching Apple App Store countries.
In the course of just a week, excitement levels have peaked, with even country leaders and renowned military units running after these adorable pocket monsters.The gaming phenomenon has even reached Sri Lankan shores, but before we get there, here's a bit of:
Pokémon Go For Dummies
Pokémon Go is a game that uses your phone's GPS and clock to detect where and when you are in the game.  
The most attractive feature of the game is that it makes Pokémon "appear" in the physical environment around you (on your phone screen, via your phone camera) so you can go and "catch" them. As you physically move around, different types of Pokémon will appear, depending on where you are and what time it is.
The idea is to encourage people to travel around to catch Pokémon in the game. The game has been called a mega location based game as it uses GPS signals as a major part of its programme.
Although the Japanese media franchise became an instant hit in the late 90s and the early 2000s and continued to push out new content in the form of manga comics, novels, cartoon movies and more video games, the frenzy never made that much of an impression among the Sri Lankan community.
In spite of that, after the launch of Pokémon Go, it didn't take long for Sri Lanka to catch on to the craze, with even mainstream media taking note (the Daily Mirror took a break from reporting on the lack of bidet showers at the BIA to give us a breakdown of the new Pokémon game, so go figure).
Pokéstops And Poké-hotspots
Within the game are locations known as Pokéstops which allow players to collect eggs (to hatch new Pokémon), Pokéballs (used to capture Pokémon), incense, and various other Pokémon-related items.
Funnily enough, a lot of these Pokéstops are found in real life locations which just so happen to have religious affiliations: in Sri Lanka and as well as in India, a lot of Pokéstops happen to be temples, kovils, and churches. Even religious monuments, statues and memorials have not escaped this phenomenon, and nobody seems to know why the game has been programmed in such a manner.
Basically, what happens here is that the game recognises historical locations, monuments, and other public locations through its GPS system, and portrays them as Pokéstops in the game.
The game is certainly taking the players on a pilgrimage ‒ but not necessarily of the religious sort.
Meanwhile, a number of Pokémon Go items and even an interesting variety of Pokémon have been found and collected by Pokémon enthusiasts (or even non-enthusiasts who've climbed on the Go bandwagon) at several hotspots around Colombo.
Majestic City, the Viharamahadevi Park, Independence Square and Diyatha Uyana, Battaramulla have been reported to hide various Pokémon, fresh for the taking.
Reportedly even the Prime Minister's residence in Colombo 07 has not been spared of  a significant population of Pikachus. As tempting as it may sound, do keep in mind that the premises are known to be heavily guarded by the Prime Minister's Security Division!
Pokémon Go has already become one of the most popular video games released this year, with over 7.5 million US users and a daily revenue of USD 1.6 million… and has already tested the patience of authorities the world over.  
In the US, announcements have gone out asking players not to play the game while driving and to be alert when walking around trying to catch Pokémon.
Unless you live in Queensland and it's the Queensland police you're dealing with, you should definitely keep in mind that the Sri Lankan police doesn't always see things in a funny light.
Although local authorities haven't gone the distance to issue a warning or make any announcements, do keep in mind that Sri Lankan law enforcement is not known to take kindly to loitering in general.
Poké-Meetups In Colombo
With the game hitting Sri Lankan streets, several Poké-fans have even come together on social media networks to organise Pokémon Go meetups.
These meetups will have players interacting with each other, and exchanging stats. During the meetups, the organisers expect to release lures ‒ items used to bring Pokémon out of hiding ‒ to be used by the players.
For those of you interested, here are some of the meetups that are taking place this weekend in Colombo.
The game has also become an alternative to treat mental health issues such as depression and anxiety. Although it has not been officially called an anti-depressant, various studies have shown that the players suffering from severe social anxiety and depression have shown positive effects on the mood while playing the game.
As exciting as it all sounds, the only real drawback is that in Sri Lanka, things may not always go as planned ‒ a hurried attempt to catch a Charizard across the street might end up in you falling victim to a reckless lorry driver. No Pokémon is worth your life, so while you're out there try to catch 'em all, do keep your eyes peeled and your Amma informed.
In the meantime, feel free to let us know in the comments where you caught your Pokémon and which one is your best yet!