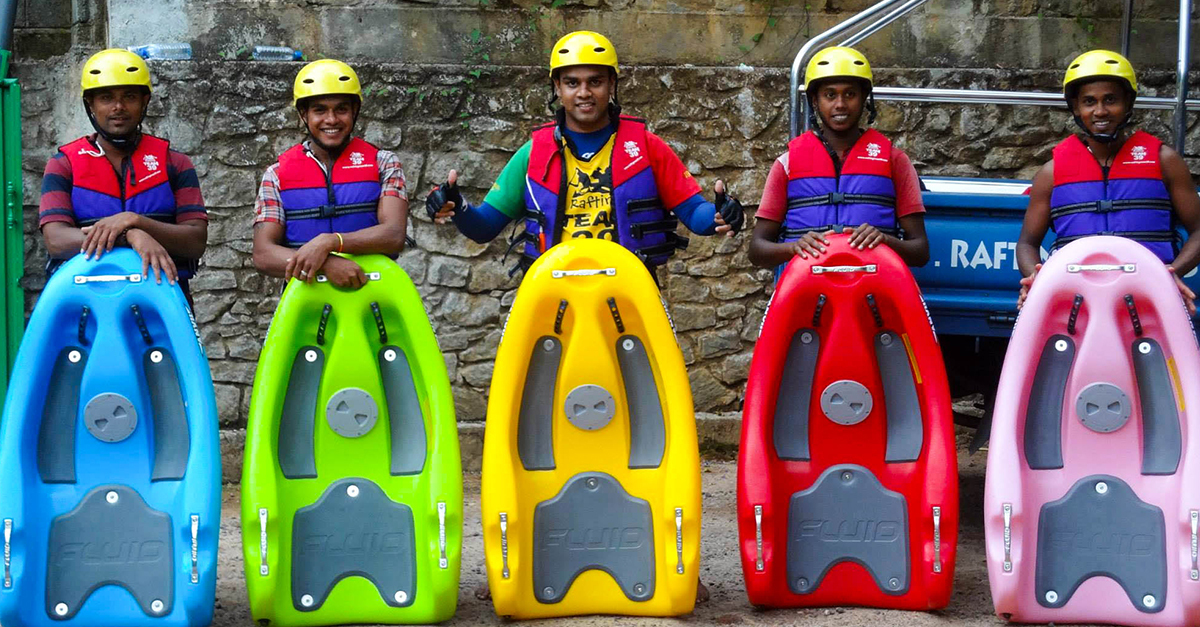 Growing up around Kitulgala, Sameera was no stranger to the adventures that are connected to the famous river. From a young age, Sameera and his brother Ravi took to exploring the wild rapids of the river whenever they had free time. But what started out as childhood curiosity and a hobby soon became a passion as they discovered a new and extreme way to conquer the rapids: riverboarding. 
How did you go from rafting to riverboarding?
"We grew up near this river. I know every nook and cranny of this river like the back of my hand. And it was the most natural thing for us to go whitewater rafting, diving, fishing – anything to explore the river- after school. Once we mastered rafting we were looking for more extreme things we can do and one day, around 5 years ago I discovered riverboarding – that's when I took a special interest in this sport and started exploring it more. 
What was the attraction of riverboarding compared to the other sports you've done?
One day, I saw a video of this guy jumping down a waterfall into the rapids and then swimming forward with a board underneath. I'd never seen anything like that before and the extremeness of diving face first into roaring rapids was what first caught my attention. The more I got to know about the sport and the strength it takes to battle through rapids with a board, I was hooked. The guy in the video is a Chilean boarder named Jose, who I always give thanks to as my inspiration, and who has become a good friend over time.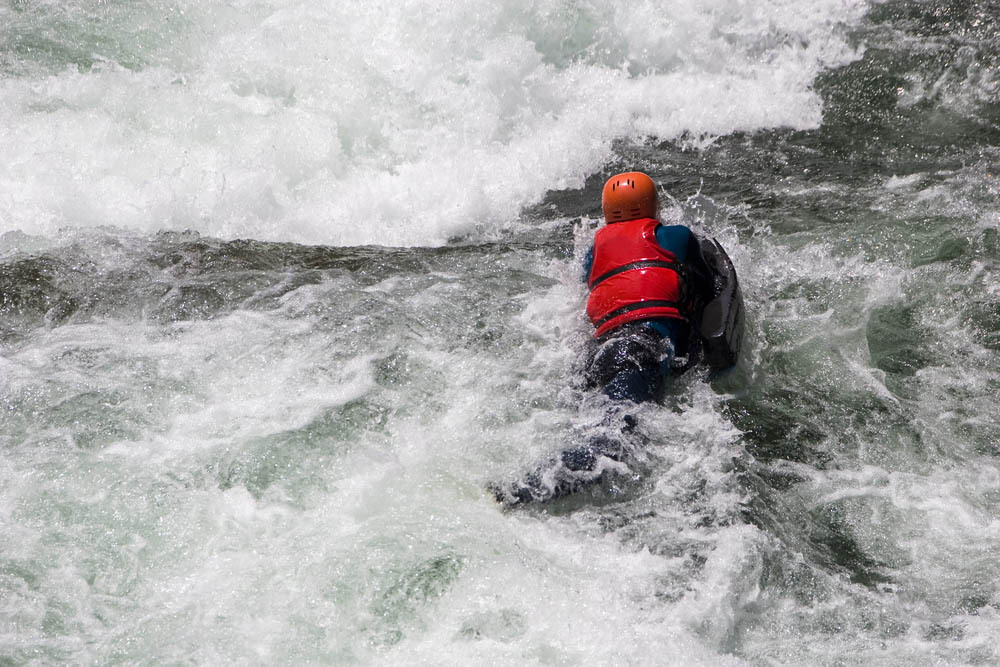 How dangerous is riverboarding? 
It's not exactly rocket science – but I would say that you need a lot of courage if you're going to do this sport. Falling face first intro rapids, with just the board to support you is not easy. It's dangerous and scary at first but that's a big part of the thrill as well. And you must have a good knowledge and understanding of the river you're going into; how the rapids and the currents work. The sudden flips can be scary and  you have to be prepared to hold on to the board and get back on it. Unlike rafting, which is a team sport, here you're by yourself and you have to be able to manage anything that comes your way. 
What skills would someone need to be a riverboarder?
Some of the basic skills that would help is the ability to swim and a lot of physical stamina, because speeding down the river, facing rapids, and going under water combined with swimming and balancing can exhaust you quickly. But that's something you can also develop over time. And just as important is mental stamina – you have to be fearless when you face a dangerous rapid or a big fall because that all a part of the thrill and also be brave enough to overcome the natural fear you get. 
So you riverboard in Kitulgala. Any other place in Sri Lanka that someone can enjoy it?
Right now you can only riverboard in Kitulgala. Because a lot of factors come into play like the weather patterns, wind, water levels, the rapids and currents of the river and the river's behavior, so it's not an easy task finding a river with all the perfect conditions. But we are definitely looking at other rivers, trying to find a place where you can enjoy the adventure but also be safe while doing it.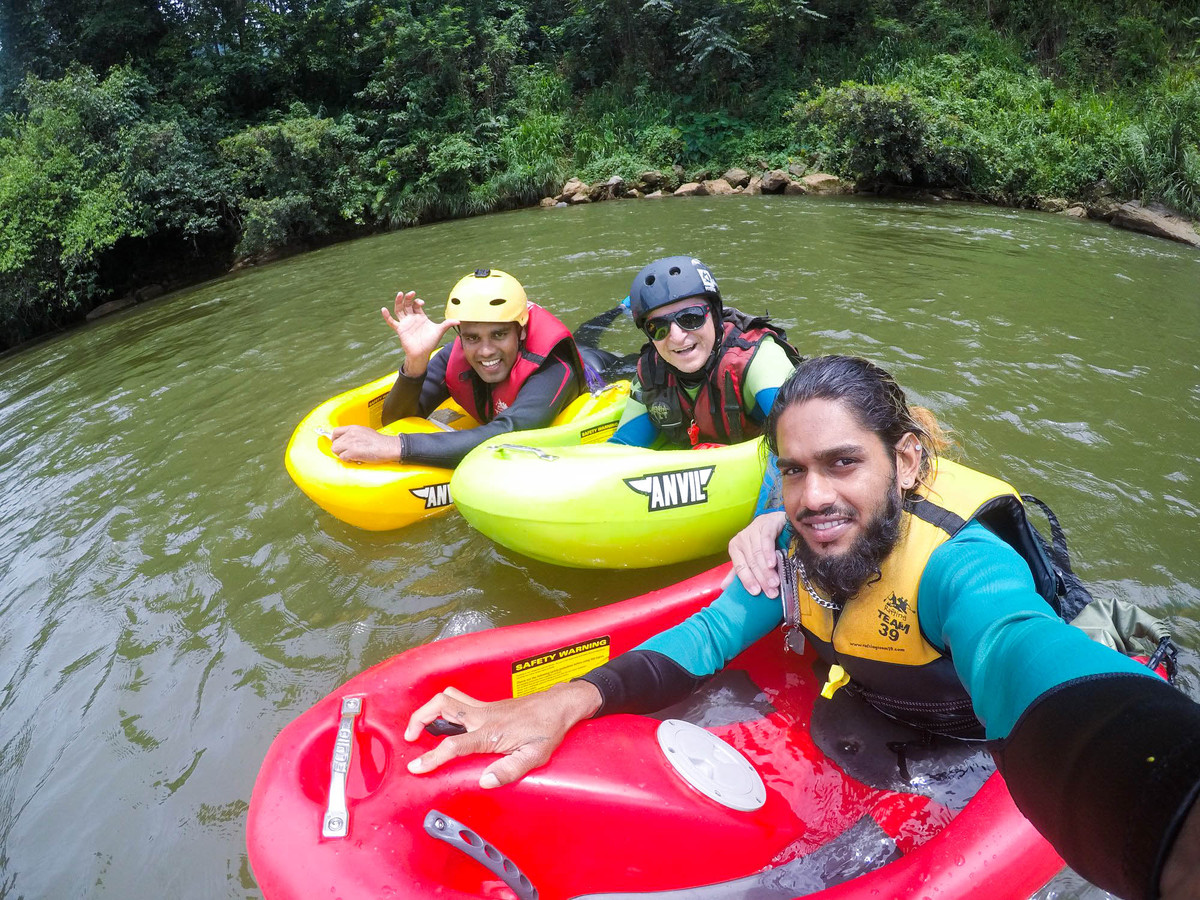 Tell us a bit about Rafting Team 39 – the first ones to talk about riverboarding in Sri Lanka. 
Rafting Team 39 is one of Sri Lanka's experts when it comes to whitewater rafting and most water-related adventure sports. My brother Ravi is the one who started it all back in 2009 because he wanted to share the experience we had when we were growing up with everybody. He is a pioneer of rafting culture in Sri Lanka and he's been doing a lot to build a strong community around the sport. 
We were the team that introduced riverboarding in Sri Lanka, and possibly in Asia too as there is no other place that is recognized by the World Riverboarding Association in this part of the world.
We're based in Kitulgala and we offer white water rafting, hiking and trekking day trips, water sliding, riverboarding, confidence jumps, and many more. Plus, we are also the only rafting center that is approved by the Sri Lanka Tourist Board!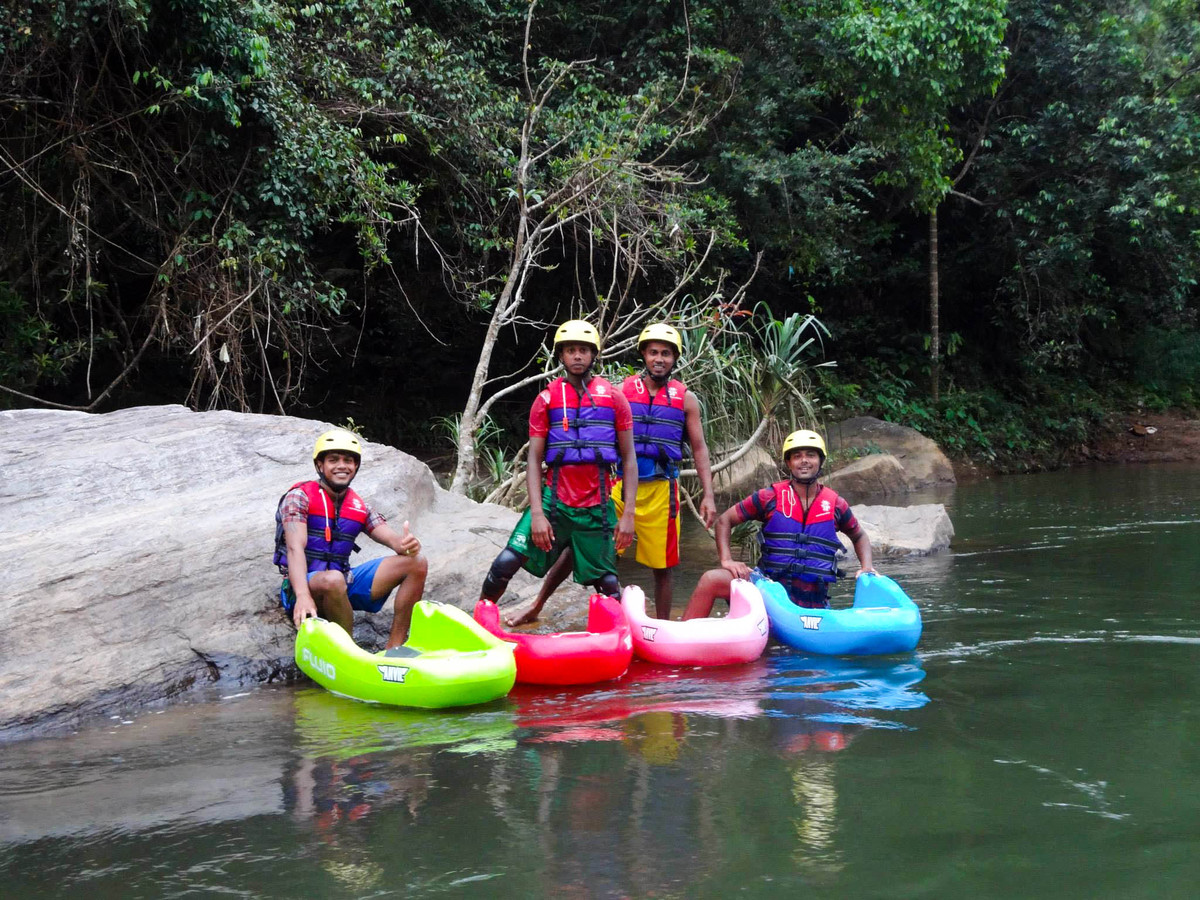 How does the riverboarding community work? 
It's a sport that is still gaining popularity, though it has been here for some time and there are international competitions and events that I hope to take part in, in the future. The international community that is there now is quite close. We interact on social media and keep in touch with each other and most of the time if there is an event happening in one of the places everyone tries to go be a part of it. In fact, Denis – the President of the World Riverboarding Association came down to Sri Lanka himself, when he heard that I had started it here. He helped us a lot by giving us lessons on the equipment and techniques and training us on not just how to riverboard but also on how to teach others. He was a great friend that helped us kickstart this in Sri Lanka. 
For anyone debating if they should try riverboarding – what would you say?
Try it! It will be the best experience of your life. It's not a complicated sport but the adrenaline rush, and the thrill is hard to express in words. If you are a daring and adventurous person who is keen on learning it shouldn't be hard to master it. More than anything, you just need courage in yourself and the enthusiasm for chasing after an awesome thrill – that's the secret to riverboarding.