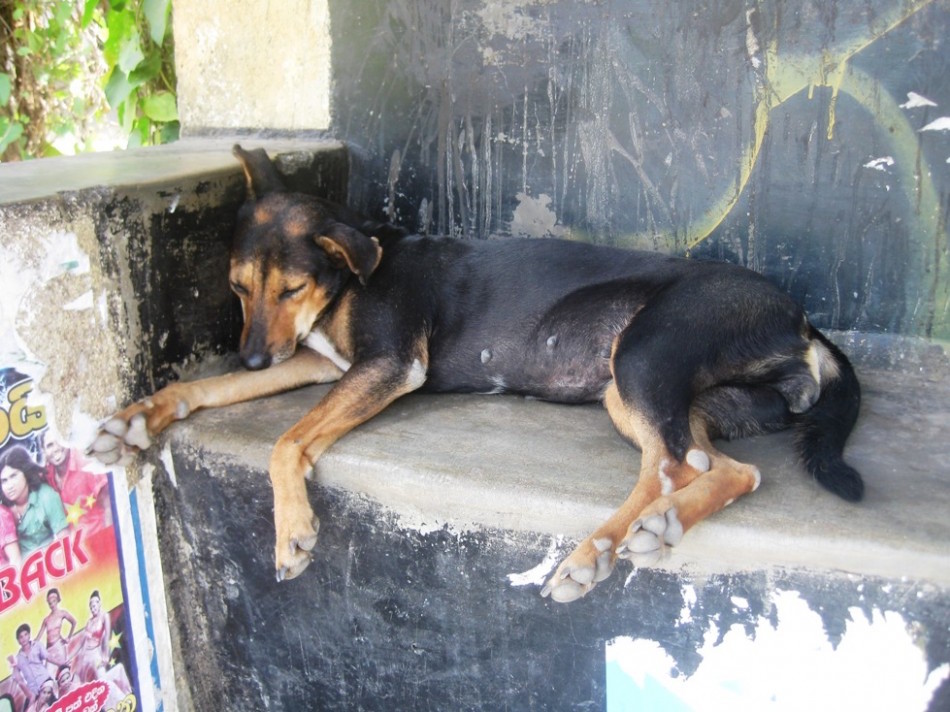 When we say that man and dog have co-existed for time out of mind, we aren't just throwing the expression around ‒ there is actually plenty of research out there that proves it. In fact, if you want proof that's a little closer to home, you can find it right in the pages of our very own Mahawamsa. In its documentation of Vijaya's first landing on our shores, Kuveni lured his men to her by sending an accomplice ‒ in the guise of a dog. Thinking "Only where there is a village are there dogs to be found," the men followed the dog, thus falling for her trick ‒ and proving that even back then, it was an acknowledged norm for dog and man to live side by side.
Now millennia later, nothing much seems to have changed in this aspect ‒ canines still roam our streets and gravitate towards settlements, and it is not unusual for dogs to be fed and cared for by the community. However, a range of factors have rendered a peaceful co-existence far from easy. While people face the risk of dog bites and rabies, the street dogs themselves suffer from disease, injury, lack of food, and excess competition engendered by over-population, and it has become more imperative than ever to find sustainable solutions to the stray dog dilemma.
While the government has not been completely inactive in this department (in 2015 alone, the Public Health Veterinary Services is recorded to have administered nearly 1.5 million vaccinations to cats and dogs around the country), it is common knowledge that they lack the diligence and commitment needed for the cause. Animal welfare is often relegated to the lowest slot in the country's list of priorities, and suffering street dogs aren't really seen as a significant national problem. Which brings us to the question: who steps up to help these animals?
Meet the real heroes of the cause: the private animal welfare organisations (AWOs) and volunteers around the island who have dedicated their time and energy towards helping our street animals. When it comes to animal welfare, it is no secret that efforts remain largely voluntary. Thankfully, Sri Lanka has quite a number of private AWOs and charities dedicated to helping stray animals ‒ and generally filling in all the gaps left behind by inefficient government initiatives. Some of them are self-sufficient and able to carry out large-scale projects, while others are smaller organisations consisting of a handful of volunteers, but they all share a common vision: to give our street animals a chance at a better life.
Here, Marina Mobius, founder of the Dog Care Clinic gives us a snapshot of her AWO and how they are attempting to change the face of Sri Lanka's stray dog dilemma.
The Dog Care Clinic: Giving The Underdog A Chance
Situated down south in Mihiripenna-Talpe, just "a twenty minute tuk-tuk ride" away from Galle, the Dog Care Clinic (DCC) is a veterinary clinic and shelter that has been functioning for over a decade. Its main goal? To alleviate the suffering of street dogs and give them a chance at a better life. The organisation goes about this in the most sustainable way possible ‒ with a professional sterilisation and vaccination programme that has, in the span of ten years, seen over 50,000 dogs neutered and 500,000 dogs vaccinated in the Southern area around Mihiripenna alone.
While most people understand the importance of vaccinations, sterilisation doesn't exactly enjoy the same popularity. Not only do many simply think it unnecessary, pointless, or too costly, but there also exists a popular misconception that it is a "sin" to deprive an animal of its ability to reproduce. For those people who fall under this category, here's some food for thought: one unspayed female dog and her mate can produce up to a whopping 67,000 dogs within six years!
Speaking of the importance of sterilisations, Mobius explains that a mere collecting, killing, or relocation of dogs will never solve the problem, since suddenly occurring vacuums in the population are quickly refilled by nature. "The only solution is to gradually reduce the number by ensuring that there are no offspring of stray dogs. For that, it is important to make sure that all puppies are castrated once they have reached the age of eight months."
She adds that it is also crucial to conduct searches for dogs that are not castrated in the same area over and over again. True to this, the DCC sends out "catching teams" to comb areas for unsterilised pooches every day. These dogs are then brought back to the clinic, vaccinated, sterilised, given anti-parasitic treatment and tagged for identification ‒ and it doesn't just stop there either. After the surgery, the dogs wake up in the clinic under veterinarian supervision and are taken back to their territory, or if deemed necessary, they are kept back for further treatment.
"With the additional examinations and vaccinations, we also have the opportunity to reduce rabies, yellow fever, distemper parasites, and other infectious diseases," says Mobius. "This enables social interaction of humans and animals without risks of infections."
What Else Does The DCC Do?
Sterilisations and vaccinations aren't the only focus of the clinic; to truly address the stray dog problem, it is important to adopt a multi-pronged approach which covers a wide range of the factors that affect the issue at hand.
Food rounds!

Treated dogs aren't simply dumped back into their territories and left to fend for themselves. Since its very inception, the DCC has been doing daily tours to "hangout spots" where dogs gather to supply them with food.
"This is a great way of keeping an eye on the whole area as sick dogs and 'newcomers' which have not yet been castrated can be easily identified," says Mobius. "Also, these tours allow us to stay in close contact with our neighbours. Through personal contact with the locals, it is much easier to convince them to bring their animals to our free-of-charge neutering and vaccination programmes."
Re-home programmes
Man's best friend; this pooch has found its forever home. Credits: Dog Care Clinic
Puppies abandoned on the streets or by the clinic premises are taken in by the DCC and given all the necessary treatment and care they need to grow into healthy dogs. However, since their space is not unlimited and dog hoarding is out of the question, the clinic is constantly on the lookout for loving homes within local families for all their charges.
That said, in the event that a foster is found, the DCC doesn't just give the dogs away and then dust their hands off. Most families are poor, and have a hard enough time looking after themselves, leave alone their pets. In the light of this, it is the DCC policy that all re-homed dogs are entitled to a lifetime of free medical service. "By the age of eight months, the dogs are picked up for their castration and after another two months there is a check-up," says Mobius. "Upon re-homing, we provide the families with a dog collar, leash, pot, vaccination book, and dry food." The clinic has made it a point to only place dogs with families living in the Southern area of the island, so that they can continue to keep an eye on them throughout their lives.
The Dog Care Social Project also often supports these foster families with frequent supplies of provisions like rice, medication, and sometimes even school items for the children.
Responsible pet ownership
What does responsible pet ownership have to do with the stray dog problem? Quite a lot, it turns out.
When it comes to addressing the stray dog situation, simply focusing on the pooches on the streets wouldn't do the trick at all; it is vital that free-roaming owned dogs and community dogs are also taken into the picture. However, many pet owners remain woefully ignorant of this. "Of course, we don't have the right to pick up these dogs without the owner's consent," says Mobius. "Therefore, it is crucial to educate the people of the necessity of having the dogs neutered." The DCC offers castrations and vaccinations free of charge for both owned and community dogs, and does its best to raise awareness about the issue in the local area.
Help for people and animals
True to its credo of helping both people and animals, the DCC's ReHome 50+ programme (a different project from the normal ReHome programme) aims to find good homes for old and injured dogs, while at the same time generating a source of income for some of the needy senior citizens of the community.
"Through a sophisticated procedure we select poor and old people to adopt up to three of our dogs," says Mobius, explaining that since there is a lack of social security in Sri Lanka, an additional income for older locals is a welcome concept. "Every 50+ Partner receives five thousand rupees a month. Just like with every normal ReHome dog, the DCC 50+ programme also includes all medical care and frequent check-ups."
In turn, these dogs strengthen the families' social structure and promote an awareness of the relation between humans and animals among the Sri Lankans.
While the street dog situation in the vicinity of the clinic is relatively good (according to Mobius, there hasn't been a reported case of rabies in the region for over three years), the same can't be said for the areas beyond the DCC's reach ‒ and the most of Sri Lanka as well. "Dogs suffering from illnesses such as mange, babesia, or malnutrition as well as injuries are totally ignored by the local people," says Mobius. "There are car, bus, and tuk-tuk accidents, as well as train accidents on a regular basis."
She also adds that unsterilised bitches produce several litters of puppies every year. These puppies are often too small to have the slightest chance of survival, falling victim to hunger, disease, or animal abusers; but the ones that do make it to adulthood go on to produce their own offspring. And so it goes on in an endless cycle ‒ and will go on unless a way is found to solve this issue and stem the never-ending flow of unwanted animals.
Saving animals is not as easy as it seems; the DCC for instance requires over 40,000 Euros a month to function and only 20% of this amount is met by donations (the other 80% is personally funded by Mobius herself)! But as long as there are animals on the street, there will be at least a handful of individuals and AWOs like the Dog Care Clinic, ready to do everything in their power to help them.
You can check out the Dog Care Clinic and its work with street pooches by visiting their website at http://www.dogcare-clinic.eu/en.html (don't be alarmed if the site is in German; there is a translate option on top of the page!).