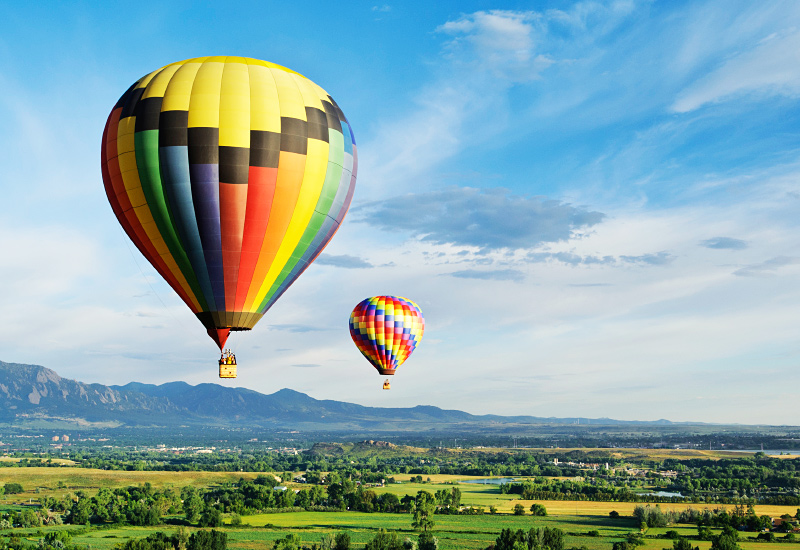 To ascend to the skies; it has fuelled the imagination of even the earliest humans, so much so that to be able to do so was considered a divine quality. It took many centuries before we could finally achieve this, but more fun deviations from its original purpose did not take long to follow. Air sports have been around for a long time, ever since the birth of the modern parachute and later activities such as hang gliding. Today, the options are many.
As an island with beaches, lakes, and sunny weather all year around, Sri Lanka is often associated with water sports. However, air sports have been slow to catch up, mainly perhaps due to security concerns during the war, before the year 2009. At the time, sports like parachuting and aerobatics, in particular, were only seriously practiced by the Sri Lanka Air Force (SLAF). In 2014, however, SkY CluB opened its first Aviation Sports Zone in Sri Lanka, with the assistance of the Ministry of Defence, Civil Aviation Authority (CAA) and SLAF. Located in Koggala, it claims to be the first of its kind in the South East Asian region.
With enthusiasm in air sports growing, a small number of private clubs and companies have sprung up in Sri Lanka, offering different albeit few air sports, and investing in quality gear and trained pilots. These sports range from those that would thrill adrenaline junkies and more serious aviation enthusiasts, to just about anyone who wants to simply enjoy spectacular views of the island.
Here is a roundup of air sports you can currently do in Sri Lanka:
Skydiving
Skydiving, also called parachuting, is one of those activities that makes it into almost anyone's 'bucket list'. Because of the sheer courage it takes, despite guaranteed safety, skydiving is almost considered a rite of passage by many; a moment when you put behind all inhibitions and fears to feel liberated in the open skies, for a few fleeting minutes.
Until recently, to skydive meant you had to actually travel overseas. That's changed now, and you can actually skydive in Sri Lanka today, if you are game. The SkY CluB takes skydiving pretty seriously, and offers a range of options, from tandem skydiving for fun or basic to advanced courses for those who want to be certified skydivers. They also have on board four highly experienced and qualified jump masters, so it's safe to say you will be in good hands, thankfully. According to the website, a tandem skydive session usually involves around 20 minutes of training before boarding a Cessna aircraft for your jump. They even offer a videographer to document your entire journey from sky to earth ‒ magical!
Fun fact: Skydiving is actually much older than most of us think it is. Medieval inventors created equipment that would help them jump off from high altitudes. However, the first known successful modern 'skydive' took place in 1797, when André-Jacques Garnerin jumped from a hot air balloon with a parachute.
If you have been thinking about taking your first tandem skydive but are still nervous (totally understandable, don't worry), you may want to take a look at this list of things to consider beforehand.
Paramotoring
Paramotoring is the next best thing to flying an airplane if you aren't a qualified pilot (or dare we argue, even better?). Also called powered paragliding, this sport involves an ultra-light aircraft. The experience has been referred to as 'a bit like paragliding – but with an engine.'
It's a fairly new sport even to countries that have had other air sports for decades, but it has quickly caught on in Sri Lanka, too. Clubs like SkY CluB and Fly Sri Lanka offer paramotoring today, and if you are too afraid to skydive, this is a much less fear-inducing activity. It has been especially recommended for those who want to see the earth below from an entirely new point of view. Training is provided before you ascend to the skies. However, paramotoring can only be done in good weather, and especially when the conditions of the wind are right.
Fun fact: Paramotoring has its roots in hang gliding and its later form, paragliding. It began to evolve in the 1980s in France and Germany, although it only picked up as a popular air sport in the 2000s.
Paramotoring is considered a very safe air sport, but if you still have concerns, this page should tell you everything you need to know.
Hot Air Ballooning
The hot air balloon has famously captured the imagination of many generations of children, especially through books and television series like The Fantastic Flying Journey. Who hasn't dreamed of travelling the world in a hot air balloon, minus the headache of visas and expensive airfare?
In fact, the hot air balloon is considered the first successful human-carrying flight technology of the modern world. The first untethered manned hot air balloon flight was carried out by Jean-François Pilâtre de Rozier and François Laurent d'Arlandes on November 21, 1783, in Paris, France. Together, they travelled in a balloon created by the Montgolfier brothers.
And whilst travelling the world in a hot air balloon is still, well, a dream, it is not impossible to enjoy a short ride in one, even in Sri Lanka. Hot air balloon rides have been offered over the last four to five years by several private companies and even some hotels. Sun Rise Ballooning and Best of Lanka are two companies with which you can book a tour. Some of the most popular sites to go on a balloon ride in Sri Lanka are Sigiriya and Dambulla, which allow you to see some of the island's most iconic sites from up in the air.
Even with the introduction of more sophisticated forms of air sports, a hot air balloon ride is still delightful; the experience of being borne by a balloon while you look down on the world from a 'basket' is still as enthralling as it was when it was first introduced.
Fun fact: The first passengers in a hot air balloon were a sheep, a duck, and a rooster!
A hot air balloon ride is the least daunting of air sports that involve flight, but if you still need to know what to expect, here's a handy guide.
General Aviation
It can or cannot be a 'sport' depending on how you see it, but to become a private pilot in Sri Lanka has never been easier. Over the last few years, many private flying schools have been established in the country, offering training and licensing to those who dream of flying an aircraft.
But it is important to remember that this suited for those who are serious about flying, because of the commitment involved. You must also be over 17 years of age and of sound health.
The CAA lists all the requirements to attain a Private Pilot's License (PPL) and certified schools where you can learn to fly.
Besides flying for fun, you might wonder what else you can do with a PPL. This website gives you some great ideas. Some of them might not be possible right now in Sri Lanka, but there is no need to rule them out entirely for the future.
Aeromodelling
Aeromodelling is a serious hobby that involves the designing and flying of a model aircraft, either static or functional. Of course, it is really simple to purchase a model aircraft from abroad and fly it at your own leisure. However, this can be expensive.
There isn't much information available online for aeromodelling enthusiasts in Sri Lanka, but there is a directory of flying clubs in Sri Lanka on this website. These flying clubs are a good meeting point for those interested in this hobby, and connecting with those who want to learn and share tips on building a model aircraft, or simply get together to fly for fun.
Fun fact: Aeromodelling competitions take place all over the world today, with establishments like Boeing and Redbull hosting some of the largest. However, the first international competitions date back to shortly before the Second World War, in England and Germany.
If you are crazy about airplanes and aviation, but have not taken up aeromodelling, check out this introduction to what it entails.
With all these activities on offer, Sri Lanka is well on its way to becoming a great place for those who seek adventure. The only downside is that all these sports are a little expensive to pursue. However, if you follow the mantra of 'will try anything once' or want to break away from the monotony of your everyday life back here on Earth, even if for a few hours, then you should consider them a worthy investment.
Featured image courtesy: geminitourstravels.com