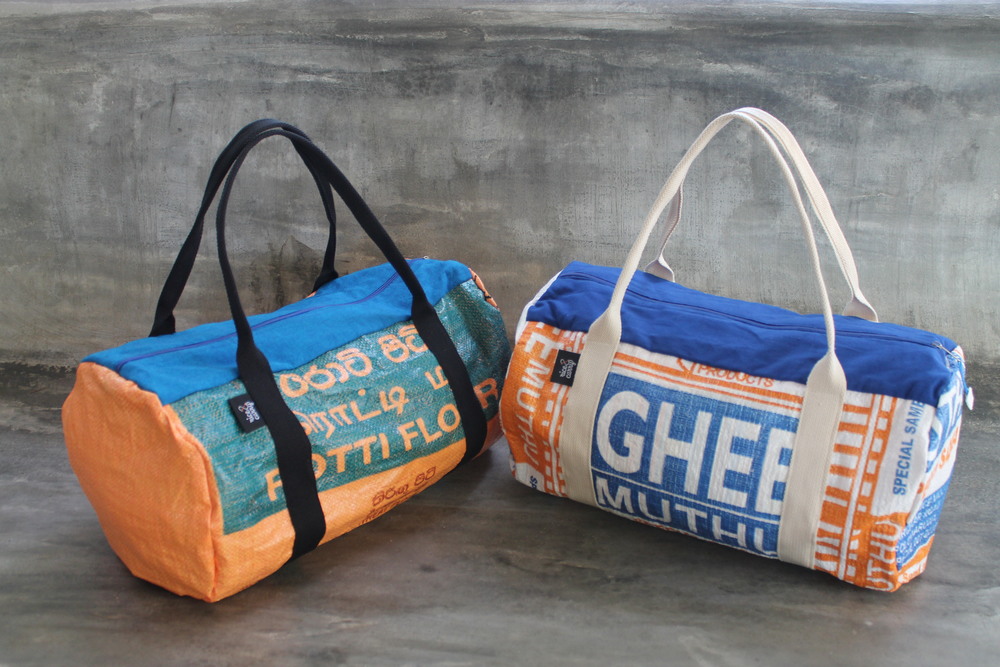 Fast fashion is tempting, and we are all guilty. This is especially true when your favourite high street brand starts selling clothes and accessories that are almost identical to your favourite designer's latest collection (not a coincidence, by the way). Starting at jaw-droppingly low prices, we tend to think little before grabbing them off the racks.
But what is not exactly hidden information to us is that the fashion industry has been killing our environment, as poorer societies of the world, for many years now. Many high-street and designer brands still have their clothes made in factories with appalling conditions, and use fabrics and other material that exhaust the environment. All thanks to the rush to constantly produce new collections in order to stay relevant and maintain cost-effectiveness to earn high profits.
There is, however, a new wave of designers and brands that are refusing to participate in this irresponsible manner. These are the pioneers who are rethinking the future of fashion by slowing down, without compromising on creativity and innovation, and committing to make the world a safer, cleaner place.
We took some time to speak to some of them who live and work in Sri Lanka, and in their own way, are earning serious cred for creating social impact through fashion.
KASUN
Kasun Gunawardana launched KASUN in 2015 at Colombo Fashion Week's Emerging Designer Showcase. His androgynous, 'Bobo' (bourgeois bohemian) aesthetic and use of handwoven fabrics soon won him praise amongst Colombo's socially-conscious style connoisseurs, and he showed a resortwear collection the same year at CFW Resort.
What makes the KASUN story interesting to our times, in which we are becoming more aware of the impact of our daily choices, is that the fabrics that it uses are made by a community of traditional weavers in Sri Lanka. Much of his collections are crafted with natural yarn, which are biodegradable, and natural dyes and raw cotton, which minimise the residue after deterioration. It is also another way in which Kasun tries to reduce his carbon footprint with traditional weaving and winding, which use no electricity.
Brands like KASUN, who reject working with large factories even if it means moving collections faster, are helping preserve some of Sri Lanka's oldest craftsmanship and artistry. They also give incentive to traditional weaving families to continue their trade because of the fair wages they are now able to earn by working directly with the designer and also earn global recognition as the brands reach an international audience.
Orders for KASUN can be made on the brand's Facebook page. You can also shop the latest collection at Zudhora, 14 Reid Avenue, Colombo 7.
DODO Footwear
There was a collective sigh of relief that sunny afternoon at the Colombo Design Market, back in 2015, when DODO Footwear first unleashed their bright, handloom loafers. Here was a brand that finally bridged the gap between poorly designed, cheap Sri Lankan shoe brands and expensive international brands in Colombo's malls and department stores. Most importantly, it was a collection that had comfort in mind, tailormade for stylish Sri Lankans who need a versatile day-to-night pair of shoes that also help them survive the year-round humid weather.
Founded by Bernard Arulanandam, Naushad Ninzer, and Amjad Hamid, DODO Footwear has come quite far since that day. Yet, this growth has not driven the brand to focus on sales targets. Instead, the trio are constantly learning by working with small suppliers to ensure DODO Footwear is 100% locally made, and well-made.
This wasn't always easy, they tell us, as many suppliers were hesitant to work with a startup at first. Soon they found the right suppliers, who were excited to combine their existing knowledge and skills with the fresh design perspective that DODO was bringing in. This helps the suppliers upgrade their own design skills, and earn a more sustainable income that they wouldn't earn by selling to mass shoemaking companies.
Currently, each pair of DODO shoes is made with handloom fabrics and genuine leather. They are also in the process of collaborating with a few artists and designers they met at CDM, for their upcoming collections. Due to high demand, the brand is also looking to move in a more ethical direction by introducing vegan leather in some of their shoes.
DODO Footwear is available at PR, 41 Horton Place, Colombo 7.
House of Lonali
Lonali Rodrigo is one of the youngest and most accomplished sustainable fashion designers in Sri Lanka. Launching her label Lonali over four years ago with a collection of stylish, upcycled womenswear, she has now also moved on to accessories, children's wear, and lifestyle products.
Lonali's garments use handwoven fabric that are sourced from traditional artisans in Gampaha, and sewn by a small cluster of dressmakers who work from home. By working directly with these artisans, she helps them earn a fair wage and preserve their skills, which have been passed down generations and face extinction. The dressmakers she has employed to sew her collections are also able to upgrade their own skills and earn a sustainable income while tending to their responsibilities at home.
She is also one of few designers in the island who continue to use upcycled material in her collections – usually collated from factories that manufacture clothing for major brands and would toss these materials out as waste. Lonali is clever in the way she uses this waste, usually applying to the detailing of a shirt or dress, or something simpler, like a sketchbook. She has also recently begun working with a group of artisans in Jaffna, who use palmyrah to create elegant home décor that is sold in Colombo.
When she's not busy working on her collections, Lonali volunteers her time at schools and children's festivals, teaching young people to upcycle and be mindful in their choices as consumers.
House of Lonali is available at Gandhara, Stratford Avenue, Colombo 6.
Rice & Carry
Rice & Carry by German/Austrian husband-and-wife duo, Henry and Susi, has been around since 2012. Rice & Carry is a regular vendor at many Colombo-based markets, and has come to be known for their bags, wallets, and other accessories.
The trademark Rice & Carry bag is one that has been crafted with upcycled rice sack material, which has been sourced from various waste outlets. However, the brand now also upcycles used hessian sacks and polythene bags for their growing range of products. These fabrics are certified by the World Fair Trade Organisation (WFTO). This model has helped reduce the detrimental impact to the environment caused by these sacks and bags, which are used daily in large amounts around the island, for its most important form of agriculture.
Once these materials are sourced, they are transferred to the small production facility owned and run by the brand, based in the very rural village of Komari, around 20 kilometres north of Pottuvil on the East coast. Also working with Rice & Carry is a small community of people living in Pottuvil, largely comprising women who still lead traditional lifestyles. These women are then given the task of producing the brand's products from their homes and when time permits them to take a few hours off from their daily chores. They are not obligated to reach any targets.
Living in an area that is not the most conducive to farming and has been slow to industrialise and generate more jobs, these women now have the opportunity to earn an income from their own homes, whilst also learning and developing new skills. Henry says, while they cannot be sure how these women lived before, this initiative has certainly helped them improve their lifestyles. The women are also featured on the brand's website, so customers know the faces behind their purchases.
Rice & Carry currently retails at PR, Lakpahana, Selyn (Colombo and Negombo), Barefoot (Colombo and Galle), Riviera Resort (Batticaloa), The Shack Beach Cafe (Galle) and Camp Poe (Ahangama).
The current myth that the fashion industry does more harm than good is constantly being challenged by a handful of designers and fashion brands, who focus less on profits and more on creating a positive impact without compromising on creativity. Although the brands mentioned above are only a handful of those who are championing social impact, there are many others that are making efforts to be ethical and environmentally-friendly. It is important to always be aware of where your clothes, accessories, and lifestyle products come from, especially if you are concerned with not endorsing brands that aren't conscious of their impact. Even if it means spending a few thousands more, it is still a contribution that goes a long way, far beyond the current trend cycle.
Featured image courtesy Rice & Carry