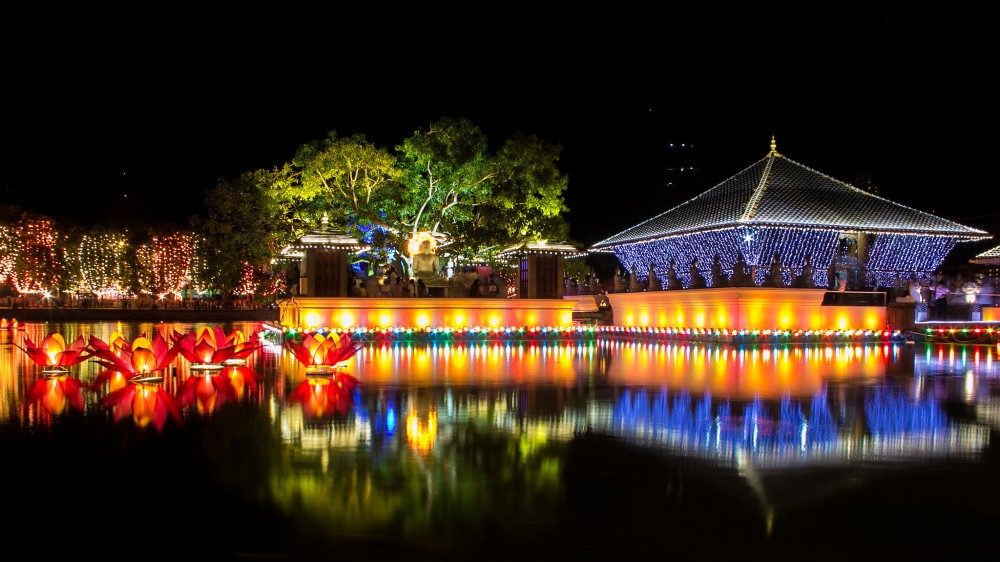 Vesak, the festival celebrating the birth, enlightenment, and passing of Lord Buddha, is celebrated with great fervour by the country's majority Buddhist populace. This year Sri Lanka will be hosting the United Nations' International Day of Vesak for 2017. While Buddhist nations have celebrated this festival for generations, the United Nations only adopted it in 1999 on the initiative of Sri Lanka's respected foreign minister Lakshman Kadiragamar. Even so, this is the first time that Sri Lanka will be hosting the official UN celebrations since its adoption.
While the UN events are taking place with much grandeur, they only add to the Vesak festivities that have existed for many years. On Vesak day, the streets are filled with people, dressed in white, going to their neighborhood temples for religious observances and contemplative prayer, while at night the streets are ablaze in colours as almost every Buddhist household will light a lantern as an offering of light. If there was a time for you to walk the streets with a camera, this would be it. You can find lanterns in all shapes and sizes, from the traditional eight-sided atapattam, to more complicated designs like lotus blossoms.
Nothing, however, encapsulates the celebration of Vesak quite like a pandal.
The Sri Lankan Vesak Pandal is a structure specifically built to showcase a Buddhist tale. It could be from the life of the Buddha, or a Jataka tale. It is drawn in panels, much like a comic strip, usually with a moral lesson at the end. Linking all the panels and surrounding them are myriad light bulbs set to pulse in artful patterns. Usually, you will find someone narrating the entire story in poetic words or in poetry itself. Pandals can range from a couple of feet tall and a handful of lights, to massive structures that can reach 100 feet and carry thousands of bulbs. Larger pandals take months to build, with artists sometimes starting on painting the panels the previous year. Once the painting is completed, giant scaffolding are built on the site. The panels are attached to this and then the bulbs and their wiring are added. On any Vesak pandal there will be a depiction of the Buddha. This will be covered in cloth out of respect until the time of opening on Vesak day. Touring Colombo on the evening of Vesak to see all the pandals is a national tradition. But there's a possibility that you could see these later on as well. It's not uncommon for pandals to be hired out to places outside Colombo for the coming Poson poya day.
Pandals or Thoran in Sinhala, have a history dating back thousands of years. Thoran are traditionally built as decorative arches over entryways during important events. They are a signifier of importance and wholesomeness. This is why you can see them at the entrances to temples. There are many types of pandals made from various materials. Some have deep religious and cultural significance. In comparison, the modern Vesak pandal only has a history of less than a century. In 1913 a structure with Buddhist paintings illuminated by oil lamps was seen in Ambalangoda. However, the modern illuminated Vesak pandal using electricity was first seen in 1956. This is the beginning of the famed Thotalanga Pandal which is shown annually to this day.
Each aspect, the paintings, the wiring of the bulbs, the narration, will require artisans with skills specific to the creation of pandals. Not only do they have to be spectacular in their own right, they need to work together so that the message of the pandal is not lost. Many of these artisans earned great fame in years past. Names like Ariyadasa, Pushpananda Denipitiya, Mervyn Senarathna are well known in these circles. The electrical genius known as Ariyadasa master is said to have created over 300 pandals over the past 4 decades, including a pandal that was displayed for six months in Japan in the 1980's.
Artists like Motagedara Wanigarathna and his pupil Jayasiri Semage, meanwhile, earned great fame for their skill with the brush. They incorporated traditional styles and artwork from the Anuradhapura and Polonnaruwa eras to bring a truly Sri Lankan identity to the pandals. Another famed artist with a modern style is Pushpananda Denipitiya. He is an artist with over 3 decades of experience with his brushes. Starting from the famed Thotalanga pandal in the 70's, he has lent his skill to over a 100 pandals to date. Mervyn Senarathna may be a name familiar to those who listen to the SLBC, where he has sixty years of experience writing scripts. He is also the most famous script writer for pandals, and is said to be the creator of over 600 narrations for pandals from Colombo to Avissawella over the years.
Artists such as these would have worked even more than usual for this year's grand celebrations. On Bauddhaloka Mawatha the YMBA hosts its annual pandal. The SLRC will host a massive production as well which uses pandal, stage and video displays, with the participation of local artistes. There will also be Vesak celebrations at the Gangarama temple in the Buddha Rashmi Vesak Kalapaya. The Port Buddhist Society will be hosting the Swarna Shri Kolomthota Vesak Kalapaya. In addition to these, you can find pandals at Peliyagoda, Bastian Street in Pettah, Kosgashandiya, and Dematagoda. The prisoners of the Welikada prison have also built a massive 15,000 bulb pandal this year.
In Colombo, the Bauddhaloka Mawatha Vesak Kalapaya will be the epicentre for the Vesak celebrations with the United Nations' celebration at the BMICH. Parallel to this the Light of Asia foundation built a replica of the ancient Shakya Kingdom in Kahapola, Piliyandala. The area surrounding the parliament and Diyawanna Oya has been transformed into a Vesak zone as well. Here you can find a pandal of water curtains, while Galle Face will be home to a laser light pandal. This is a great departure from the traditional Vesak pandal. With modern technology coming to the fore, pandals are changing as well. Digital or computer generated drawings and large scale printing threaten the age-old hand painted panels. LCD screens and video are not far off. While creativity and innovation are to be lauded, the question arises: how long will our pandals remain unchanged? For now, the traditional ways are still going strong. Even if you can't come to Colombo to see the most famous pandals, just step outside on Vesak night and follow the lights. Wherever you are in Sri Lanka, you will surely find a pandal.
Featured image courtesy Nazly Ahmed