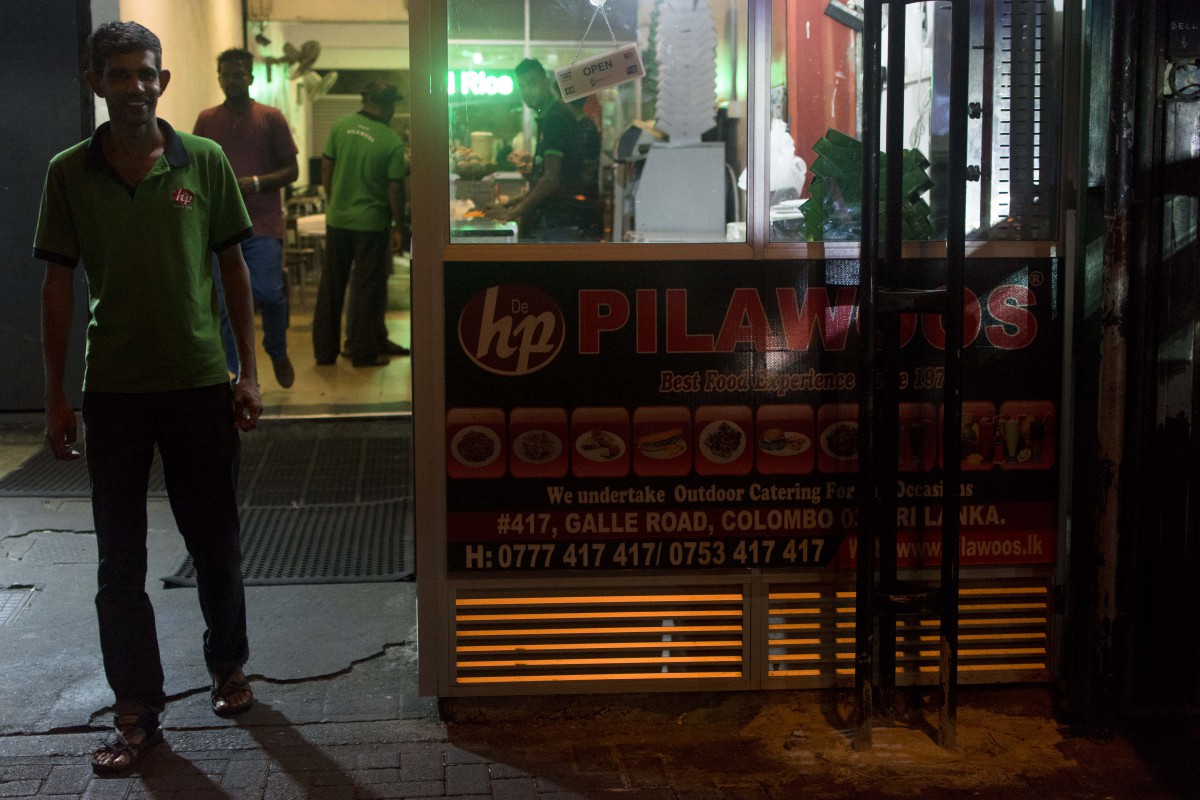 Editor's Note: Due to the trademark of the brand name and claimed copyrights, we were erroneously under the impression that the establishment mentioned in the article was the very first Pilawoos. We thank our readers for the clarification, and will continue on our quest to solve the deep mysteries of the kottu question in the weeks to come! 
From hungry schoolboys to drunken party-goers in the middle of the night, Pilawoos has entertained them all. This small restaurant sandwiched between the towering monoliths in Colpetty has an outsized reputation: its ice Milos and heavy, moist kottus are nothing short of legendary.
The Original Hotel De Pilawoos
Galle Road is almost synonymous with kottu and Milo, thanks to the multiple Pilawoos outlets around. From Hotel de PILAWOOS and Pilawoos Bambalapitiya to Hotel de New Pilawoos and Grand Pila Hotel de Pilawoos, there is a confusing plethora of eateries with variations of the same name. This duplicity is rather akin to the numerous Nana Kadeys over at Galle Face and the story is undoubtedly similar: a successful eatery pops up, and along come  rivals who take the adage 'imitation is the best form of flattery' to heart. The original, of course, is simply called Hotel de Pilawoos and is located in Colpetty.
This one, though, is the real deal, boasting of nearly 40 years of kottu excellence. Whether the food agrees with you or not is completely subjective, but the place undeniably has a loyal customer base that  still swears by its consistency — despite whispers of kottu-induced bad stomachs once in a while .
Established in 1979, the restaurant is currently in the hands of M. Niyaz Nadeer, the founder's son.  He is casual and easy to approach, often mistaken for a patron or one of the waitstaff  given his constant presence. Nadeer took over the restaurant in 2007, just an year after Pilawoos finally applied for patent rights to secure their brand name. This gave it authenticity, setting it apart from approximately ten  other restaurants with the same name.
"Our names and menus are copied all over the place, but now we're officially recognised as the original Hotel de Pilawoos. Whenever our Sri Lankan fellows see something successful, they try to copy that. We sent them official notices after getting patented though, so now they've had to alter the names slightly. That's how you get this Grand Pila and whatnot," he said.
Nadeer's job involves everything from keeping an eye on the accounts to experimenting with new dishes and convincing his senior staff to market newer dishes to customers. He grins as he recounts how difficult it is to convince some of the older waitstaff there to change their  old ways of simply taking down orders, and to get customers to try their add-ons or even newer menu items like burgers or submarines instead.
Of Customers And Staff
There are 45 to 50 people employed at the hotel, working one of the two 12-hour shifts. Most of the staff  have been working at the restaurant for years, the longest-serving having been there for  20 years.
"We're basically family and I don't feel complete if I don't come here every day. We don't have holidays even during Eid — our customers get angry if we're closed, and now we just love the atmosphere of this place because of the variety of different people who drop in," Nadeer explained.
Recognising the potential for business in hungry customers looking for a snack after a long night of partying, Pilawoos began operating 24/7 around the late 90s, when clubs started becoming popular in Colombo. Having it open so late was one of the reasons why the hotel was able to appeal to  customers from two ends of the spectrum: the working class and the elite.
He laughs again as he recalls the early days of staying open beyond midnight. "You'd get people who work in the area, and then you'd get a really giddy young girl with a group of friends who came here after a night of clubbing and then threw up all over the place. And then our fellows would have to mop it all up!"
The waitstaff and chef take everything in their stride as well, managing to keep the place up and running smoothly. There might be the occasional fight breaking out which would have to be taken care of, but nothing that they can't handle. They are also experienced in reading a customer's preferences and knowing specifically what someone would like to order.
Grand Pila Plans
The hotel has five branches in the Maldives, but Nadeer intends on keeping it as it is in Colombo, stating that he's happy with the way business is here, and isn't keen on compromising its popularity.
However, he intends to renovate the space and have an open kitchen plan so that customers would feel more comfortable, although he also acknowledges the difficulty of doing this in a kottu kadey where closing shop even for a day—and maintaining high standards of hygiene—is near impossible. Other plans include taking the restaurant to other international locations such as Qatar and Canada, in addition to  the Maldivian archipelago.
Cover image: Thiva Arunagirinathan.