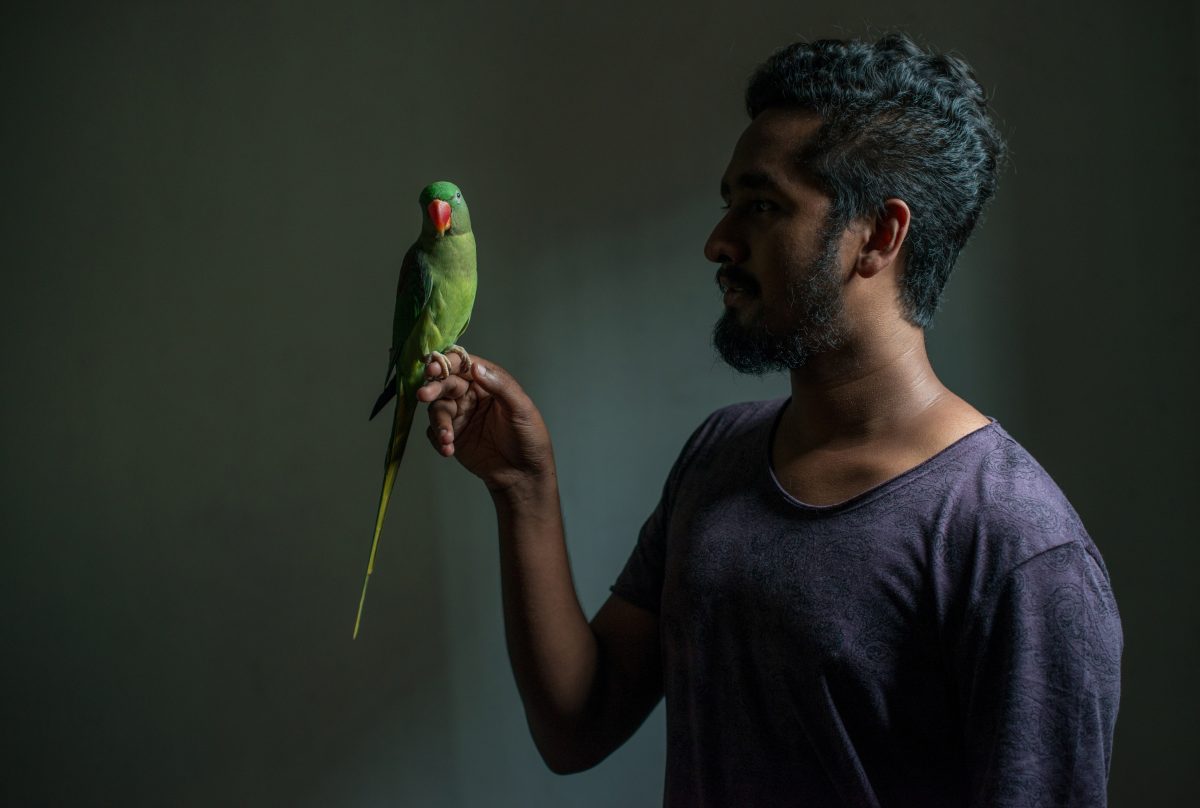 The Sri Lankan Malays, known to most Sri Lankans as "Ja-minissu" or the Javanese people, are a small Muslim community descended from Indonesian political exiles, soldiers, and convicts who were brought to the island during the Dutch period of rule.
Centuries after their arrival, the Sri Lankan Malays have integrated themselves with the rest of Sri Lankan society. At the same time, however, they remain a distinctive ethnic minority – one with a multitude of stories to tell.
Honeida Packeer (Sourjah)
Honeida Packeer is an active member of the Malay community in Colombo. Having joined Colombo Agencies Ltd. as a typist in 1956, Honeida stayed with the company for twenty-two years, working herself upwards to the position of senior executive. She then migrated to the United States, where she worked for twenty-one years at a management training company as executive in charge of accounting.
The birth of Honeida's granddaughter in 2001 prompted her return to the island. Today, Honeida is involved in social services, and is a vocal advocate of women's rights.
According to Honeida, the greatest challenge Sri Lankan Malays face is that a large part of the community is unable to converse in their "mother" language – a distinct dialect of the Malay language that developed in Sri Lanka over the years. The loss of a language, she says, signifies the loss of a cultural and linguistic heritage. But she remains hopeful, and is encouraged by the young people in the Malay community who are rallying to revive interest in the language using the public domain.
Kumala Wijeratne
Kumala Wijeratne – who, over the years, has worked as a teacher, a journalist, life insurance agent, and has even run her own batik business – is a jack-of-all-trades and master of just as many.
Not slowed down by the births of her daughter and son, in 1985 and 1986 respectively, she continued to work multiple jobs, even making time for social work, which resulted in her serving as President of the Lions Club for two years running.
Kumala's husband, Puthra Wijeratne, passed away in 2008 at the age of fifty-seven, following five years of grappling with dementia and, later on, Parkinson's disease. "He was my husband", she says, "and he didn't know who I was."
There is, however, one memory from those latter stages that she continues to hold dear – her husband, who had lost all ability to communicate, somehow responding to her wish of "Happy Anniversary" with a hearty "Same to you."
Following his death, Kumala began volunteering at the Lanka Alzheimer's Foundation, going there every Friday, armed with food, to cook for the twenty-odd people who take part in the foundation's activity day. She took a break a couple of months ago in preparation for her daughter's wedding – but until then, she says, "like a prayer, I was there."
Noor Zulsky Raheem
Kumala's brother, Noor Zulsky Raheem, owns and manages the Cue Club in Slave Island, which was founded by their grandfather over a century ago.
The family home he and Kumala grew up in used to stand just behind the club, bordering the Java Lane area, which is now under construction by the Urban Development Authority. While Raheem believes that development is a good thing, he also believes that there are right and wrong ways of going about it. There are ways to do it, he says, without forcing people to leave their homes.
M. J. M. Lafir – the first and only Sri Lankan to win the World Billiards Championship in 1973 – used to frequent the Cue Club. It is Raheem's hope that next year, when he becomes President of the Billiards and Snooker Association, he will be able to work towards bringing another World Cup win to Sri Lanka.
The Sithi Sisters
The Sithi sisters – Sithi Saarena Komaldeen, Sithi Naleefa Ahmad, Sithi Nilufa Khan, and Sithi Rafeeka Ahmad – grew up in Java Lane. They resided in their childhood home their whole lives until they were forcibly evicted in 2012 as part of the City of Colombo Urban Regeneration Project.
Their father, a sailor whose work took him on long voyages all around the world, once boarded a ship from Colombo and never returned. It was only later that news of his death reached them – he had passed away in Romania.
Following their eviction, the sisters were promised an apartment in one of the new buildings coming up on Java Lane, but they remain sceptical. They will believe that promise, they say, once the keys to their new apartment are in their hands.
Nona Waseela Shukra
Nona Waseela Shukra grew up by the train tracks in Slave Island, and works at AIA Insurance, carrying out tasks like preparing tea for the staff there.
The mass evictions that took place due to the Urban Development Project have left her community splintered, and Nona tells us that those left behind feel the absence of those who were forced to leave.
If she could change anything, she says, she would want to bring good things to her community and the people in it, especially widows and those without a stable income. She wishes she could move to some place better, but adds that she lacks the money to pay rent elsewhere.
J. M. Faleel
M. Faleel has been living by the train tracks in Slave Island for the past four years. Forced to take on the role of breadwinner the age of sixteen, Faleel began working in electronic maintenance at Hameedias.
According to him, the rent at his home by the train tracks is significantly lower than the rent at his previous house, which is what prompted him and his wife to move here. It is also closer to work, he says, as wells as to the shops and hospitals. While the sound of the trains passing took some getting used to, he now barely bats an eyelid at the one that thunders past.
He insisted that we include his bird statue in the picture – it is one of his prized possessions, he says.
Hakeem Batcha
Hakeem Batcha is a retired postmaster from Hambantota, whose work took him all over the island. He was, however, a teacher to begin with, and switched occupations after taking the Postmaster and Signals exam, which he tells us was a competitive one.
Father to four children – one daughter and three sons – he lost one of his sons to the Boxing Day tsunami of 2004. Hakeem recalls hearing a commotion outside his house and running out to cries of "the sea is coming into the land!"
Hakeem is saddened by the diminishing usage of the Sri Lankan Malay language, and laments the fact that while all four of his children could converse in the language, his grandchildren cannot do so.
Tuan Zuheer Raban
Tuan Zuheer Raban – an army officer turned St. John Ambulance volunteer – is a lifelong resident of Slave Island.
He joined the army at the age of eighteen as a medical officer, and retired as a Colonel fifteen years later. Following his early retirement, Tuan began volunteering with the St. John Association for Sri Lanka. He is now its Vice Chairman.
During the civil war, St John was the only volunteer ambulance service available in the North, and Tuan – together with his team of volunteers – took it upon themselves to serve in the Kilinochchi and Pallai Hospitals, both of which were located in war zones. "You never knew when they were going to shoot," he says. "It was a dangerous situation."
In the aftermath of the tsunami of 2004, Tuan was among the first responders. He recalls helping build a trench along the seaside, in which they buried over a thousand bodies. Following the floods earlier this year, Tuan's division was involved in performing first aid and, later on, organising medical camps.
"I am not a soldier now," he says. "I am a volunteer officer, and my duty is to save lives. All lives."
Nasoor Deen
Nasoor Deen is a trustee of the Java Lane Mosque, and has been in charge of the mosque, its finances, and its operation for a period of eight years.
Previously having worked in housekeeping, both in Sri Lanka and in Abu Dhabi, Nasoor Deen joined the mosque as a volunteer at the invitation of his friend.
It saddens him, he says, to see that Malay culture in Sri Lanka is diminishing, but he feels he is too weak and lacks the strength to concern himself too much with that type of thing.
When asked whether he is proud of his job, he tells us that "proud" is the wrong word to use, because all he is doing is "answering the call of Allah, the creator."
Firi Rahman
Firi Rahman, a young artist from Slave Island, is half Malay, on his mother's side.
His work – consisting of hyper-realistic sketches and, more recently, cartography and portraits, which look to bring together the past, present, and future of Slave Island – has been exhibited at major galleries and festivals around the island.
Another one of his passions, which takes up a lot of his time, is looking after injured animals – parrots and squirrels, in particular. At the moment, he has in his care two squirrels and six parrots, including Cheeku, the one pictured here, and the only one, he tells us, that doesn't bite.
Although he is only half Malay, Firi is fluent in the Sri Lankan Malay language, and is one of the few members of the younger generation that speaks it. He learned it out of his own interest and curiosity, and is adamant that more young people in the community learn it so as to keep their culture alive. It saddens him, he says, that the majority of his younger family members don't speak the language.
The narratives above, though interesting in their own right, provide only a glimpse into the lives of the Sri Lankan Malay people. There is no doubt that the community – like any other – has myriad stories left to tell, and it is our hope that they will continue to tell them, in the Sri Lankan Malay language that they know so well.