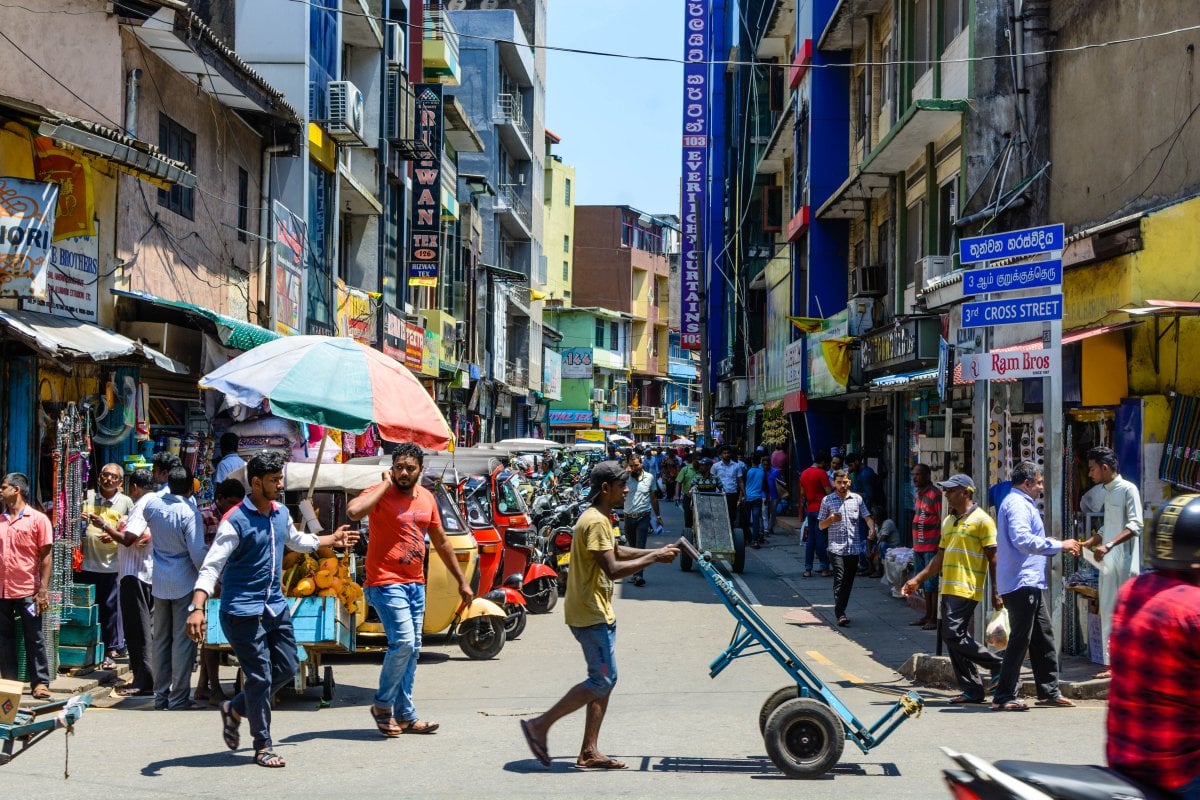 Pettah is a chaotic, crowded smorgasbord of sights and sounds. But it is also the go-to place for  a variety of items, from plastics to mechanical parts. While it is difficult for the uninitiated to navigate the bustling streets of Pettah, each of the streets is known for specific items, and with a little help it is easy to find your way around.
But first, a little history.
'Pettah', in local parlance, refers to the Pettah Market, an expanse of shops extending from Olcott Mawatha, to Main Street and beyond. The name 'Pettah' is derived from the Tamil word 'pettai', used to indicate a suburb outside a fort. The Sinhalese word for the area, 'pita-kotuwa', meaning 'outside the fort', correlates with this.
As indicated by its name, Pettah, or Pita-Kotuwa is the area outside the fort the Portuguese built in the 16th century. The fort was besieged by the Dutch in 1656, who demolished part of the fort and rebuilt it to take advantage of the natural strength of the location. After the British took over in 1815, they set about establishing control in Colombo, and in 1870 demolished the walls of the fort. Despite the absence of ramparts, the area continues to be known as Colombo Fort.
'Pettah', and more specifically the Pettah Market, lies just outside what remains of Colombo Fort and is a bustling bazaar of hawkers, shops, vendors and buyers. Architecture from the colonial period stand as backdrop to the daily hustle and bustle; the Wolvendaal Church, the strikingly red and white Jami Ul-Alfar Mosque, the Khan Clock Tower and the Dutch Period Museum watch as life in the 21st
century passes by. Trade in Pettah is dominated by Muslim and Tamil businessmen, but tradesmen from Sinhalese and minority ethnic groups also operate. It is usually very crowded, and it is better to undertake the task of shopping there on foot, although there is a car park near the Khan Clock Tower, where buyers arriving in vehicles can park until their shopping is done.
The streets of Pettah are in a constant state of flux; nattamis dart to and fro, unloading heavy gunny sacks of fruit and vegetables from trucks and carrying them to wholesale stores, while buyers in their dozens sidestep them on narrow lanes.  Carts laden with apples, grapes, oranges and other 'imported' fruit stand at every street corner, while tiny kiosks serve colourful 'cool' in glasses.
It's easy to get lost in the endless maze of streets that make up the Pettah Market—but with a little reading before hand (look right here), and some orientation, you'll know just where to go for what. Here is a breakdown of what you can find at each of the street of Pettah:
Main Street — On Main Street, Pettah, you can find assorted clothing stores. Some of these are the high-end 'Ranjanas' and 'Visakamals', but there are other stores with a variety of clothing that line the street. There is a wide range of colourful sarees—from the more average silk and cotton for daily wear, to the more expensive ones laden with beadwork and embroidery.
On the First Cross Street you'll find hardy bags of every kind, from school bags to hiking bags, also shiny watches—mostly knock-offs of expensive brands like Rolex, Piguet, Mont Blanc and Omega—at very reasonable prices, and mens shoes. Also available on First Cross Street are electric item 'parts' and electronic item 'parts'—but beware, only a seasoned professional will know how to bargain for the right parts! You will also find all manner of stationery and printing items on First Cross Street.
Second Cross Street is where you will find rolls upon rolls of cloth, from poplin, to muslin, to cotton and silk and even cheetha redi—all at very reasonable prices. Also on Second Cross Street you will find electric items galore: hair straighteners, irons, blenders, toasters, sewing items like spools of thread, needles and thimbles, sewing machines and even cosmetics like creams, powders, eyeliners and pencils, lipsticks, and perfumes.
Third Cross Street is the shortest of the 'Cross Streets' that criss-cross the Pettah Market. On Third Cross Street you will also find cloth or various types and hues, as well as items such as scales (to weigh groceries, not the body!), and tools such as hammers, spanners, screwdrivers and the like.
On Fourth Cross Street and Fifth Cross Street you will find wholesale food items. The entire street is filled with fresh vegetables, fruit and dried goods. You will find potatoes and onions by the sackful, stacks of leeks, beans and leaves, mounds of carrots, tomatoes and a host of other local produce at very reasonable prices.
Cutting across these 'cross streets' are a number of other streets that are filled with various wares. Maliban Street is where you can find wedding invitations, on Prince Street are more electric items, leather products and mirrors. On Keyzer Street you will find a further selection of cloth, while Malwatta Road has more bags, watches and mens shoes.
On Bankshall Street is found chemicals—borate, boric acid and chemicals used to treat water, as well as artificial flowers and other paraphernalia. Old John's Street has building material—sacks of cement, bricks, sand, asbestos sheets and the like, while China Street is filled with ornaments and home decor, glassware and polythene.
On Gabo Lane you will find pharmaceutical items, ayurveda drugs and cake items like baking trays, cake ingredients and more, while Perera Road has a selection of dried fish. On Olcott Mawatha you will find more vegetables and fruit, while Dam Street has bicycles, bicycles parts and more cakes items and ingredients.
Meanwhile, Sea Street in Pettah is particularly known for gold. The entire street, and several large buildings on the street, are filled with gold traders and dealers of semi-precious stones; a trade that has continued for decades. It derives its Sinhala name—Hetti Veediya— from Chettiar,  a South Indian business community which set up shop and thrived in Sri Lanka.
While tackling the streets of Pettah is no easy task and requires braving the elements, sidestepping people and being trod on (!), it is the best place to buy goods for the most reasonable prices. The riotous colours, sounds and general atmosphere makes for a unique, flavoursome experience.
Cover: Pettah is a smorgasbord of sights and sounds. Image credit: Roar Media/Thiva Arunagirinathan