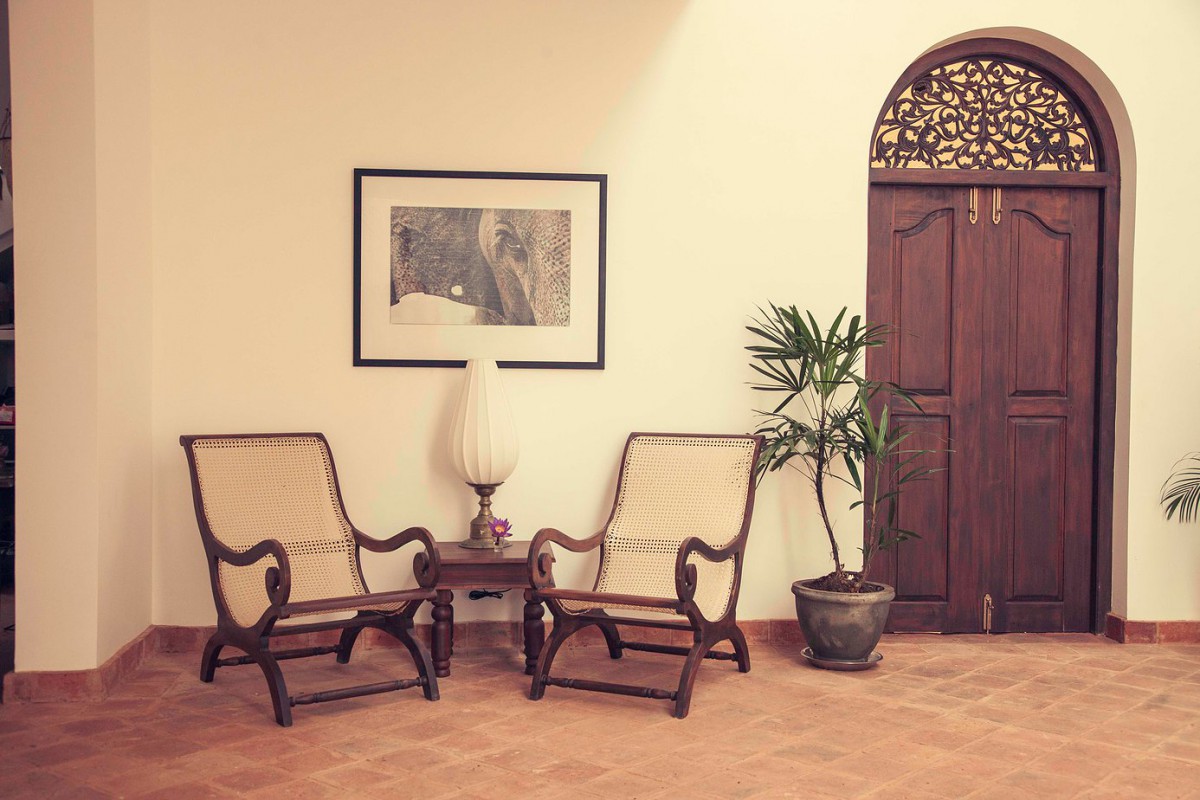 When we think of traditional Sri Lankan furniture, our thoughts often go straight to the wooden chairs and storage chests that harken to the old colonial days when Sri Lanka was called Ceylon. In pre-colonial Sri Lanka, seating above floor-level was uncommon; the ancient kings would sit on seats carved out of rock, while the masses would be seated on mats or on the bare ground. The seating furniture that we are now familiar with was first introduced in the 16th century by the Portuguese.
The Sinhala word putuwa (chair) itself was originally a Portuguese word. European-style chairs, tables, bedsteads, and case furniture were made from the early 16th to the mid-17th centuries in the Portuguese colonies of Sri Lanka, India, and Malacca. From the mid-17th century onwards, Dutch colonisation of these areas resulted in the development of Dutch colonial furniture.
The Europeans recreated their own furniture here, in Sri Lanka. However, the wood that they brought from their native countries did not last long in the tropical climate. Therefore, our local timber began to play a more significant role. The wood varieties used widely during the Portuguese, Dutch, and British colonial eras were jak, ebony, calamander, satinwood, nadun, and teak. Numerous other kinds of timber were also used, and skilled cabinet-makers would sometimes combine different kinds of wood. From the 17th century onwards, Jaffna, Bentota, Pettah, Moratuwa, and Galle emerged as important centres for furniture-making. Moratuwa is still a prominent area for woodwork and furniture production. Here are some of the unique pieces of furniture that emerged from that era:
Carved Divans And Settees
Known as kavichchi in Sinhala, these divans or settees are crafted out of different woods and are available in a variety of styles. Originally of  Dutch origin, these large seats were crafted  out of indigenous woods, which were afterwards carved with designs and motifs such as decorative spindles and patterns of vines and flowers characteristic to Sri Lanka. In the 19th century, they were commonly found on verandahs and inside houses, regardless of whether the residents were of Dutch Burgher heritage or otherwise. Kavichchis come in a variety of styles, some with armrests and backrests, and some without, but the kind with the double scroll end armrests is the most common.
Planters' Chair (Haansi Putuwa)
Planters' chairs were also known as verandah chairs as these chairs most often graced the verandah or front porch. They were introduced by the British and may have originated in South India. They were called planters' chairs or plantation chairs because they were popularised by the British as seating in the open gardens and verandahs of plantation bungalows in the hill country. Later on, they became a prominent part of Sinhalese homes as well and were traditionally reserved for the patriarch of the house. The seats of these chairs are made out of woven cane or rattan.
Burgomaster Chair
This is a chair with a semi-circular backrest, six curved legs and a round seat made of cane or rattan. It is a unique example of furniture that was introduced to Sri Lanka by the Dutch. Several antique pieces have also been found in Indonesia and South India, and are believed to have either been made in Sri Lanka, or crafted using timber exported from Sri Lanka. The local Burgomaster chairs are usually made of teak, ebony, or jak wood. Though it is uncertain why the Burgomaster looks the way it does, judging by its sturdy structure, it was most probably used on board the Dutch trading ships that sailed from Indonesia to Sri Lanka and South India. It continued to be a common piece of furniture even during the British colonial period. Today, the Burgomaster is a rare piece of furniture for one to come across. It can be found in antique stores and on display at the Dutch Period Museum in Pettah.
Pettagama
Traditionally, the pettagama had many uses. It was a wooden rice box that was used to store paddy, away from mice and moisture. The handles on the sides of the chests indicate that the chests were most likely used by traders to carry their wares to sell, while travelling between different areas. Made of ebony, these heavy trunks were used as treasure chests for people to store their money and valuables. Their weight ensured that they could not be stolen easily. The top and the corners of pettagamas are usually decorated with brass studs, while the top is attached with large, engraved brass hinges. These days the pettagama is an iconic piece of old Sinhalese furniture, which is used as a decorative piece while also doubling as a storage compartment.
Almirahs
The word almirah is derived from  the Portuguese word armario, which refers to a cupboard, wardrobe, or any large piece of furniture used for storage. The Sinhala word almaariya is also derived from the same word. In the 19th and early 20th centuries, it was considered a symbol of status to own an almirah as they were most often carved from valuable indigenous woods such as satinwood, teak, or ebony.
Chest Of Drawers
The chest of drawers is quite similar to a cabinet. What makes it unique is that it has a more box-like structure, into which drawers and shelves are fitted so that the piece can be used as a storage space for many different items. In the 17th century, the chest of drawers evolved from the single storage chest that was common in Medieval Europe. Several other forms of storage furniture, such as the wardrobe, the dresser, and the bureau evolved from the chest of drawers.
Specimen Tables
Specimen tables are circular tables that are inlaid with samples of cabinet woods indigenous to Sri Lanka. The tops of these tables, usually made of ebony, were inlaid with ivory as well as with various coloured, indigenous woods. They were produced by woodworkers and craftsmen  in Galle.
Many antique furniture pieces have found a home in public collections such as the Dutch Period Museum in Pettah. Other, newer, pieces have been carved from scratch, thus preserving a centuries-old industry that combines structures, designs, and materials from different countries.
Featured image courtesy mangohouse.lk