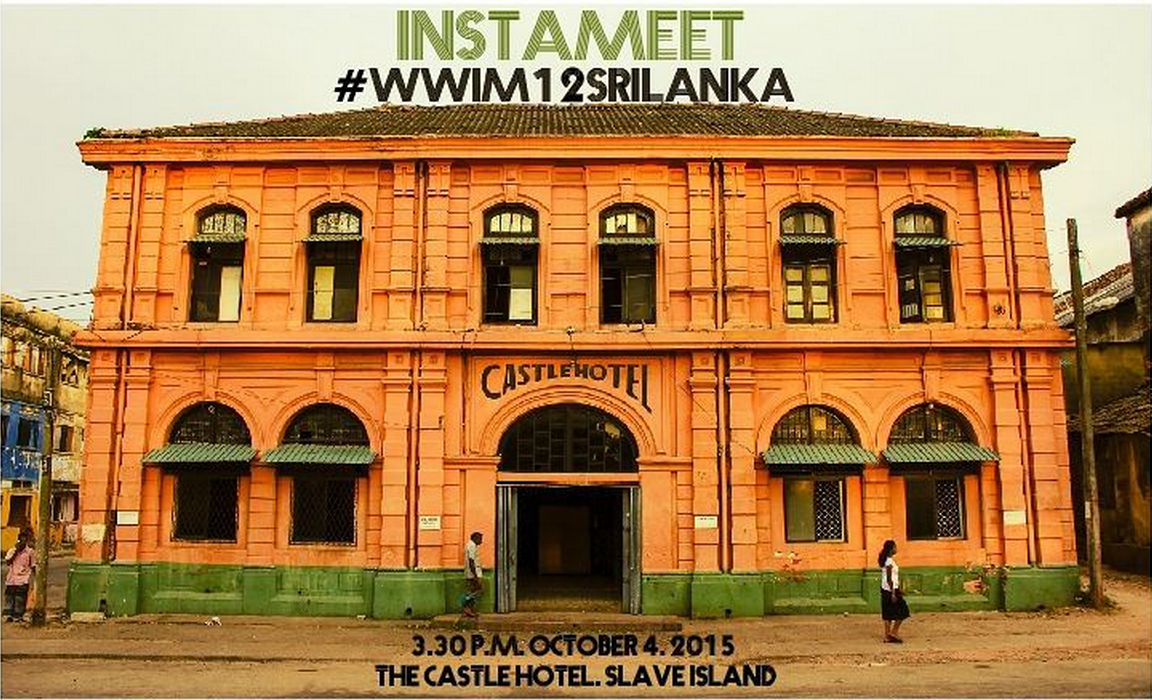 Instameets are a way for Instagrammers to meet and take photos together in real life. They're hugely popular across the world. While Instameets most likely started off organically as a phenomenon created by users, Instagram quickly saw the advantage in mobilizing around the idea, and now has an annual festival of sorts called World Wide Instameet (WWIM).
For WWIM, Instagram encourages users across the world to gather at their localities, get to know each other, and go on photowalks. The time of the festival, usually a weekend, is fixed by Instagram; allowing it to recreate instameets as and when they happen across the world on the newsfeeds of its users. Organizers of instameets pre-register the meet on the Instagram website, and might even receive goodie packs to distribute. In the past, known instameets in Sri Lanka for WWIM have been held at Maradana, Pettah, Kotahena, Independence square and most recently Mutwal.
Each instameet offers a unique experience. The first one at the Maradana Railway Station attracted some 40-50 people, and remains our biggest Instameet to date. It wasn't very successful because we were quite conspicuous in our grand plan to walk down the tracks en masse and obtain access to the railway yard. We were politely and unceremonously kicked out of the railway station, but ended up in Pettah and had a great time.
Most instameets tend to happen in cities because most Instagrammers prefer to gather in easier-to-access urban localities. This, and a tendency towards preferring street photography and 'urban exploration' generally leads them to do a particular type of photowalk. It's because of this that instameets tend to not be very comfortable or luxurious experiences. 
An instameet is an informal, casual event. And everyone is responsible for their own safety. While the most dangerous thing that can happen to you is probably getting an earful from an irate local, all instameeters are advised to exercise discretion and street-smarts while participating i.e. don't do anything stupid and nothing bad will happen.
All of our instameets here have featured some 'interesting' experiences. While no one has been seriously hurt,physically or emotionally (i.e. no one has cried), attendees have typically been exposed to situations beyond their immediate comfort zone like having to confront genial but drunken elderly gentlemen (who may or may not perform spontaneous kavadi dances for your evaluative judgement) or having to walk through thick garbage ridden beaches.
Everyone who has come has left feeling good, as this is very much a part of the experience. Though not everyone always returns to the next one, over the past few meets a core of dedicated individuals have continued to attend, and there are always new and interesting people turning up for every new meet.
Instameets are a great way to learn about places you've only encountered in passing, and to meet and speak to interesting local people as well as great photographers you've followed on the platform. They always involve a lot of community interaction. Imagine being part of a straggling group of 30 or so people walking through a tightly packed neighborhood like Slave Island, taking photos of doors, nooks and crannies, kittens and people. An instameet, to an outsider's first glance, especially someone accustomed to living in a neighborhood they don't consider to be particularly spectacular, can seem utterly bizarre. 
This is why friendship and respect is particularly important. An instameet is essentially an invasion of a neighborhood, a community space. And so that 'invasion' must be as benign as possible. We must become friends visiting for an afternoon, nice and respectful people looking for a welcome rather than demanding one. We cannot be uppity documenters under the impression that we have a right to take whatever we see through the lens of our camera. Because frankly, we don't. 
As WWIM12 happens on the weekend of October 3 and 4, 2015, the Instagram community in Sri Lanka will meet at the Castle Hotel in Slave Island on Sunday October 4 at 3.30 p.m. After a bit of a chat and hob-nob we'll head off for a photo-walk in Slave Island. Pretty much anyone can organize an instameet. And if you feel Colombo is a little too far away, or don't like the idea of Slave Island, feel free to organize one in your own neighborhood. Just make sure you register it, and get yourself a unique hashtag.
Sunday's instameet will also feature something new as far as Instameets go. Instead of meeting up and diving right into the streets, at 3.30p.m. we will start with an informal discussion at the Castle Hotel featuring a panel consisting of Malaka Pathmalal and Amalini De Seyrah, both instagrammers who have pushed the boundaries of the platform to do some unique, socially sensitive work and Menika van der Poorten, an artist and curator with vast experience in the field and a passion for development of photography education.
 The hashtag for Sunday's meet is #WWIM12SriLanka. To celebrate its 5th year anniversary, Instagram is also encouraging instameet participants to take #todayimet portraits of IGers they find interesting. All you need to join the instameet is an active Instagram account, but feel free to bring friends and family!