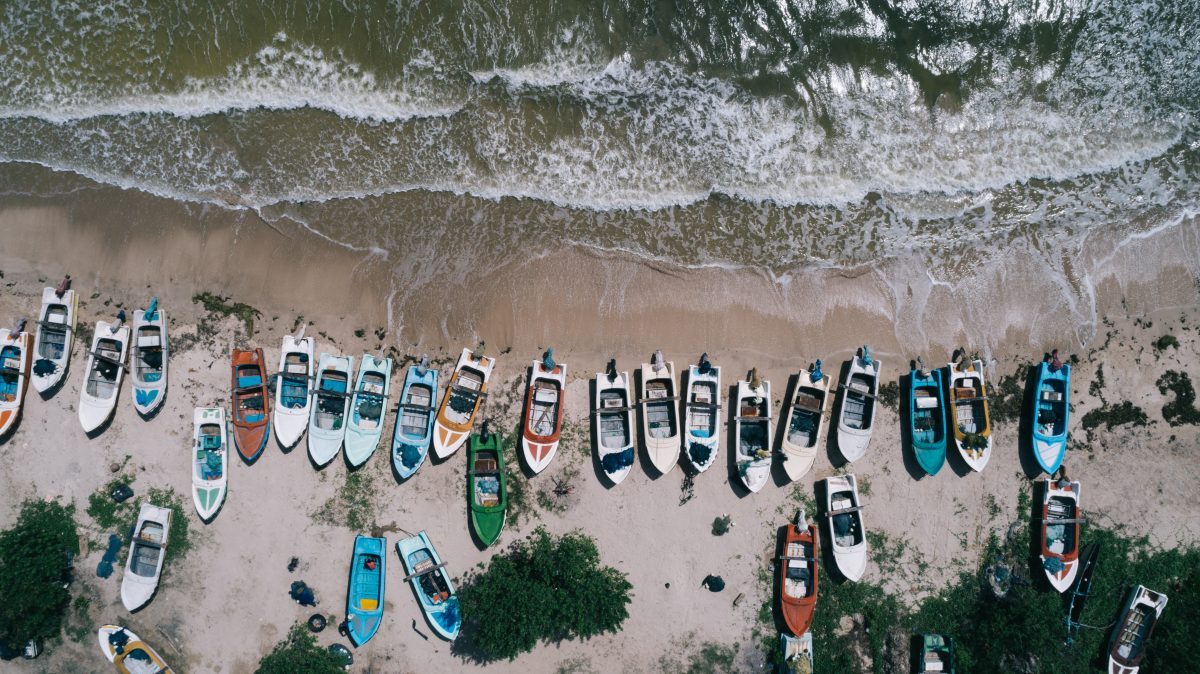 For a compact island, there are infinite things to do here. To start, we've put together a list of 101 experiences that most people in Sri Lanka have either tried, thought about trying, or should try after reading this.
1. Take the train
Up the hills. Down the coast. Through the Kelani Valley. Across to Batticaloa. All the way to Jaffna.
2. Go fly a kite!
From your backyard. In a paddy field. On Sunday at Galle Face Green.
3. Turn your commute into a conversation
Ask your tuk tuk driver if they have a meter. Listen to their life story. Tell them your life story. Understand the politics of the country. Complain about traffic. And if you're lucky, be serenaded.
4. Stare at an endless piece of ocean that stretches up to Antarctica
Dondra Head. There's a lighthouse here, at the southernmost point of Sri Lanka.
5. Stand 40 kilometres away from India
Point Pedro. Take a picture with the signpost. This is the northernmost point of Sri Lanka.
6. Drink every kind of tea imaginable
The super-sweet kadé tea in cheap plastic glasses. True Ceylon Tea up in a plantation bungalow. The afternoon pick-me-up at your office.
7. Pay homage to an ancient relic
Home to the sacred tooth relic of the Buddha since the 16th century, The Dalada Maligawa or Temple of the Tooth in Kandy is one of Sri Lanka's most venerated temples and famous tourist attractions.
8. Visit an airport that used to have paddy stocks. And flights.
It was once called the World's Emptiest Airport.
9. Find architecture left behind from the colonial era
The Dutch Hospital. Independence Arcade. Race Course. The General Post Office. And those are just the ones in Colombo.
10. Drive down Sri Lanka's first expressway
Also known as the E01. To a tourist hotspot on the south coast. For a night or a day. Or just for lunch or dinner.
11. Visit the second largest blowhole in the world
We call it the Hummanaya because of the "hoo" sound it makes. Find it in Kudawella, off Dickwella on the southern coast.
12. Find the fort in Colombo Fort
Once a mighty bastion, now forgotten. Plan a weekend walking tour.
13. Explore ancient civilisations
Of all the historic capitals, Anuradhapura and Polonnaruwa stand out as two of Sri Lanka's grandest ancient cities. Several well-preserved ruins remain today and serve as a glimpse into the advanced civilisation Sri Lanka once was, complete with a number of achievements that put us on the map too.
14. Float through mangroves and marshes
Take a boat through the Muthurajawela wetlands, from a Dutch canal to the Negombo lagoon. Look out for wildlife and appreciate our spectacular mangroves – we're the only country in the world to protect them. Try to spot a fishing cat.
15. Find the best cheese kottu
Few places do it right. The fanatics know where. The best is subjective.
16. Wake up with the sun in the east
Anywhere between  Trincomalee and Arugam Bay. If you're staying overnight, plan for a Poya Day. The full moon is just as stunning.
17. Catch the sunset in the west
The pinkish-orange sky and silhouettes of people look great on Instagram.
18. Get up close with almost every turtle in the world
Sri Lanka is visited by five out of seven species of sea turtle that roam the seas. Watch them lay eggs in Rekawa. Hold the little ones in your palm at the Kosgoda Hatchery. Touch the big ones that come ashore. The Chinese tourists will join you – turtles are a symbol of good luck for them.
19. Find all the nelum pokunas (lotus ponds)
The original pond in Polonnaruwa. The new pond in the Urban Wetland Park. The theatre in Colombo 7. The railway station on the Puttalam Line.
20. Eat local food that isn't so local
Some of Sri Lanka's greatest culinary delights are not quite Sri Lankan. For instance, our beloved hoppers and string hoppers have their roots in South India, while we have the Dutch to thank for lamprais and the Portuguese for love cake.
21. Get to the beach through the mountains
If you're willing to trade an hour on the E01 for a couple more hours through the southern hills to Galle, this adventure is for you.
22. Tour a tea factory
Discover the craft behind the liquid gold that keeps our island running.
23. Visit a lighthouse in the city
Colombo Lighthouse is an often overlooked lighthouse closer to home. Complete with a view of the Port City construction.
24. Sing with a calypso band
Often found in beachside restaurants. When they walk up to your table, request for some classics, or embarrass your friends on their birthdays.
25. Replace your workout with a local bus ride
We're not talking about expressway buses here. Try the private buses and CTB buses in and out of Colombo. Learn the routes. Get stuck like sardines. Hang on to something.
26. See Sri Lanka from the sky
On a seaplane. In a hot-air balloon. When you go paramotoring. Prepare your eyes for every shade of green you can possibly imagine. The views are magical.
27. Watch hundreds of elephants gather on an ancient migratory route
Pitched as both one of the world's greatest wildlife spectacles and "one of the world's biggest pool parties", The Gathering sees hundreds of elephants congregate on the banks of an ancient reservoir in the Minneriya National Park between June and August every year. But the influx of tourism is also having an impact on conservation efforts, so please travel responsibly.
28. Dive to the shipwreck of the world's first aircraft carrier
Behold, the H.M.S. Hermes that sits off the coast of Batticaloa.
29. Remind yourself that you're on an island, even in Colombo
Walk the promenade at Galle Face Green. Grab some isso vadai and achcharu. Sit on the stairs and watch the sunset. Resist the urge to buy anything with bubbles.
30. Wrap yourself in colourful patterns
Although not exclusively native to Sri Lanka, the sarong is an essential part of our culture. Historically, a form of traditional dress that is still worn today by both genders, the unique colours and patterns of our sarongs have begun making a comeback into other aspects of Sri Lankan culture, including fashion and tourism.
31. Get lost in a jungle or tropical rainforest
Our island has plenty of them. Sinharaja is arguably the most well-known. Think long walks, no cell signal, and the occasional leech attack.
32. Taste the fundamental flavours of nearly every meal in the world
Over the course of history, Sri Lanka has earned its reputation as an island of spices. While our most famous spice export is Ceylon Cinnamon (accounting for 85% of global market share), our other exotic condiments still don't fail to attract taste buds from the world over.
33. See fish at Pigeon Island
Go snorkelling, and watch out for the  Blacktip Reef Sharks!
34. Tee off in the city, up in the mountains or, down by the sea
Play a round of golf in one of Sri Lanka's many golf courses in Colombo, Digana, Diyatalawa, Hambantota, Kandy, Nuwara Eliya, or Trincomalee.
35. Swing on a coconut tree
Search for a location called Mihiripenna on Instagram. Leave the climbing up to the professionals.
36. Visit the homes of the first modern humans in South Asia
Archaeologists claim that the Balangoda Man is the earliest record of anatomically modern humans in South Asia, whose remains have been found in various caves around Sri Lanka such as the Fa Hien Cave and Batadombalena, where fossils of other ancient mammals such as the pre-historic Ceylon Lion were also discovered.
37. Try three roads to Negombo
The old road that runs by Hamilton Canal. The A03 that is prone to traffic. And the E03 Expressway which fixes that.
38. Climb a sacred mountain
Adam's Peak, or Sri Pada, has seen the likes of Fa Hien, Ibn Battuta, and Marco Polo over the course of history. Known for its sacred footprint, the mountain is significant to Buddhists, Christians, Hindus, and Muslims who, among tourists, show up in the thousands to make the ascent during the climbing season each year.
39. Watch marine mammals emerge from the depths
Whale and dolphin watching is popular between November and April on the south coast, or May and October on the east coast. Among a number of spectacular species that live in Sri Lankan waters, look out for a dive by a majestic blue whale, or aquatic acrobats by spinner dolphins.
40. Find your sweet tooth
Satisfy your sweet cravings with a treat from one (or many) of Colombo's talented home bakers.
41. Climb to a temple that looks like part of a spaceship
The Sambodhi Chaithya is found on the road it is named after in Colombo 1 and features a large stupa high atop a concrete structure that could be ready for liftoff. Climb the stairs here for a fantastic view of the Colombo Harbour.
42. Pick up the local lingo
Ayubowan. Vanakkam. Hello. Picking up words in Sri Lanka's three official languages isn't so hard. Now try the slang. Shape?
43. Spot elusive spots
The national parks in Wilpattu and Yala are hotspots for the Sri Lankan Leopard. The latter is said to be home to one of the highest concentrations of leopards in the world.
44. Go back in time to kill time
In addition to the National Museum of Colombo, the capital also houses the Natural History Museum, the Currency Museum, Ports Museum, Postal Museum and Railway Museum among others. There's even  more museums the further out you venture.
45. Play Indiana Jones at an ancient forest monastery
Ritigala and Arankale are great places to do this. No snakes or evil villains though, just adventurous treks through jungle ruins.
46. Consider a career in proofreading
Even a century of British rule couldn't save the innocent (and entertaining) English errors seen on printed material across Sri Lanka.  Typos everywhere.
47. Ride a wave
Learn how to surf in Weligama in the south, then take on some of the world's best waves in Arugam Bay in the east.
48. Watch one of the world's most extravagant ancient weather rituals
The Kandy Esala Perahera dates back to 3rd Century BC, where it was said to be performed as a request to the gods for rain. Today, the perahera celebrates the Sacred Tooth Relic of the Buddha in a procession of beautifully adorned elephants, Kandyan dancers, acrobats, fire-breathers, and more, attracting spectators from around the world in July and August each year.
49. Get to Galle on Galle Road
Before the E01, there was Galle Road – the original coastal drive down south.
50. Eat exotic fruits most people have never heard of
Thought woodapple was exotic? Try Nelli. Jambu. Uguressa. While most tourists aren't familiar with these fruits, some of us Sri Lankans are also unaware of their English names. Gooseberry. Rose Apple. Governor's Plum. There's many more.
51. Watch wild horses run free
Brought here by the Portuguese, the Neduntivu, or Delft Island, is now the only place wild horses roam in Sri Lanka.
52. Navigate Pettah
Don't add to the cacophony by exploring in a vehicle. Experience it firsthand by foot on the streets itself.
53. See the sea from the mountains
Sri Lanka's hill country plays host to endless vantage points with stunning views – some kept secret, some well known. The Ella Gap is one of the latter, where on a clear day, you can spot the southern coastline and, if you're lucky, the Great Basses Lighthouse.
54. Eat the local candy floss
Bombai Muttai. The sweet and striking pink treat on the street.
55. Race down rapids
Get your fix of white water rafting down the Kelani River in Kitulgala. Look out for the spot where they blew up the Bridge on the River Kwai.
56. Go into a forbidden forest
Once reserved only for members of the royal family, the Udawattakelle Sanctuary is now open for visitors to Kandy looking to escape the usual tourist circuit on a number of nature trails through a forest in the city.
57. Walk on red soil
The origins of Ussangoda's red earth are mysterious. Some explanations attribute it to an ancient meteor, others to the mythical King Ravana.
58. Unwrap your lunch
Lunch packets. The quintessential midday meal for working Sri Lankans. Treat yourself to an army of colourful vegetables with an egg or a choice of meat and some papadom.
59. Explore the coral reefs without getting wet
Take a ride in a glass bottom boat on the south coast.
60. Climb an ancient fortress with a palace in the sky
Constantly debated as an overlooked world wonder, Sigiriya is equal parts history and mystery, and dominates nearly every list of things to do in Sri Lanka.
61. Climb an ancient monastery to see an ancient fortress
What's better than the view from Sigiriya? A view with Sigiriya in it. Pidurangala Rock is located a few kilometres away from the ancient fortress, where a relatively quick climb through a rocky forest with religious ruins rewards visitors with a stunning view of Sigiriya at the top.
62. Walk kilometres into the sea
Wade through the clear waters of Passikudah, which offers arguably the longest stretch of shallow coastline on the island.
63. Survive the monsoon
Every year, the monsoon season brings about a new set of challenges for Sri Lanka. Last year, it was the  catastrophic floods. But among the usual suspects are the overflowing drains, traffic, and darkness looming from the afternoon hours onwards.
64. Get to know the sport that's more popular than our national sport.
Play it in your garden, join a game on the streets, or watch an international match live at one of the many stadiums around Sri Lanka. Cricket is as much a part of Sri Lankan culture as is religion. Although not the national sport (that title belongs to volleyball), cricket is undoubtedly the most popular. Come rain or shine, wherever Sri Lanka is playing in the world, expect most computers to have a tab with live score updates, radios to be tuned into the commentary, and passers-by watching the TV through the windows of electronics stores.
65. Stand in line for free food
Dansalas, or alms halls, are just one of the many reasons Sri Lanka is one of the most generous countries in the world. Look out for them during the Vesak season in May, and other significant Buddhist holidays throughout the year.
66. Cure (nearly) every ailment
A long history of traditional medicine such as Ayurveda has given Sri Lanka a number of  life hacks that have been passed down for generations.
67. Shake a leg, and everything else attached to you. Partners included.
When you listen to baila or papare, everyone becomes a dancer. No matter how bad you are.
68. Rip up the water
From jetskiing to wakeboarding, Bentota River is famous for watersports of all sorts. For something more extreme, head up to Kalpitiya for some kitesurfing.
69. Get in a pickle, just to eat it
Achcharu. Be it mango, pineapple, or even olives, your hands are bound to get sticky. Don't forget the chili powder.
70. Attain enlightenment on three wheels
A ride in Sri Lanka's tuk-tuks is unlike any other. It's not only because of their uncanny ability to sneak through traffic, anger neighbouring motorists, and escape a series of unfortunate events in the process – but also because nearly every kitted-out three-wheeler on our roads boasts a series of "Tuk Wisdom" you won't find anywhere else.
71. Forget the weight of the world on your shoulders
After all, Sri Lanka has the least amount of gravity on Earth!
72. Survive the end of the world, three times
A trail through Horton Plains National Park takes visitors to World's End, a 4,000-ft precipice and one of Sri Lanka's most famous vantage points. Not far along the trail sits its sibling, Mini World's End, while its cousin of the same name can be found in the Knuckles Mountain Range near Kandy.
73. Crave snacks that the rest of the world doesn't understand
Short eats. Nobody else calls them that. Cutlets, chicken rolls, egg triangles, fish patties ‒ there are too many to name. And each of them is subject to their own critique. Why is there not enough maalu in the maalu paan (fish bun)? What's so Chinese about a Chinese Roll?
74. Take a hike
Sri Lanka's diverse terrains make it a  hotspot for hiking – through tea plantations, rural villages, mountainous forests, and more.
75. Ditch the supermarket for something noisier
The disorderly charm of wholesale markets across Sri Lanka makes for an exciting adventure when you discover groceries you can't find in your everyday supermarket. Urbanised areas tend to feature larger marketplaces such as the Colpetty Market or the Peliyagoda Fish Market, but the smaller neighborhood Sunday polas are just as fascinating.
76. Tune in to the oldest radio station in Asia
Radio Ceylon hit the airwaves in 1923; just three years after radio broadcasting took off in Europe. Today, the station lives on as the Sri Lanka Broadcasting Corporation
77. Eat and drink from one fruit
Thambili, or King Coconut. The elixir of our eternal summer. Best served on the street, inclusive of a measly splash of coconut water when it is cut open to drink. Once you're done drinking, ask the thambili karaya to cut open the entire coconut. If it's a healthy one, they will happily oblige and even make you a spoon out of the thambili's skin to scoop up everything inside to eat.
78. Follow the trail of an ancient epic.
Several locations attributed to the world-famous Ramayana can be found across Sri Lanka.
79. Travel like an '80s pop star
The English band, Duran Duran, filmed three music videos around Sri Lanka – the most famous being "Hungry Like The Wolf", followed by "Save A Prayer" and "Lonely In Your Nightmare". Most locations from these videos still exist today!
80. Watch the second-longest uninterrupted cricketing series in the world
Sri Lanka's annual Big Match season sees age-old school rivalries come to life in a culture of its own across city streets and cricket pitches. However, none of these rivalries are older than the infamous Battle of The Blues or Royal-Thomian, which has been held every year since 1879. That makes it older than the Ashes and a series uninterrupted by two world wars!
81. Seafood. And eat it!
From the traditional ambul thiyal to the modern hot butter cuttlefish, seafood is one thing Sri Lanka is never short of as an island. Try some by the ocean for the complete experience.
82. Drink spirits created with the help of traditional daredevils.
Toddy and coconut arrack are two of Sri Lanka's signature spirits that are made using the native superpower of toddy tapping. This traditional exercise sees a toddy tapper scale tightropes across coconut trees nearly 50 feet above the ground to extract the sap of the coconut palm that later ferments into toddy, or is distilled into coconut arrack.
83. Sleep under the stars
Sri Lanka's abundance of natural beauty makes it an ideal place for camping. There are several well-known spots for camping around the island, ranging from sites within national parks, summits, lakes, and more.
84. Take a bath outside
The tendency on an island is to head for the ocean. How about finding a safe spot to jump into one of Sri Lanka's many rivers? Early morning dips are highly recommended, especially if you need a chilly wake-up call!
85. Surround yourself with greenery
Responsible for cultivating our staple diet of rice and painting the island with every shade of green imaginable, paddy fields have long been an essential part of Sri Lankan lives. Appreciate the greenery with a walk along their narrow pathways. Most paddy fields are away from the city, but the Talangama Wetlands are easily accessible to Colombo residents.
86. Light up the island
Every year, the Buddhist festival of Vesak sees a number of Sri Lankan homes hang up lanterns to mark the occasion. Various organisations and communities also hold lantern competitions that result in ingenious creations of illuminated creativity
87. Visit a UNESCO World Heritage Site for every day of the week
The UNESCO lists eight World Heritage Sites in Sri Lanka that include six cultural sites and two natural sites.
88. Visit a national park for nearly every day of the month
There are 26 national parks declared in Sri Lanka, each with their own combination of exotic flora and fauna. Safaris, scuba diving, camping, trekking, and more. What are you waiting for?
89. See enough waterfalls to last a year
Yet another natural gem of Sri Lanka's rich biodiversity. The Lanka Council of Waterfalls counts  nearly 400 cascades in Sri Lanka – only some of which feature safe base ponds to bathe in, but still an astonishing number for an island of our size!
90. Spot a bird for nearly every day of the year
365 days. 237 resident species. Several others are migratory. The Kumana National Park is a haven for birdwatchers, but experts warn that many of our feathered friends are now endangered.
91. Talk politics
The go-to Sri Lankan conversation topic. Nearly everyone has something to say about it.
92. Have milk and cheese on a dairy farm
Ambewela not only has a reputation for having the  highest and widest grassland in Sri Lanka, but also dairy farms with high-bred cattle and other animals such as goats, pigs, and rabbits. The  Ambewela Farm allows visitors to watch the cow-milking process, pet animals, and even try some dairy products fresh from the farm itself!
93. Drink at a dodgy bar
Cheap alcohol. Relaxed dress codes. Bad lighting. Fascinating characters. Always an adventure.
94. Savour at a saivar kadé
For quick, tasty, and affordable food with South Indian influences.
95. Follow the rails on foot
Many of Sri Lanka's rail tracks snake through accessible neighbourhoods and villages. It is not uncommon to find people walking along the railway, keeping a safe distance from the tracks where trains shake the ground beneath them as they pass by.
96. Watch cars race up the hills
Since 1934, the Mahagastota Hill Climb has been the  oldest motor sporting event in Sri Lanka, and arguably the oldest hill climb in South East Asia. In addition to Sri Lanka's racing fraternity testing their engines up scenic inclines, the annual event also sees a parade of classic cars drive against the backdrop of the island's highlands.
97. Never lose a hairpin
Sri Lanka's mountain roads are filled with hairpin bends, but none are as famous as the Daha Ata Wanguwa or 18-hairpin bend between Kandy and Mahiyangana. There's even a song about it.
98. Celebrate the new year, twice
Every April, Sri Lanka celebrates Avurudu, or Sinhala, and Tamil New Year. Among the festivities of eating and spending time with family, Avurudu also features a spirit of friendly competition with games for those who celebrate. Television stations often capture local communities participating in games such as pillow fights, climbing greased coconut trees, smashing pots while blindfolded, and even trying to eat buns with their hands tied!
99. Conquer leftover colonial forts
History has shown that Sri Lanka was prone to foreign invasions, so building grand fortifications around the island comes as no surprise. Most forts still remain in great condition. Although Galle Fort remains the most popular among visitors, many others are worth the visit. Some notable forts include the Star Fort in Matara, Fort Hammenheil off the coast of Jaffna, Fort Frederick in Trincomalee or even the forts within Negombo, Batticaloa, and Jaffna.
100. Shine bright like a sapphire
Historic traders and explorers such as Marco Polo once claimed Sri Lanka had the best gems in the world. Beyond Ratnapura (the City of Gems), our precious gemstones have made their way to jewellery and museums around the world. Sri Lanka is perhaps best known for its Ceylon Sapphires ー one of which even made it to the engagement ring of Princess Diana, but that wasn't the largest blue star sapphire in the world.
101. Never run out of vitamin sea
With an island comes an endless supply of sun, sea, and sand. Arguably, some of the best beaches in the world can be found on Sri Lankan coasts.
We could go on, but we might never stop. Comment below and let us know what your quintessential Sri Lankan experiences are.
Featured image: Roar/Christian Hutter