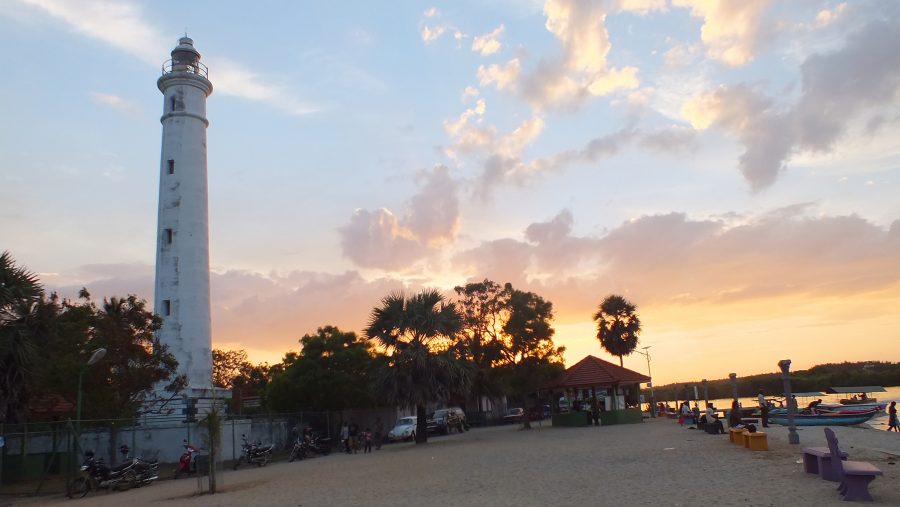 If you are ever headed towards the east of the country, Batticaloa is such an interesting town to visit. Surrounded by lagoons, Batti (as you'd call it if you were feeling lazy or vowel-y challenged), is a mellow town with sandy beaches, colonial architecture, and ornate temples and churches just a walk away. It would be a very sweaty walk, since it gets really, really hot there, especially in the summer. But it's worth it. Just carry lots of sunscreen and water.
While there are plenty of lagoons and beaches around to explore, one place you have to visit is the Batticaloa Lighthouse. It's located on the east of the town bordering the lagoon. You get there by heading up Bar Road where you'll find a small park and the lighthouse on your right, about 5 km from Batticaloa town. There are several lagoon parks around the town now, but this one is right near the lighthouse. They've got a children's play area with a bit of sand and slides and you can get in the water which is pretty shallow. But the best thing to do there is to go for a boat ride. They have the usual swan boats ‒ the ones that would give Lance Armstrong a workout ‒ and kayaks, but what you really need is to take a boat ride across the lagoon. The boat, which you can rent at the park, will take you to Bone Island, Kallady Bridge, or Batticaloa Fort, but they can also take you across the water to the sandy stretch of land that is part of the Navalady area. It's just one long finger of land that is all beach and whatever bits of vegetation that can survive that environment, which is not much.
The boat will let you wander about for a while and you can call the Park ticket counter to have them come pick you up. But make sure you get a couple of numbers from them because we got stranded for quite some time when they went for a long lunch. We spent a mildly panicked half-hour gently roasting in the east coast sun wondering if we could swim for it.
The boat ride across the lagoon was lovely, but even more interesting was the fact that the water was full of jellyfish. These palm-sized, whitish, gelatinous creatures bobbed in the waves around the boat in their dozens. It was fascinating to see. Apparently, it's something that happens often. The jellyfish often end up fouling the fishermen's nets and have to be picked off by hand, so they are not all that poisonous, though according to some accounts they do cause itching and hives, so it's probably better not to play around with them. They also end up washed up on the beach, which makes swimming a bit difficult.
The sandbar is a great place to stroll around and have a picnic. It's like a mini island that is all beach. If you don't like this stretch of beach, go to another that's ten metres away. It's a big beach buffet. It's all pretty clean too. The water is great, and the sand is clean, though you do tend to find the ubiquitous beer can in the bushes. There are little huts on the beach made of branches, constructed by fishermen. You may also find a few fishermen hauling in their catches or fixing their nets on the beach. There aren't that many people who come out there; most of them stick to the park area and the shallower water there.
Despite the beauty of the place, it gets really, really hot. It's impossible to be out there for long at mid-day, so you'd probably want to make the trip early in the morning or later in the evening, and bring plenty of water.
Once you're done with the beach and if you still have enough energy left, you could always climb up the lighthouse for a great view. Built in the early 1900's, it's 28 metres high and gives you a fantastic bird's-eye view of the Eco Park, beach, lagoon, and islands. It's not the easiest climb, however. The only way you get to the top is by climbing a series of metal ladders resting on metal platforms, so it's not something that everyone can do. Avoid skirts, dresses, and skinny jeans because those ladders are vertical.
Batticaloa is such an interesting town, and there's just so much to do there, it's impossible to cover it all in one day (or one post). We'll probably cover more of Batticaloa later, but if you are ever in the area, the lighthouse and its park are two things you can do that are quick and right next to each other. You can find out more about them on this website.
If lighthouses are your thing, or you'd like to get to know more about/visit other lighthouses around the island, check out our article here.
Featured image courtesy batticaloahotels.com