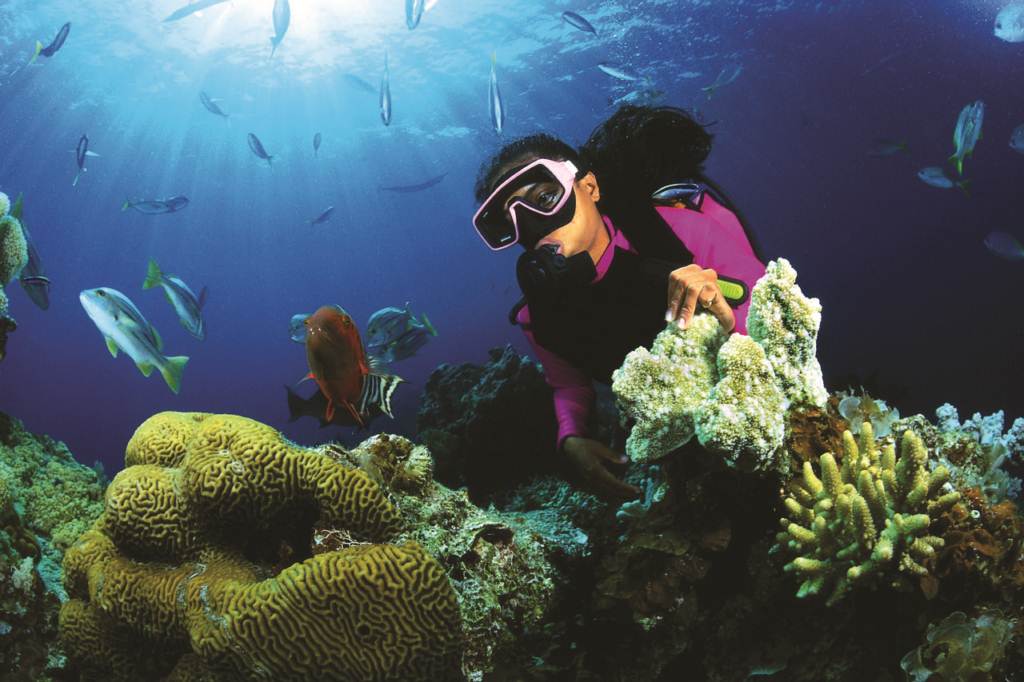 Most of us have been lucky enough to swim in the ocean at least a couple of times in our lives, depending on where we live. But have you dared to go deeper? It's a whole other world underwater, and the seas around Sri Lanka are especially enriched by coral reefs and thousands of colourful marine species. With traders, explorers, and colonists from all corners of the world navigating their way to Sri Lanka for centuries, the coast around us is also dotted with ship and aircraft wrecks, an estimated 200 or more, which make for hauntingly beautiful sights despite their tragic fate.
The advantage here is that with so many gorgeous diving sites around the country, it is possible to go diving or snorkelling all-year-round; when it is off-season in one part of the island, it is a great time to go diving in another. So if you are thinking about escaping into the sea for a few hours, we have picked some of the best diving sites around Sri Lanka for you to check out.
1. Kalpitiya
Kalpitiya only picked up as tourist destination in recent years and, perhaps, for this reason, its bar reef sanctuary remains largely undisturbed. In fact, it is the largest reef sanctuary in Sri Lanka, around 306 square metres, making it one of the best diving sites around the island. It is said to be the home of 156 coral species and 283 fish species, many of whom you would be lucky to discover during a dive at the right time of year.
A diving excursion can take up to several hours, and it usually takes around an hour's boat ride from Kalpitiya Town to get to the best diving areas. You can start off at a depth of two to eight metres, although some areas go as deep as 40 metres.
Some of the most interesting diving excursions in Kalpitiya include Nisha's Rock, Davies Dive, Thalawila, Para Reef, Bulldog Reef, Little Gem, Issa Run and Pirate Den, each unique in the sights it has to offer.
Best times to dive: Between December and March
Where to book a diving or snorkelling excursion: Kalpitiya Discovery Diving and Ocean Adventures, Visit Kalpitiya Tours and Holidays
2. Batticaloa
Despite the seven-hour drive by road, Batticaloa is well worth visiting if you are keen on seeing some of the most enchanting wrecks in the area. Diving, let alone tourism, in this area was closed off for many years before the war ended due to security reasons, but Batticaloa has been a diver's paradise long before that. Today the area has picked up once again as one of the most popular destinations for diving, although it may not be the best option for those just beginning.
The most famous diving site here is the H.M.S. Hermes, which lies 53 metres below surface level. The H.M.S. Hermes is one of the few remnants of the Second World War in Sri Lanka (then Ceylon) ‒ the world's first aircraft carrier that belonged to the Royal Navy and was sunk during an attack by Japan in 1942. The stately craft was said to be 167 metres in length and 12,900 tonnes in weight. It wasn't until many years later that it was discovered by the late Rodney Jonklass, who made his first successful diving excursion to the site in the 1980s. Since then, there has been some concern about the preservation of the fish colonies that reside here, where it is easy to spot barracuda, snapper, potato cod, and dogtooth tuna species. It takes about 45 minutes to reach the site of the wreck by boat, but those who have been lucky to explore it have found it to be a delightful experience ‒ a surreal coexistence of life and tragedy.
The wreck of the Sir John Jackson SS is another famous site here, lying around nine metres deep since September 1908. It is said that the ship was on its way to Bordeaux, France carrying a cargo of rice and maize. Other sites that can be accessed from Batticaloa are the nearby Mushroom and Pasikudah Reefs in Pasikudah, White Rock and Marakkala Gala.
Best times to dive: Between April and October
Where to book a diving or snorkelling excursion: Sri Lanka Diving Tours
You can also enrol at the Batticaloa Diving Centre to learn diving. It offers a range of PADI-certified diving courses, from beginner to advanced, as well as many speciality courses.
3. Colombo
The beaches around Colombo may have long lost their appeal for swimming, due to pollution and commercialisation, but the area is pretty dense with incredible diving sites, not far from the city's shore. In fact, there are over a dozen wrecks that can be accessed from Colombo. It is also a great starting point to see many coral reefs nearby.
The Taprobane East Wreck, around 32 metres deep, is considered a world-class site by divers. It takes about 45 minutes to reach by boat. The site is now brimming with glassfish, which has been described as a beautiful sight, as well as species such as stingrays, Napoleon Fish and Red Lions. The Taprobane North Wreck is considered equal in its experience; the site of a ship whose origins are uncertain, although some believe it is the British-owned SS Perseus that sank in 1917 after hitting a German sea mine.
Another very popular site off Colombo is the Gorgonian Gardens, which sits at the South Gale Reef, where hundreds of Red Tooth Triggerfish can be seen. The Dive Sri Lanka website has a complete list of sites that can be accessed from Colombo, including information such as depth and recommended level of experience.
Best time to dive: Between November and April
Where to book a diving excursion: Colombo Divers, Island Scuba, JF Tours
4. Trincomalee
Another town that was unmarred by tourism for many years due to the war, but has always been renowned for its crystal-clear waters and the many diving sites it has to offer. As a natural harbour, the area has a long history of trade and battle, and was an important base for the Royal Air Force and Navy during the Second World War. As such, the area has many wrecks that can be explored while diving, as well as many species of coral and fish.
The MV Cordiality is considered one of the best dives here, although its history doesn't date back as far as other famous wrecks around the island. This Chinese-operated craft was sunk in 1997 by the Sea Liberation Tigers of Tamil Eelam (LTTE). Since then, it has become a huge artificial coral reef that thousands of marine creatures call a home. Although there have been concerns about the wreck being salvaged for scrap metal, it still remains a popular site for its marine diversity.
Other famous sites here include the Black Tip Rock, Swami Rock, Pigeon Rock, and Sitanampara, which are great for seeing fish and corals. There are few other wrecks in the area, but not all of them are easy to see or exciting, according to Dive Sri Lanka.
Best time to dive: Between April and October
Where to book a diving or snorkelling excursion: Poseidon Diving Station (you can also learn here), Nilaveli Diving Centre, Blue Deep Diving Centre
5. Negombo
About an hour's drive from Colombo, this town is not one of the most popular destinations for diving in Sri Lanka, but that doesn't mean it lacks its own range of interesting dive sites. There is only one wreck that has been identified in the area: the remnants of a British fighter aircraft from the Second World War that lies alongside a natural reef mound. A couple of other wrecks in the area include a sunken boat and ship, the latter which is believed to have been lying there for around 60 years.
The best dive here is considered the Diyambala Gala, around 25 metres deep and around 45 minutes to reach by boat. The site is known for the colourful schools of fish that can be seen. Another great dive is the Derana Gala, again filled with reef and shoaling fish. From Negombo you can also access Hanova, which is popular for its snappers, cuttlefish, bullseyes glass fish, sweetlips and groupers. It also takes only 15 minutes to reach by boat.
Best time to dive: Between December and April
Where to book a diving excursion: Taprobane Divers (also offers courses), Colombo Divers (Negombo), Sri Lanka Diving Tours.
Diving can be a great escape from your everyday life; even if you have no major interest in history or marine biology. However, while some of these dives are suitable for those just starting out, most of them require some level of prior training. The official PADI website carries all the information you need if you want to take up diving more seriously, including what courses are on offer and what level you need to be at before embarking on certain excursions. It comes at a price, but keep in mind, if you are based in Sri Lanka, you will always have a place to practice your diving skills ‒ so it is an investment. And with so many dive sites in every part of the island to discover, there is little chance you will ever be bored.
Featured image courtesy templeberg.com