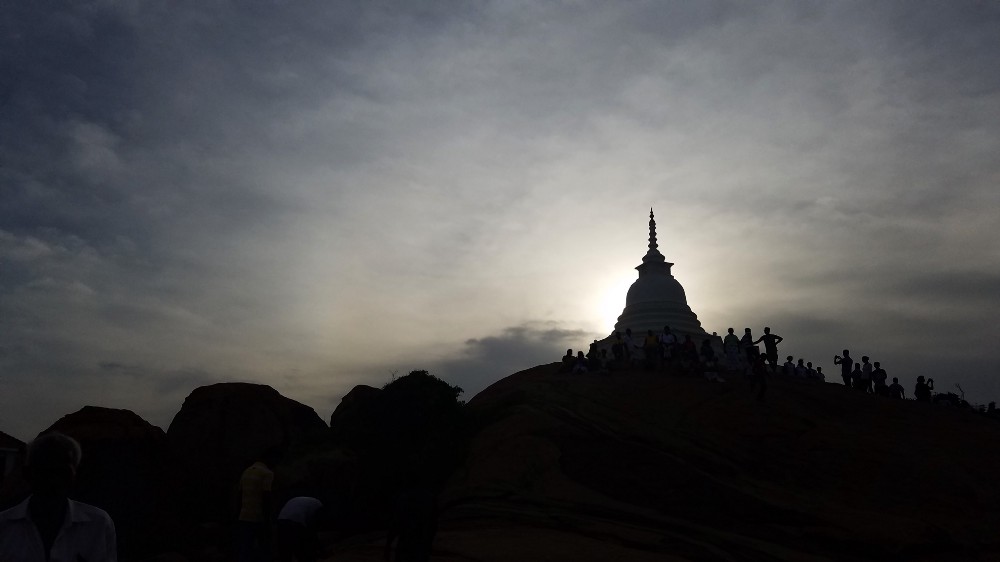 Sri Lanka's South Eastern belt is so much more than just beaches with stunning views. While most of our beach strips are hotspots for tourists and surfers, the southeastern stretch, in particular, boasts a bit of history, more often than not, infused with its usual dose of myths, legends, and hearsays.
From where Viharamahadevi landed after being set afloat as a sacrifice to pacify an angry sea, to the patch of land where a meteorite (allegedly) struck over two thousand years ago, the ride beyond Galle Road is dotted with unusual and interesting sights.
Ussangoda National Park
A short ride away from Tangalle, Ussangoda is one of the lesser-known National Parks found in Sri Lanka. In terms of popularity, it's dwarfed by Sinharaja, Udawalawe and Yala — all three of which sit in an arc around it. What sets Ussangoda apart, however, is its soil. The earth is a deep and dusky red; and is said to contain a heavy concentration of iron and other mineral compounds, whose origins can be traced back to an unsubstantiated story of a meteorite that struck the area over 2000 years ago.
For a national park, there's precious little to see in terms of wildlife. What you do get are stunning plains which unexpectedly end in a sharp drop overlooking the sea. Vegetation is sparse – it's scrub forest for the most part, with an abundance of wild cacti closer to the beach.
The Gallows Tree, Hambantota
Set at the furthest possible corner of Hambanthota, this monument saw the deaths of a number of Sri Lankans; especially those who rebelled against the British Colonialists during the Uva-Wellassa Uprising in the 1800s. A derelict path leads to the 25-foot tall structure overlooking the sea — with the Government Agent's residence just a stone's throw away.
This is the only gallows set in a public space, practically in the backyard of the GA's residence. The other two are within the confines of Welikada and the now defunct Bogambara Prison. Battered by rough winds and heavy rains, the structure shows strong signs of decay.
Andare's Tomb, Hambantota
The antics Andare got up to has been repeated to children by school teachers and grandparents over generations. From anecdotes in school textbooks to comics, this legendary court jester was so beloved that the king he served, Rajadhi Rajasinghe, is said to have mourned his death.
Andare was serving in the king's court when his health began to deteriorate. The funny man sought the king's permission to visit his village. It is said that he wanted to embark on the journey dressed up as a king and that his monarch humoured him by providing the necessary costumes. However, his sickness worsened before he got home, and he died en route with a jest on his lips.
The tomb marking the spot of his death includes a monument of Andare splayed out on the ground, depicting how dramatic he was even in death.
Kirinda Raja Maha Viharaya
Approximately an hour away from Hambantota, the Kirinda Raja Maha Viharaya's location is a major feature in Sri Lanka's early history.
Believed to have been constructed in 200 BC by King Kavantissa, the temple overlooks the sea where Queen Viharamahadevi's barge docked after being set afloat as a sacrifice by her father, King Kelanitissa.
At a time when kings casually tortured and killed people they thought were conspiring against them, it is said that the murder of an innocent monk by King Kelanitissa outraged the gods and that seas rose against him in anger. In an attempt to appease the angry gods and the sea, the King sacrificed his daughter to the ocean — by setting her afloat on a royal barge. The seas receded after that, and the barge eventually made its way to the southern part of the island, landing at Kirinda, which was under the regime of King Kavantissa, who rescued and then married the princess.
All of these places require little effort to visit. There are no entrance fees and are accessible by bus (Colombo-Hambantota, or Tangalle-Tissamaharama). The one downside is that the buses are not as frequent as they are in Colombo, and are even less frequent after nightfall. Minor transport inconveniences aside, it's an interesting place to backpack around. Keep an eye out for salt evaporation ponds as you drive through Hambantota, or stop by the Bundala National Park for bird watching.
Cover image credit: Amalini de Sayrah