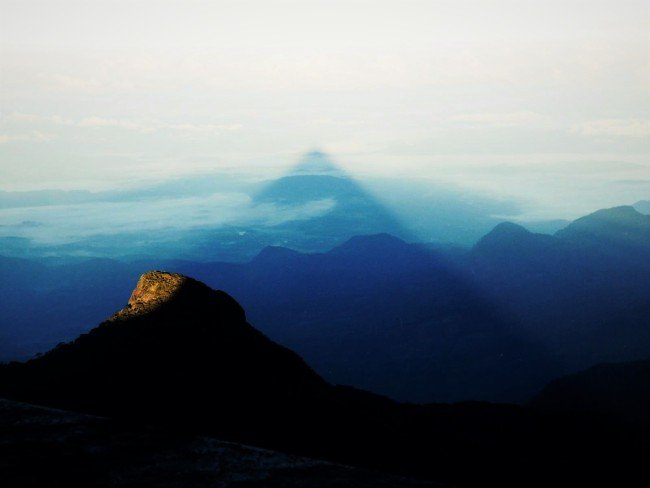 The Central Hills of Sri Lanka have, for centuries, captured the imagination of travellers from around the island and across the world. From ancient explorers like the celebrated middle-Eastern globetrotter Ibn Battuta and Chinese monk Faxian to modern day hikers and thrill seekers looking for that rush of dopamine that only scaling a foreboding mountain can bring, the mountains of Sri Lanka have always been a source of grit and inspiration. Here, we have rounded up the best and most challenging of the lot for the Edmund Hillary in you.
Adam's Peak
Undoubtedly the best known and most frequently climbed peak of them all. No list of Sri Lankan mountains is complete without this venerated and most sacred of hills located 40km northeast of Ratnapura (which literally translates to Gem City). At a staggering 2,243 metres above sea level, Adam's Peak is the country's fourth highest mountain, and its uniquely conical shape can be spotted from as far away as suburban Colombo and, on a clear day, in such unlikely places as Kalutara and even Bentota.
With an elevation gain of over 2000 metres from base to summit, Adam's Peak is actually one of the tougher climbs in Sri Lanka. There are six different trails you can follow to reach the top: Ratnapura-Palabaddala, Hatton-Nallathanni, Kuruwita-Earantha, Murraywatte, Mookuwatte and Malimboda. The Hatton trail seems to be the most favoured by pilgrims, as it is shorter than the rest, but for a truly immersive Sri Pada (as it is known by locals) experience, we recommend the Ratnapura route. It can be especially strenuous (and, therefore, more fun) during off season, and the feeling of sheer accomplishment that you get upon reaching the summit by daybreak next day, after nearly a full day of never-ending climbing, is well and truly unmatched. The breathtaking sunrise that greets you is the icing on the cake.
Lakegala
Located deep in the Knuckles mountain range, about 175km from Colombo, this behemoth of a rock is one of the most intimidating in the country, if not the world.
Lakegala (meaning Rock of Lanka) is accessible through the serene and highly isolated village of Meemure (worth a trip just for the amazing polos curry here) and is, by all accounts, the most difficult of all climbs you can undertake in Sri Lanka. Once you get past the wooded terrain at the base of the mountain, which can take hours depending on what trail you take, reaching the summit actually requires the use of rope and/or climbing gear. So yeah, it's definitely not for the faint of heart; but absolutely worth the effort and risk, just to be able to say you've done it, if not for anything else.
Kirigalpoththa
The second highest peak in Sri Lanka. The highest open to the public, if you discount Piduruthalagala, which has a military base at its summit and is, therefore, out of bounds for most civilians.
Located in the heart of the picturesque Horton Plains, Kirigalpoththa rises a stupendous 2,388 metres above sea level. Don't let this dissuade you, though. As the Horton Plains plateau itself is about 2,100 metres above sea level, the elevation gain of peak is just a few hundred metres. The climb is not particularly strenuous, but bad weather (and weather at Horton Plains is unpredictable, at best) can slow you down considerably on the way to the top and dampen your spirits somewhat. But the killer view that awaits you at the top more than makes up for it.
Alagalla
This one is ideal for a one day trip. If you take the train to Kandy and get off at the Ihala Kotte railway station, the foot of the Alagalla hill and the beginning of the trail is literally across the track.
There's a couple of villages along the path (we visited about five years ago, so my memory is a bit sketchy on their names) and from there onwards (beyond a tea estate or two), it's nothing but an uphill climb, through a handful of dense forest cover and grassy plains alike. As with any climb, dehydration can occur, so be sure to carry enough water on you. The path can get a bit rough, depending on the weather. Also, past a certain point, it's thorny bushes all the way to the top without a hint of shade in sight. It's a relatively quick climb, but do not take it lightly. If you're not prepared, things can get pretty unpleasant – especially if it's a humid day and the sun is out. The summit is all rock, which means more heat.
But don't let that deter you. The view is to die for. From up here, you get a clear, jaw-dropping view of the Bible Rock, the Hanthana and Knuckles mountain ranges, among others.  And if you're new to hiking/climbing, Alagalla is probably one of the best places to start.
Knuckles
Not so much a mountain as it is a range of clenched-fist mountains full of mystique, Knuckles is one of those rare destinations that offer you a bit of everything. With its Middle-Earth-esque cloud forests and ancient caves, Knuckles is a hub of biodiversity, housing various species of  flora and fauna found nowhere else in the world.
Hidden deep inside the range are some of the most isolated villages you'll find anywhere in the island (such as Meemure mentioned above). Extremely traditional and far removed from industry, technology and any real concept of modernity, life in these villages couldn't be more different from what urban dwellers, or even the most provincial of Sri Lankans, are accustomed to. Please note that this is not to say that people living in these areas are backward or uncivilised. Far from it. The situation is, in fact, changing, for better or for worse, what with the advent of telecommunication, etc. (There was one CDMA phone for the whole village when we were there in 2012). But if you ever want to "unplug" or "get off the grid," so to speak, there is no better place than Knuckles to wind down and find that elusive inner peace every Yoga guru is going on about. 10/10, would visit again.
Got any mountains you'd like to add to this list? Let us know in the comments.