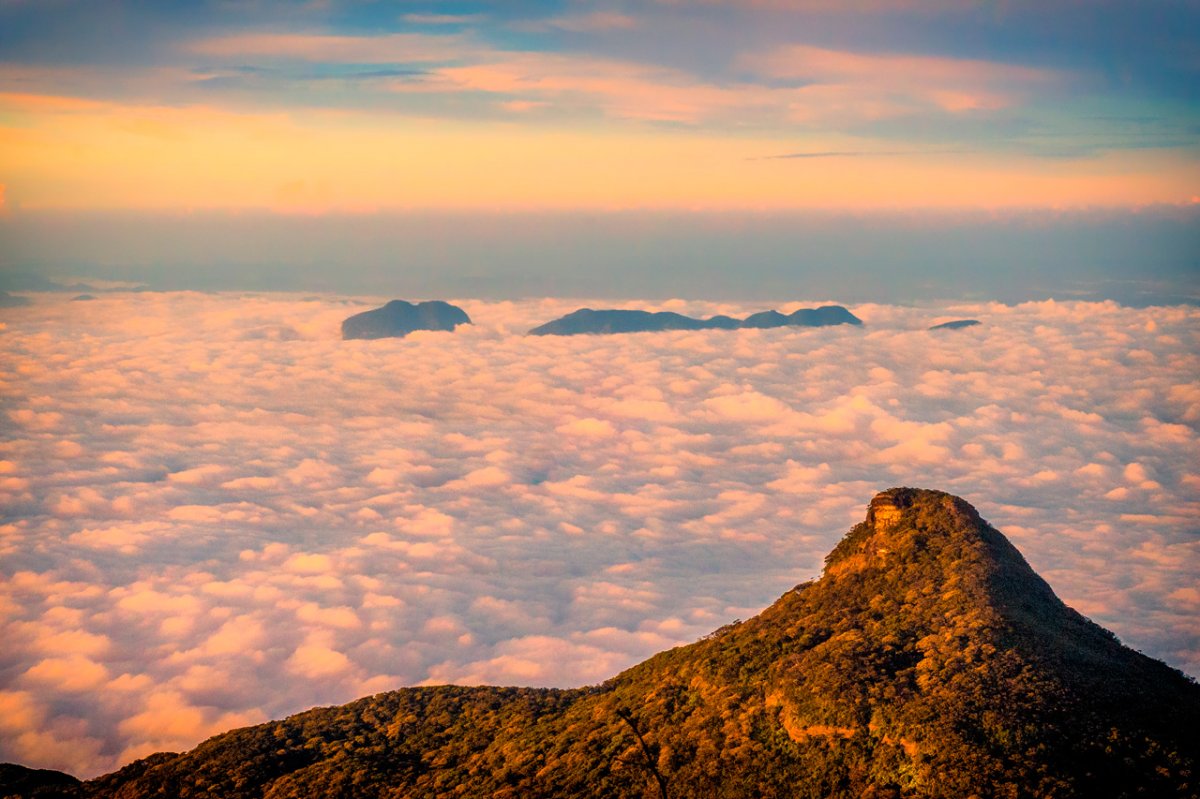 Here are a few great mountains we recommend climbing. Some of them are like a walk in a park (an overgrown park), and a few others are slightly more complex.
Hantane
The Hantane mountain range is a relatively short drive from Colombo. Consisting of seven peaks, the tallest is practically a rocky ridge, known as the uura kanda.
Approximately a 20 minute drive from the Kandy city centre, the mountain range forms a semi-circular bowl of sorts, with Peradeniya and Kandy being visible on one side, and rural villages on the other.
The hike uphill takes about an hour at most. There is a staircase for the first part of it, but the rest of the terrain is untampered, with miles of tall, wild grass and other shrubs spanning the vista.
The hike is quite easy, with barely any rough climbing to do.
Kirigalpottha
Nestled in Horton Plains, Kirigalpottha is the second tallest mountain in Sri Lanka. The hike up here is quite interesting because of the landscapes you pass through: vast plains first, and then rocky little hills as you reach the base of the mountain.
Getting there is a bit more difficult. You could get the night mail to Ohiya, and then hire a three-wheeler to take you to Horton Plains. Alternately, you could also get there from Pattipola.
This is a straightforward, but long hike—it's likely to take about 6 hours up and down. Reaching the summit requires scaling a few rocks, which could be difficult for people afraid of heights.
Ella Rock
Ella rock is one of the tougher hikes out there, mostly because you have a 100% possibility of getting lost along the way—and not just once, but multiple times. Residents say that there are 16 different routes to the summit.
Getting there is quite easy. The night mail drops you off right in the centre of town, or you can get a Bandarawela bus and get down near the main junction. You can then get a three-wheeler to drop you at the starting point of the hike, or just trek to it yourself.
The hike probably takes around three hours in total, and is one of the most scenic out there—the view of Ella Gap as you make your way through eucalyptus forests to the top is hard to beat.
The Rose Quartz Mountains
Set in the middle of an ironwood forest in Dambulla, the rose quartz mountain range is believed to be the largest deposit of rose quartz in Asia. While the range doesn't sparkle like polished crystal, it does have a distinctive dusty pink hue.
The mountain is around 15 km from Dambulla, and easily reachable by both buses and private modes of transport.
It isn't particularly large and would take about half an hour to an hour to hike. Given that it's set in Dambulla, the view includes massive lakes dotting the horizon.
This is probably the least challenging mountain listed here. The slopes are not steep, and the rough, quartz surface provides a good grip.
Sri Pada (Adam's Peak)
A spiritual journey as much as anything else, Adam's Peak, or Siripada as it is known in Sinhala, is a pilgrimage for many. The 'season' is from the Unduvap Poya in December to Vesak in May. Hundreds of thousands of pilgrims make their way up the 6,000 uneven steps to the summit, often coming to a standstill for hours on end.
Off-season, it is misty, rainy, and a completely different adventure altogether.
You can get to Hatton, then Nallathanni, and then start your ascent. With staircases leading all the way to the top, this hike can take anything between four to six hours one way.
How difficult this is, depends on whether you handle stairs well—it can take a heavy toll on your ankles and knees if not.
The best thing about Sri Lanka is that nearly all these mountains are just a day away from wherever you are. The worst part is, getting there can be difficult and can take as long as 09 hours—like on the night mail to Ella, for instance.
However, one thing is certain—each climb is an experience in its own, and each of these mountains has something unique to offer. And they are all well worth checking out.
Cover image courtesy: atlasandboots.com