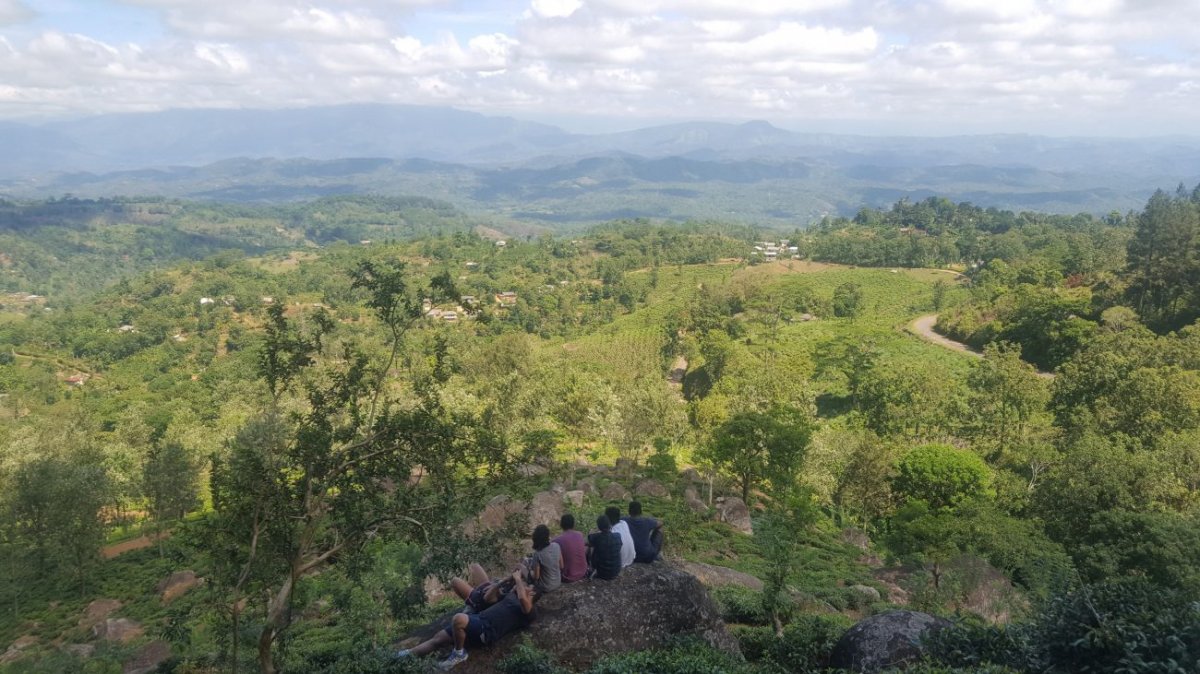 "Okay, from here, the road is a little bad. But it gets good… and then it gets very bad.
But you're here for an adventure, right?"
This is how we were greeted by our host as he met us in the town of Godakawela. We were on our way to Sinharaja and had found his estate in Rakwana listed on AirBnB. "Come look for the 'sudhu'", he had instructed us. As the only white man in the village, as he explained, it would be impossible to miss him.
And it was.
Standing in front of us in a straw hat and linen clothes, without even a trace of tan on his pale face, he looked like he was a tourist himself. But we would soon learn that this fascinating man knew more about this area than we did.  
The Sinharaja (or 'Lion King') Forest Reserve is one of Sri Lanka's last major undisturbed treasures. Declared a forest reserve in 1875, a World Biosphere Reserve in 1978, and a UNESCO World Heritage Site in 1988, this national park hosts dense vegetation filled with endemic species of flora and fauna. Bordered by two rivers – the Koskulana Ganga in the North and the Gin Ganga in the South – the reserve comprises of 11,185 hectares of forest.
There are also several rivers and mountain peaks within the forest, the tallest of which – Hinipitagala peak – stands at 1171 metres tall.  With canopy trees reaching heights of up to 45 metres, Sinharaja is home to at least 139 endemic plant species, including 16 that are considered to be rare. In addition, it is home to over 19 species of fish, 33 amphibians, 71 reptiles, 147 birds, 65 species of butterflies, and 44 mammal species. There have been occasional reports of leopards, rusty spotted cats, and fishing cats as well.
And then there are the dreaded creatures that are not as elusive: leeches.
As leeches are found in moist undergrowth and freshwater areas, it is nearly impossible to avoid them in the forest. However, there are some precautions that can be taken – wearing leech socks, spraying repellents, or applying Siddhalepa or Dettol. In the event that these do not work, the most important thing to try to do is not panic! Leeches do not cause pain or carry disease, and fall off on their own.
There are multiple entrances to the rainforest that lead to designated nature trails: 1) Colombo – Ratnapura – Kalwana road; 2) Colombo – Rakwana – Morning Side road; or 3) Colombo – Deniyaya – Mederipitiya road, taking roughly four to five hours depending on the route you take.
According to the Forest Department, information centres and trained guides can be found around Kudawa and Pitadeniya. The cost of hiring a guide can vary, as there are dozens of experienced guides and locals that are familiar with the treks, so set aside around LKR 1,500 for hikes. There are several options for accommodation, including government-owned facilities that can be booked through the Forest Department, or privately owned homes and bungalows listed on sites such as TripAdvisor and AirBnb.  
As for us, we woke up early the next morning in time to experience the most breathtaking sunrise over the Sinharaja Mountain range. We watched as the sunlight peeked through the clouds, and dispersed the mountain mist – revealing a canopy vibrant with multiple shades of green. We had breakfast to this view, and set off on our hikes. With our guide, we began our first hike through the jungle along the border of the rainforest. Though the path was not always clear, and some of us spent more time on the look-out for leeches than the wildlife, this was the perfect start to our day. The peace and quiet of the forest were a welcome contrast to the hustle and bustle of the city life we had grown accustomed to. The sky by now had turned into a crystal-clear blue, which only served to amplify the greenery surrounding us.
By the end of our first hike, we may or may not have come to the conclusion that we were now expert enough to attempt a trek without a guide. After consultation with our host and a few locals, we ended up at the Morning Side entrance by noon. With reassurances from several locals that this path, which did not look like a path at all, was indeed the one that we should go down, we entered into the wilderness. Stretched out before us was an endless canopy of green.
We trekked through the forest for the next few hours, enchanted by the echoes of a nearby waterfall. Along the way, you can expect to encounter the most colourful birds and butterflies, and multiple species of insects that we could not identify. Despite our best efforts, however, we were unable to see the elusive leopards we had come for. Next time (and there definitely will be a next time!), we will know better to hire a guide. Although, it must be said, our amateur attempts ‒ at searching through the wilderness, wondering if we were lost and whether anyone would find us, and finally making it out of the forest in time to witness the most stunning sunset over the mountain range ‒ were all part of the adventure.
All images courtesy writer