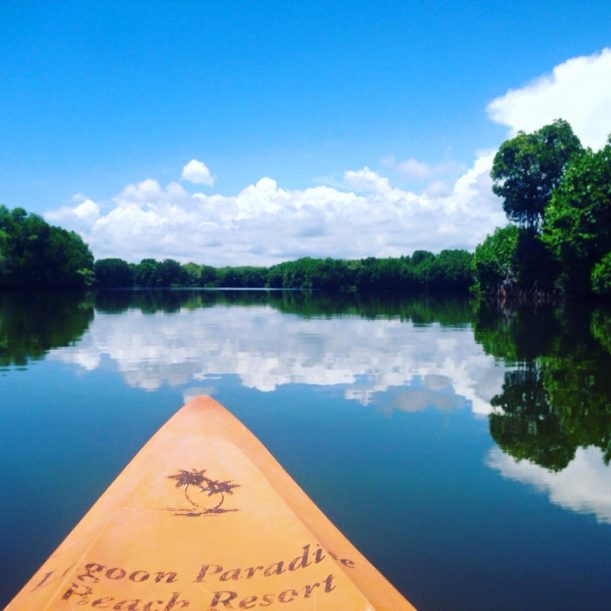 Tangalle is not the easiest place to visit if you live in Colombo. You have to travel a 195 km of curved road that takes you along the coast before you get to the town. Though the Southern Expressway has made things considerably easier, clipping off quite some time from your travel, it will still take you more than four hours to get there. But it's worth it. The further east you go, the more you leave behind the crowded beaches of the South and hit wide open stretches of coastline, and Tangalle is where the fun starts.
Besides being a fishing port, the town is also big on tourism. There's a lot to do there. There are wide stretches of beaches perfect for your tanning needs, surfing and windsurfing lessons, nature tours, parks, sightseeing, boat tours, and the usual dodgy spas.
But if you are looking for something a little different from the usual coastal activities, you don't need to go too far. Smack against the ocean, separated by a tiny strip of beach is the Tangalle (aka Rekawa) Lagoon: a stretch of inland water surrounded by mangroves and full of plant and animal life. Being so close to the sea lends for an interesting ecosystem and it's fascinating to immerse yourself in it.
The main body of the lagoon is great for boating and kayaking, but the lagoon continues a bit further south as well, ending in a smaller marsh connected to the main by a narrow stretch of water. This part of the lagoon is quieter than the main body and lends for a far more intimate experience.
To get to this part of the lagoon, head up the Hambantota Road and then turn east towards the Tangalle beach. You need to go the Lagoon Paradise Beach Resort – a mouthful of a name, but a surprisingly nice hotel in a great location. The hotel borders the lagoon, and you can rent a kayak from them for Rs. 500 an hour. You get into your kayak, grab a paddle, get pushed into water, and you are on your own. Having had bad experiences with kayaks before and having the general buoyancy of a cast iron skillet, I hesitantly asked if they had life jackets in case the boat tipped. They said if that happened, all I had to do was stand up. So, yeah, the water isn't deep.
My other trips around lagoons have been in powered boats, sweating along with bunches of other people, so it was a completely new experience to be paddling about solo and I loved it. The southern portion of the lagoon is not too large, so it's not too hard to navigate by yourself, especially since it's a bit hard to get a decent speed out of those kayaks. Once you get a handle on navigating the kayak, you can pretty much go around that entire portion of the lagoon. There are plenty of nooks and crannies you can investigate, with little waterways going among the mangroves. You quickly learn to paddle backwards, however, since there are plenty of dead ends. As you go deeper in, the water gets shallower as well, so your boat might scrape against the bottom. Best to avoid these areas. They are pretty obvious since you can see the sandy bottom and bits of trees sticking out.
There are a lot of birds in the area and fish in the water. You'll find some of the birds diving under the water while some of the fish tend to jump out of it.
That's the marsh for you. There's also the occasional water monitor lizards who tend to give you the evil eye if you get too close to them. The areas of the lagoon close to the beach don't smell too good because there are a few houses dumping wastewater into the lagoon. That sucks, so avoid those areas. Some of the waterways among the mangroves can also get a bit narrow and winding, so unless you have a good sense of direction you might end up wandering around a bit till you find your way back.
The best times to go would be early morning or in the evening. Close to noon is the worst time to be there because it gets really, really hot. Even my knees got sunburn and I've never had sunburned knees before. Despite the heat, it really is a fantastic place to visit. Not because it is very large, but because you have control of the entire experience without being forced to follow someone who's driving you around. You can go as fast or slow as you like, stop and take pictures of the birds and wildlife, or stop paddling and let the sea breeze gently push you on while little wavelets lap at your kayak. It's all very peaceful.
Once you are done communing with nature, you can paddle back, deal with your sunburn, and then head to the beach which is just a few metres away. The Lagoon Paradise Beach Resort has a restaurant right on the beach where they serve decent food and drink (in the shade). You get the sea breeze blowing through your hair and the sound of surf not quite drowning out the sound of you crunching fries, because nothing quite works up an appetite like an hour's worth of paddling. All in all, this is one of the more relaxing things to do in Tangalle and it's worth a go.
Featured image courtesy: Andre Howson