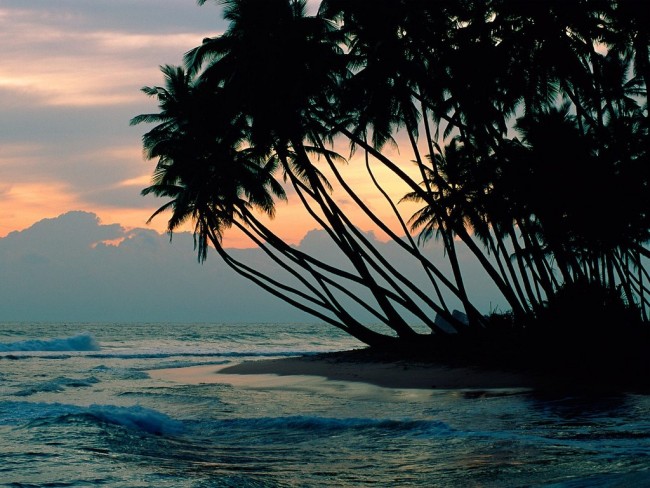 Sri Lanka, as we all know, is an island. A relatively small one, at that. It was just the other day that someone had posted an eye-popping photo of the Colombo skyline, Lotus Tower and all, from – wait for it – the top of Adam's Peak. But for such a small landmass, our island has been blessed with a surprising number of even smaller islands and tiny islets scattered over the waters off northern and eastern Sri Lanka, as well as a large number of "freshwater islands" found in the middle of lakes and rivers all over the country.
We have listed out for you here the best of the lot, each with its own unique history, biodiversity and, in some cases, a heavy dose of mythology.
Mannar
[foogallery id="5209″]
This is probably the best known and the easiest to spot on a map. It is also one of the largest, with an area of about 50 square kilometres.
Beyond the island, extending about 30km all the way to Rameshwaram, Tamil Nadu, is a chain of limestone shoals, famously called Adam's Bridge – or, according to Hindu mythology, the remnants of an actual bridge built by the invading Prince Rama and his army of ape gods led by the legendary Hanuman.
Geologists, however, maintain that the "bridge" is all that remains of a long disappeared land-link between Sri Lanka and India, and looking at it from above, it is easy to see why it inspired an origin story of such epic proportions. You can see these shoals from the very edge of Mannar Island, almost within reach, and quite easily accessible depending on the time of year. It's a sight to behold.
Among the numerous places of historic significance in Mannar Island is the Talai Mannar pier, located on the topmost tip of the island, where, between 1914 and 1964, a ferry service used to transport goods and passengers to and from mainland India. A train coming from Colombo used to go all the way up to the pier, where passengers would board the ferry directly from the railway platform.
There is also the Mannar Fort, built by the Portuguese in 1560 and taken over by the Dutch a century later, most of which is still mostly intact.
The island gets a special mention in the 2nd century Greco-Roman manuscript of Periplus of the Erythraean Sea as being a center in international pearl fishing. Not bad for a small island that's part of another island. 
Today, Mannar Island is home to an ethnically and religiously diverse population of over 50,000 and a giant baobab tree.
Delft
[foogallery id="5188″]
Also known as Neduntheevu Island, Delft (as it was named by the Dutch), is probably best known for its wild ponies. Located in the Palk Strait, off the Jaffna peninsula, Delft is a weirdly shaped island of about 50 square kilometres that is home to a sizeable population of feral ponies abandoned following the end of Dutch Ceylon circa 1796.
Largely occupied by Sri Lankan Tamils, this small island's history goes back over a thousand years, to the days of the conquering Chola Dynasty. The remains of a temple believed to have been built by the dynasty can be found here, in addition to old horse stables from the days of the Dutch, a pigeon house and (here's where things start to get weird) a supposedly ancient footprint of a giant. Who exactly this giant was will depend on whom you ask: Hindu's believe it was Shiva's, while followers of the Abrahamic faiths insist that it was the handiwork of Adam himself. 
Pigeon Island
[foogallery id="5210″]
Anyone who has been to Pigeon Island will tell you that it is one of the most jaw-dropping locations in the whole of Sri Lanka, and we wholeheartedly agree.
Located 1km off Nilaweli, Trincomalee, Pigeon Island has been named one of Sri Lanka's two marine national parks, and is home to an abundance of fish and corals that are among the most colourful you'll see anywhere off the coasts of Sri Lanka.
Named after the rock-pigeon that has made the place its home, the 472 hectare island was officially declared a sanctuary in 1963. As recently as 2013, it was redesignated as a national park for, among other things, its impressive coral reef and beautiful fish – up to about 300 different species including blacktip reef sharks, as well as several subspecies of turtle. (These sharks are relatively small, so, if you're having second thoughts, they're completely harmless. Although, they do look pretty badass).
If you're a nature lover, snorkeling here is one of the most rewarding experiences you can ever hope to have. Highly recommended. 10/10 would go again.
Baththalangunduwa
[foogallery id="5215″]
There is a chain of tiny islands off Kalpitiya, Puttalam, that have, for the longest time, been shrouded in mystery, and has therefore captured the public's imagination – though, not necessarily in a good way. Baththalangunduwa, the most accessible of the chain, is probably the most [in]famous of the lot.
There was a time, not too long ago, when parents would tell their children terrifying – and borderline abusive – stories of unruly kids being abducted and shipped off to this and other islands around it. According to these delightful tales, the children would then spend the rest of their miserable lives slaving away in a fishing village run by vicious thugs, never to return home. (The notorious 'karawala waadiya,' from innumerable horror stories, was said to be located somewhere here).
This, of course, couldn't be further from the truth (at least, not anymore it isn't), as a trip to Baththalangunduwa would amply demonstrate. With its 4,000 strong population, consisting largely of fisherfolk with their own dialect of Sinhala, this 146 hectare islet is a captivating place and a definite must-visit. No abduction required.
Maduganga Islands
[foogallery id="5197″]
The Maduganga River is not so much a river as it is a rather shallow body of water + wetland, with lots of mangroves on its perimeter, and a handful of islands in the middle.
There is a Buddhist temple located on one of these islands, and the river itself served as the site of an Upasampada ordination ceremony, said to have taken place on a fleet of boats there in 1803.
The islands are home to 303 species of plants and up to 248 species of animals, and are said to be one of the "last remaining tracts of pristine mangrove forests in the country.
There are people living on a few of them too, who have made producing peeled cinnamon and cinnamon oil their livelihood. It has no giant footprints, but if you've got a thing for marshy lands, this place is definitely worth a visit.
Well, there you have it. This article is the second in a series about lesser known travel destinations in Sri Lanka. Feel free to drop us a comment with any such places you'd like us to feature on our site in the future.
Tip of the hat to Ashan from Little Adventures for some of the info and pics