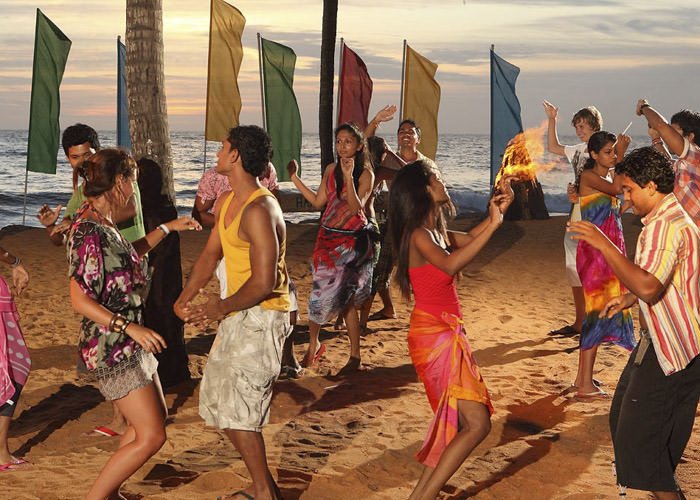 Meeting new people and networking with others is a great way to enhance your social life and career. Sri Lanka has experienced an increased flow of tourists and expats in recent years, which has created a mix of local and foreign social communities. There are also many popular hangout spots which are great to meet people in general. Here are six ways to meet locals, expats, and travellers in Sri Lanka, particularly in the Colombo area.
Couchsurfing
Couchsurfing is an online platform that connects locals and travellers. It is a unique concept where a traveller can stay at a local's house and crash on their couch for free, hence the term 'couch surfing.' Travellers can choose a host from searching on the site, and hosts can also offer their couches to travellers who are looking for a place to stay.
Inviting a stranger to your home or staying at a stranger's place may seem unappealing and perhaps scary at first. However, couchsurfing has a verification process and allows users to leave references about their experiences for other members to ensure safety. Couchsurfing is amazing because you can travel through the eyes of a local, and learn things you would not normally experience by staying at a hotel. For example, a traveller staying with a Sri Lankan family can really learn about authentic local food, customs, and overall culture. The goal is to share your story and be inspired. 
In addition, Couchsurfing is also used by people who simply want to meet up and make new friends from all over the world. The Couchsurfing Colombo community is very active and holds weekly events which include meetups at Colombo City Hostel, bars, restaurants, and even trips around Sri Lanka. Past events have been held in Kandy and Mirissa as well. The Couchsurfing crowd is a growing community of fun and adventurous people. The Couchsurfing Colombo Facebook group has around 200 active members and there are thousands of registered members in Sri Lanka.
InterNations
InterNations is an online platform mainly for the expat community. Members are usually individuals with successful careers and a global mindset.  The goal is for expats to feel at home by interacting with other expats, and soothe the process of adjusting to life in a new country. There is a forum on the site which features expat Q&A, jobs, housing, and a marketplace that allows you to interact with other expats and even locals without having to leave your home. There is also a guide which includes an expat magazine and numerous helpful articles to provide support about life abroad.
Apart from their online activities, InterNations Colombo organises monthly social gatherings that usually take place at popular restaurants, bars and other similar venues. These events usually charge an entrance fee, unless you are a paid member of InterNations. Some venues provide discounts from your bill and other perks for InterNations attendees, which provides an advantage in attending the events. Events are well organised and provide good networking opportunities.

Meetup
Meetup is an online network that allows people to create groups called "meetups" according to particular interests, or join any of the thousands of existing groups. It's a great way to meet people who have similar goals, hobbies, and even career aspirations. The meetup groups include a variety of interests such as dancing, meditation, robotics, computers, and other social and business groups. If you don't find what you are looking for, you can create your own group for a nominal monthly fee.
The way it works is that you basically start your own group or join an existing group. Meetups can be daily, weekly, monthly, or whenever suitable for the group. In these meetups, you can share stories, practise your favourite hobby, learn a new skill, or simply meet up for food and drinks. Sri Lankan meetups range from meditation to software development groups; the meetup groups range from 20 to 1,500 members in Colombo. There really is a lot to choose from! The goal of these groups is to improve yourself and the community.
"Ex Pats Furniture Service_Sri Lanka" Facebook Group
Facebook is opening many doors in Sri Lanka for interacting with others of mutual interests, including a group called the "Ex Pats Furniture Service_Sri Lanka."  The group caters to both locals and expats, and has grown to around 16,500 members due to its wide popularity.
Unlike the previous platforms discussed, the Expats Furniture group started as a recycling community which included the buying/selling of furniture and other items. The differentiating factor of this group is that a percentage of all items sold and advertised is donated to various charities. However, over the past few years it has grown to offer more than just buying and selling products and services to its membership. You can also now post any kind of questions or concerns on the group to receive feedback and raise awareness about a particular topic. This can range from "Where can I find organic apple cider vinegar?" to "Check out X cause and see if we can raise money to help." The feedback is generally prompt and very helpful. There are also members who post about career opportunities, services, or a number of events in which you can get involved. This may include yoga gatherings, theatre festivals, music shows, etc. Since it's a Facebook group, it allows you to get acquainted with fellow members outside the group and follow-up on similar interests, or plan to meet in person.
The Good Market
The Saturday Good Market is a good place to meet people who care about their personal health and the environment, or who simply want to enjoy a good time. It is a family-friendly atmosphere that welcomes people of all ages, and is also a popular tourist spot. The weekly event hosts a number of vendors selling natural and organic products, such as food, arts and crafts, and more. They have a lineup of events throughout the day as well, at the entertainment stall, which can include music, dance, poetry, yoga, etc. The shows can include local singers and bands, and sometimes there are sweet memorable acts such as children beatboxing!
Furthermore, you can keep yourself busy between the shows and performances. You can pamper yourself with friends at the massage area, sip a freshly squeezed juice over a traditional Sri Lankan curry, or simply enjoy the seating area while conversing with new friends. The Good Market always features new vendors and events which is something to look forward to. In addition to Colombo, the Good Market is now also available in Galle. Check out www.goodmarket.lk to learn more.
Barefoot
Barefoot is known as a hip hangout spot in Colombo. The central location makes it a good choice to attract locals and foreigners alike. The Barefoot Garden Café is favoured for its quality food, outdoor seating, and relaxed atmosphere. It has a modern touch without losing the Sri Lankan style. The wide range of events held at the Garden Café makes it easy to meet new people, such as the weekly Live Jazz Days and Colombo Pub Quiz Night. Other events include private parties and cultural events, and many groups choose to host their events here. Furthermore, the Barefoot gallery features exhibits of visual art, photography, and more for art lovers and creative minds. These events make Barefoot a lively venue and an opportunity to meet people. Find more information at www.barefootceylon.com.
In summary, there are plenty of great ways to meet locals, expats, and travellers in Sri Lanka, whether through an online platform or by attending a live event. These platforms, events, and hangout spots offer the ability to not only meet new people, but get inspired and pursue your interests. They also allow you to network and expand your career interests. These platforms are also highly recommended if you want to get involved with different communities.
Featured image credit Lakshman Nadaraja/Club Dolphin