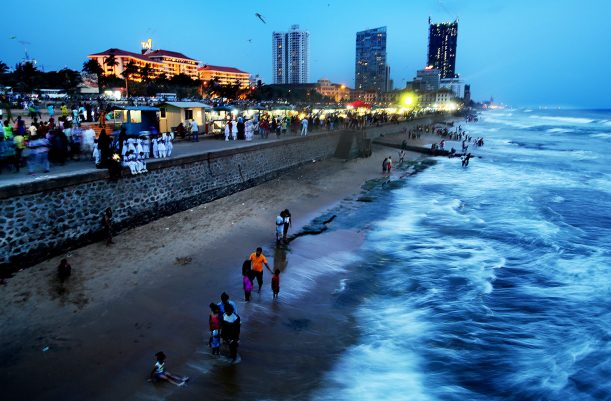 Editor's Note: Sagar Shah is an Indian businessman who has travelled Sri Lankan extensively, as part of his work at VistaRooms.lk. Below are details of his impressions of a business traveller's experiences in Sri Lanka, based on his recent travels across the island.
My travels in Sri Lanka have comprised largely of tourist destinations and stays at local hotels. Although I have stayed at some of the most beautiful locations in the world, I rarely have time to go sightseeing. I spend my time confined between business meetings and hotels, averaging 8-10 meetings a day.
It's always good to know what one's customer is thinking, so I've made it a point to talk to the travellers from all over the world that throng to Sri Lanka. What I realised over time, is that although I miss out on a lot, there are some ways in which I experience Sri Lanka that tourists rarely get a chance to.
The Welcoming Culture
Besides meeting over five hundred hotel owners in a span of two months, I have met locals from every walk of life ‒ including doctors, pilots, and businessmen ‒ all of whom are a part of the burgeoning tourism industry here. The one thing that struck me about all these people was their welcoming nature. Sri Lankans will always maintain a friendly demeanour and a smiling face. Even in the middle of an intense negotiation, they will rarely let go of their congeniality. This is a welcome change from the formal frowns that greet me back at home.
The Quirky Habits
The cultural nuances, on the other hand, are not as straightforward. There are some subtle, unwritten rules that you pick up after a few debacles. On my first day here I was offered a beverage at almost every meeting that I went to. When I refused one of my hosts, he seemed personally offended by my disinterest in the passion fruit juice offered. The other thing that caught me off guard was how seriously Sri Lankans take their breaks. Pro tip: never disturb a Sri Lankan at lunch. Travellers rarely notice these quirks of Sri Lankan culture.
The Undiscovered Views
Due to the nature of my work, I found myself travelling to the outskirts of the destinations that I was visiting. There were meetings with hotel owners at remote locations. Relying heavily on Google Maps and local tuk-tuk drivers, I would find myself at places that had views of untouched vistas. Sweeping valleys, majestic sunsets, virgin beaches, and hills with myriad hues were all part of my regular day. These were spots very few locals were aware of, let alone the tourists. Far away from the popular viewpoints were hidden havens of beauty and tranquillity that gave me a few moments of relief from my packed day. I always take a moment at such places to appreciate how lucky I am.
The Gems Of Food Hiding In Street Corners
Tourists tend to eat at the most popular restaurants, rarely venturing beyond TripAdvisor recommendations, whereas I have had to eat at whatever local joint that I come across between meetings. This gives me the unique opportunity to sample whatever food the locals eat. Once, on a particularly busy day, I decided to have lunch at this small hole-in-the-wall restaurant in Kandy. I had eaten rice and curry plenty of times before, and was expecting a fairly standard meal. But the food blew me away. The spicy-sweet mango curry, the piquant dhal, and the perfectly spiced fried fish hit the spot. It was one of the best meals I have had during my travels.
The Enterprising Nature
Before I reached Sri Lanka, I was told that being an island country, people are laid back about work. A meeting with a twenty-something bed-and-breakfast owner in Hikkaduwa, pleasantly changed my perspective for good. After I introduced myself and the company, he bombarded me with questions about the hotel industry. These were mature questions about market conditions and future business in Sri Lanka that other more experienced hotel owners had failed to ask me. He finally confessed that he had plans to create a chain of bed-and-breakfasts across the country, and was currently looking for investors. From the owners of small bed-and-breakfasts, to the car driver ferrying me around, everyone seemed to have dreams to expand their small businesses to something much bigger. Sri Lankans are truly entrepreneurial.
To all the people who want to truly explore the richness and experience the warmth of Sri Lanka ‒ forget your guide books for a day, walk the streets, eat at small restaurants, and engage with as many of the talkative locals as possible, and you're sure to see a unique side to the pearl of the Indian Ocean.
Cover image: traveleyeblog.com