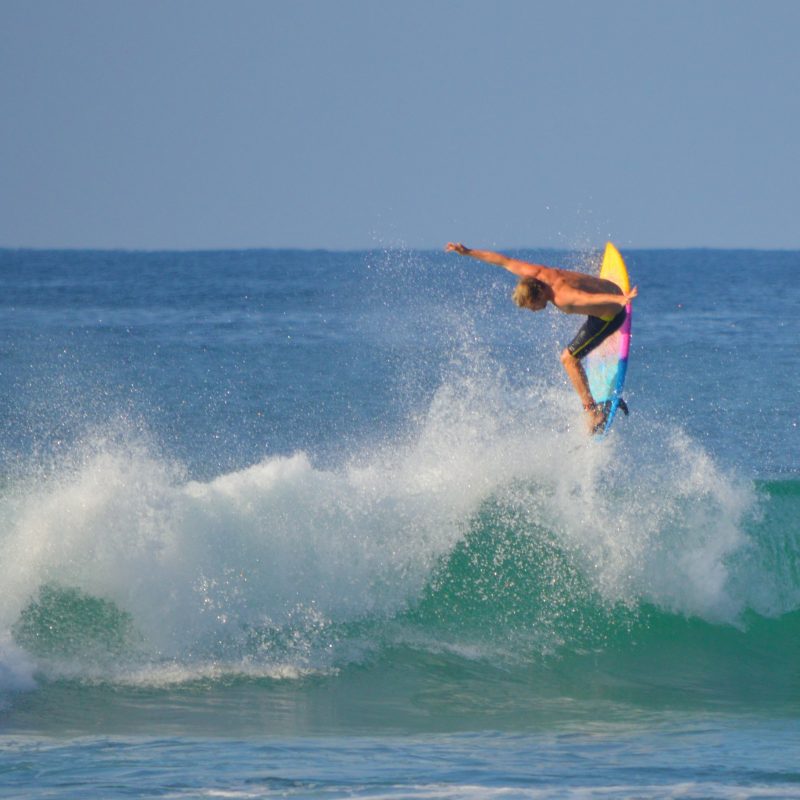 Kabalana to Madiha in the South of Sri Lanka could be called Sri Lanka's tribute to Hawaii's seven mile miracle on the North Shore of Oahu. There are a handful of fun surf spots from lefts, rights, beach breaks, reef breaks and A-frames ‒ something for everyone, over 13 miles of coastline, mostly protected by inshore reefs.
Hands up ‒ the quality or size may not be that of Hawaii, BUT what it lacks in size, it delivers in share options and lack of crowds (at least for now). An added bonus is super consistent conditions: during surf season there is either no wind or favourable wind, which means you don't even need to think about whether or not you should go for a surf, you just get in the water. The tidal changes are very small and most spots work through all tides ‒ taking out a bunch of guesswork.
Get Your Timing Right
The South coast surf season is November through to April ‒ with super consistent conditions, and possibilities to surf every day. There tends to be more swell early and late season, while you can also avoid the crowds to a large extent (and enjoy lower rates) if you head on over in November.
The best times to surf are early morning ‒ before 11 a.m. The wind then picks up. In the afternoon the wind often dies down, so you can head out for your second or even third surf until sunset, a little after 6 p.m.
It's worth mentioning that while it's not "season", it's still worth coming on over May ‒ October if your primary goal is to learn to surf. There are a handful of surfing options in the off season that cater more favourably to the prevailing west wind.
Top Four Surf Spots in the South
While there are dozens of breaks and surf spots to choose from ‒ many of which will have surfers few and far between ‒ there are a handful that offer better waves and more consistency. As a result, these are of course far more popular. For the surf hubs in the South, you can head to Midigama, Hikkaduwa or Weligama (for complete beginners) for board hire, surf lessons and repairs.
Here are the top five surf spots:
1. Rams, Midigama
How to find it: Next to Rams Hotel ‒ opposite Ebb & Flow Jungalows. The right is a barreling wave, even when it's small, and the left has the roundest of tasty bowls when it's a shorter period swell, or if the direction shifts straight South or South East.
2. Main break, Hikkaduwa
How to find it: You can't miss it, on the main drag in Hikkaduwa  ‒  out the front of Mambos.
This spot seems to pick up and even magnify any swell as it's always a foot or two bigger here compared to any spot in the South. It can also handle size, working up to 6-8 feet, with long walls on the left and the right, and occasional barrels on the right.
3. Kabalana aka "The Rock", Ahangama
How to find it: Out the front of the Kabalana Hotel (which is currently under construction).
Kabalana is a spot that can handle a bit of swell. It's a big, wedgy A-frame peak that offers up big walls on the left, and fickle barrels on the right. The spot is marked by a nipple rock out the back which seems to break up the swell, forming consistent wedges and double ups.
4. Lazy Left
How to find it: Lazy Left is out the front of the Midigama clock tower junction. Keep an eye out for Lazy Rights on the other side of the bay. Lazy Left is a great fun longboarding wave. The set up is like a point break, with the first section being a little steeper and softening up the further you get down the line. There is a big channel alongside the point, making it a good spot for a first experience on the reef
What To Bring On Your Surf Trip
Lugging around a massive long board is no fun and there is always the risk of damage, so if you happen to ride a longboard, it is super easy to rent those here in Sri Lanka. The cost is about USD10 a day, and you can negotiate for longer rentals.  Although short boards are available, if you ride something specific, bring what you need to avoid disappointment.
Ding repair is now widely available ‒ ask questions regarding any specifics you need like colour, fin boxes etc., to increase your chance of success and a fair price.
Good sun protection is a must ‒ good waterproof sunscreen and zinc are hard to come by, so make sure you load up before you arrive. Surf equipment (to buy) is available, but limited supply means the prices are somewhat high, so it's better to bring what you need, such as surf wax and extra leashes.
Board Rental And Lessons: The Where And What
Your surf hubs on the South coast are Weligama, Midigama and Hikkaduwa.
Head to Weligama for complete beginners ‒ there are lots of surf schools on the beach. Take a stroll and choose your instructor. It will cost you around USD 20, including board and lesson.
Midigama is for more intermediate and advanced lessons. Sampath at Coco Plant is a good, experienced instructor with lessons priced at approximately USD 25.
Hikkaduwa is not known as a learners' surf break. It's also one of the most crowded and therefore best for those that know what they are doing.
If you are looking for more than just a couple of lessons and want to go all in on a surf holiday, there are a number of surf camp options on Sri Lanka's South coast now. If your focus is the coaching, speak to Talalla Surf Camp ‒ who even offer video analysis. If it's social atmosphere that you're looking for, then head over to Sion Surf Camp; for lifestyle, Sunshine Stories, and for luxury, Soul and Surf. There are certainly more options than just these, but this should get you started.
Never Surfed Before?
Don't worry ‒ here's how to give yourself the best chance of surf success in South Sri Lanka.
1) Base yourself in a place with good beginner waves.
That place is Weligama Bay ‒ one of the few sandy beaches on Sri Lanka's south coast (the rest of the coast is covered by inshore reef).
2) Book some lessons.
The fastest way to get you up and riding.
3) Ride a big enough board.
The bigger the board, the easier to ride waves. The more waves you catch, the faster you will improve.
4) Persistence
.
Time in the water is invaluable. Accept that mastering the art will take some time  ‒ you may resemble an unco-ordinated seal for the first 3 or 4 days, know that looking good comes much later!
And finally, an important warning: Kelly Slater (World Surfing Champion) has said about surfing: "It's like the mafia. Once you're in ‒ you're in. There's no getting out."  
Surfing is highly addictive, so proceed with caution!
The writer is currently based in Sri Lanka and runs surf villas Ebb & Flow Jungalows, and surf travel agency Surf Stay Sri Lanka.