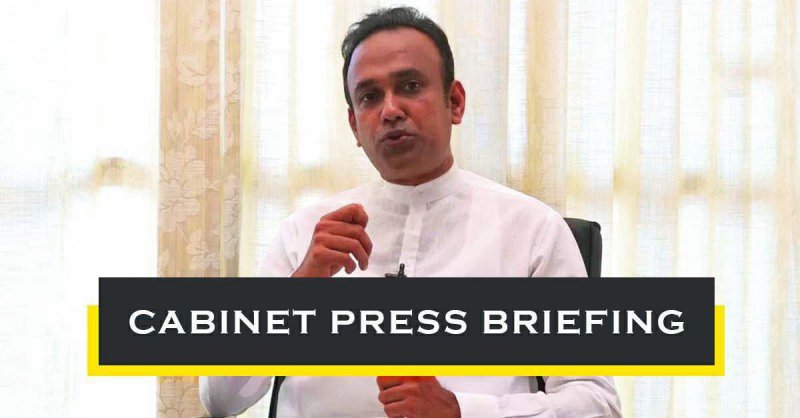 The Cabinet of Ministers met on Tuesday (1) where several significant government decisions were made.
The decisions were announced during a media briefing with co-Cabinet Spokespersons Ministers Bandula Gunawardana and Ramesh Pathirana. 
Here are some of them: 
Construction of the Ruwanpura Expressway
The proposal to initiate construction on the Ruwanpura Expressway before the end of this year was approved. The 76-kilometre expressway will link to the Southern Expressway from Kahathuduwa, Ingiriya, Ratnapura and Pelmadulla. 
It was also decided that the agreement the former government entered into with an international organisation would be cancelled due to high costs and the government would move forward with local funds and the service of local construction companies. 
Transfer of lands, considered state residual forests to District/Divisional Secretaries
The  Minister of Environment was asked to furnish an appropriate mechanism with which to vest District and Divisional Secretaries with powers to use state residual forests for economically productive purposes.
The administration of the state residual forests, which were previously managed by Divisional Secretaries, was brought under the Department of Forest Conservation through a circular issued by the Ministry of Forest Resources and Environment in 2001. 
As a result, farmers engaged in chena cultivations in the residual forests were greatly inconvenienced due to the lengthy procedure to obtain the approval to use the land. It is to alleviate this situation that the Cabinet has arrived at this decision.  
Approval to extend Asian Development Bank Loan period
Approval was granted to extend the period of the loan granted by the Asian Development Bank to December 31,  2020. 
The USD 154.4 million loan (approved in 2010) was granted to renovate highways and provincial roads and to construct selected bridges in the Northern and North Central Provinces, under the Northern Highway Connection Project. 
The deadline for the relevant construction work was set at June 30 (last Tuesday). 
Read more on the Cabinet decisions here.