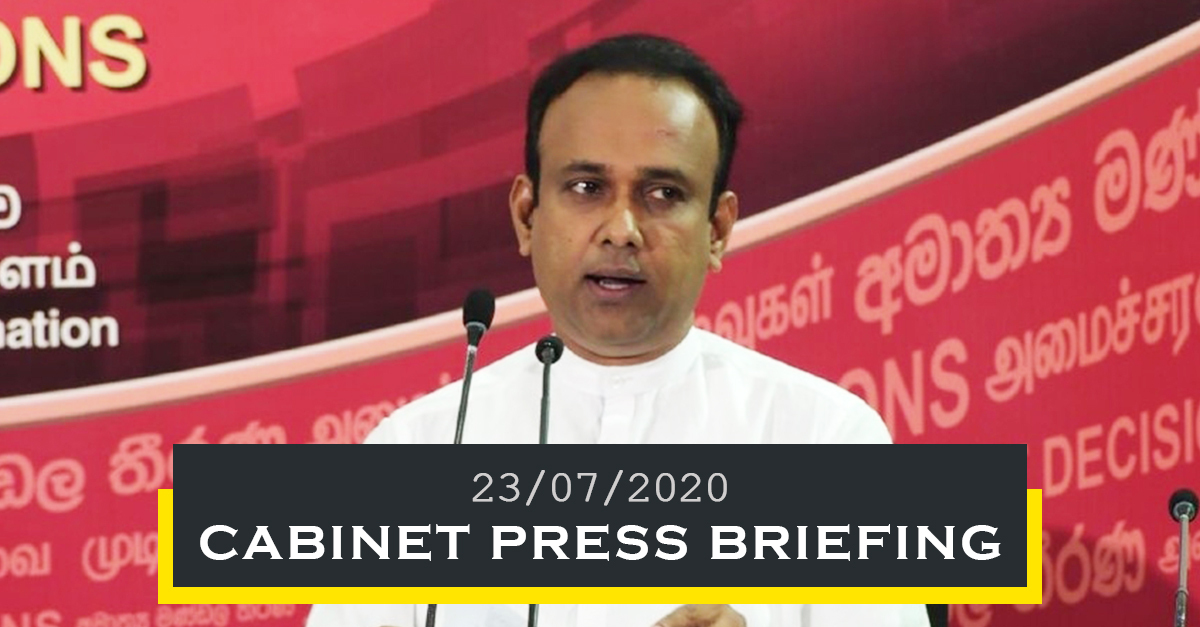 The Cabinet of Ministers met on Wednesday (22), to make several key government decisions. 
The decisions were announced by co-Cabinet spokespersons Ministers Bandula Gunawardana and Ramesh Pathirana at the weekly press briefing held today (23). 
Here are some of the decisions made:
Beautification and Landscape Development Projects in Colombo and Sri Jayawardenapura

A proposal by the Ministry of Urban Development, Water Supply and Housing Facilities to implement three landscape development projects in Colombo and the Sri Jayawardenapura town has been approved by the Cabinet.

The three projects include a green infrastructure network plan around the Galle Face beach strip, a pedestrian centre on Baladaksha Mawatha, Colombo and an Urban Agriculture Park in Kimbulawala, Thalapathpitiya.

The three projects that will be carried out by the Urban Development Authority (UDA).

Expansion of benefits of Agrahara Insurance Scheme for Retired Public Officers

The Agrahara Insurance Scheme for Retired Public Officers, upon request from Retirement Associations of the country, will now include pensioners who retired from public service before January 16, 2016.

The proposal for the amendment came from the Ministry of Skills Development, Employment and Labour Relations and the Ministry of Public Administration, Home Affairs, Provincial Councils and Local Governments.

Accordingly, the pensioners will receive the benefit of a special ward in all major government hospitals.

The Cabinet has also identified pension anomalies among the retirees and has requested the National Salaries and Remuneration Commission to make appropriate recommendations to rectify these anomalies. 
Click here to read more about the decisions arrived at by the Cabinet.