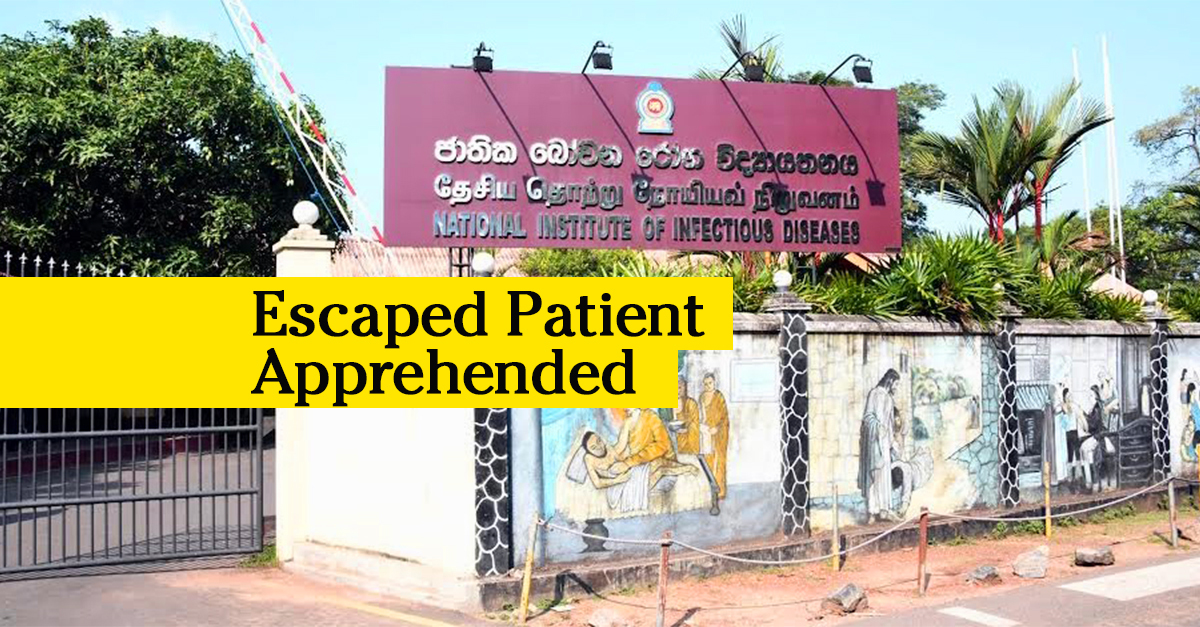 The widespread manhunt that began last evening (23) to locate a COVID-19 patient who had escaped from the National Infectious Diseases Hospital (IDH) culminated when the patient was apprehended by the Army this morning (24). 
The patient was found at the Out Patient Department (OPD) of the General Hospital in Colombo, even after the Police earlier today sought public assistance to locate him. 
Senior Superintendent of Police Jaliya Senaratne said the patient, who was identified as being a drug addict with a limp on his left leg, had escaped the IDH hospital premises, where he was being treated, at around 2.00 AM. 
The 41-year-old patient—a resident of China Bay, Trincomalee, had been transferred to the IDH from the Welikanda Base Hospital on July 15, after testing positive for the virus at the Kandakadu Treatment and Rehabilitation Centre on July 9. 
The Kandakadu Treatment and Rehabilitation Centre is the epicentre of the latest COVID-19 patient cluster that was identified earlier this month.
The head of the National Operation Centre for Prevention of COVID-19 Outbreak (NOCPCO) Army Commander Lt. General Shavendra Silva deployed several army teams, including the army intelligence services, to locate him.
It is reported that he had travelled to Pettah from the IDH, some eight kilometres from the capital, from where he had taken a three-wheeler to the Colombo National Hospital, where he was subsequently found. 
Following the detection, both the patient and the driver of the three-wheeler were detained.
The patient was promptly transported back to the IDH, while the three-wheeler driver was sent to the Kandakadu Treatment and Rehabilitation Centre for quarantine and observation.