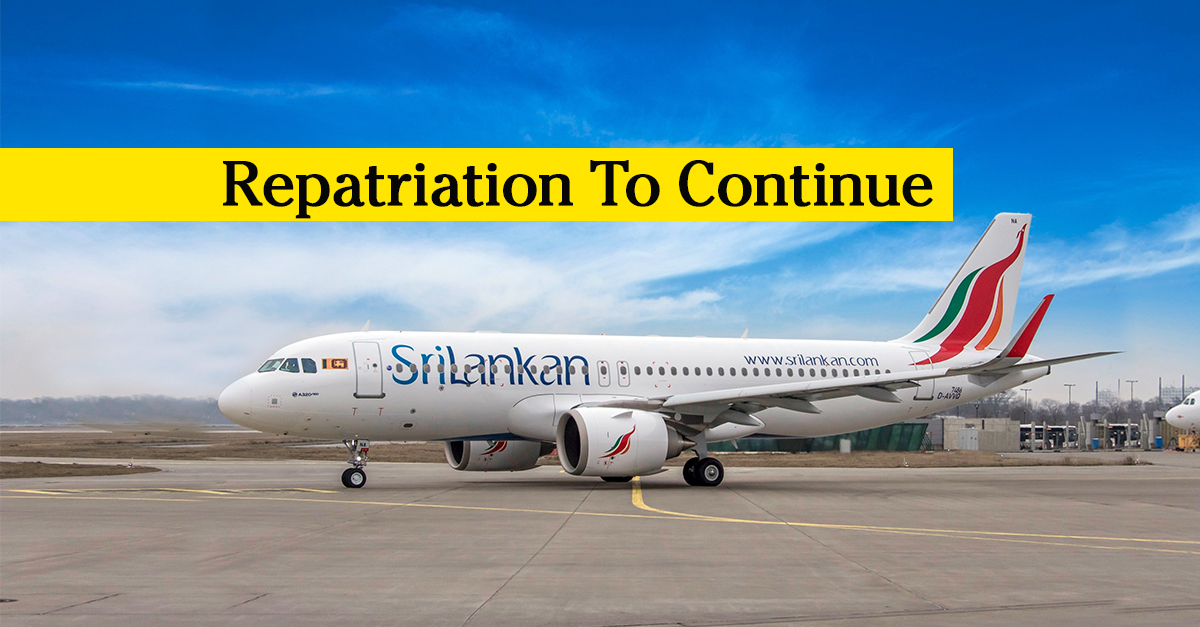 Repatriation of Sri Lankans stranded abroad due to the COVID-19 pandemic is to continue, with ten more flights scheduled for the next two weeks, the Cabinet of Minister announced yesterday (26).
The Sri Lankan Government has also decided to send funds to local missions in various countries, where Sri Lankans are stranded due to the travel restrictions imposed due to the pandemic.   
The flights will operate between June 24 and July 7. 
Around 52,401 Sri Lankans in 117 countries have made requests to return to Sri Lanka as of 16 June, the Government Information Department said, of which over 9,580 Sri Lankans have been repatriated from 38 countries, with the assistance of the Ministry of Foreign Affairs, the Presidential Secretariat and the Presidential Task Force on COVID-19.
In addition, the government, which has already sent over Rs 42.6 million to Sri Lanka Missions for providing dry rations, basic medicines, safety equipment, and safe transportation to vulnerable segments in the Middle East and elsewhere, has decided to send further funds to help stranded citizens.
Dry rations and medicine worth Rs. 15.5 million are also to be sent to Maldives, UAE and Qatar, where there is a shortage of goods and difficulty in purchasing dry rations.