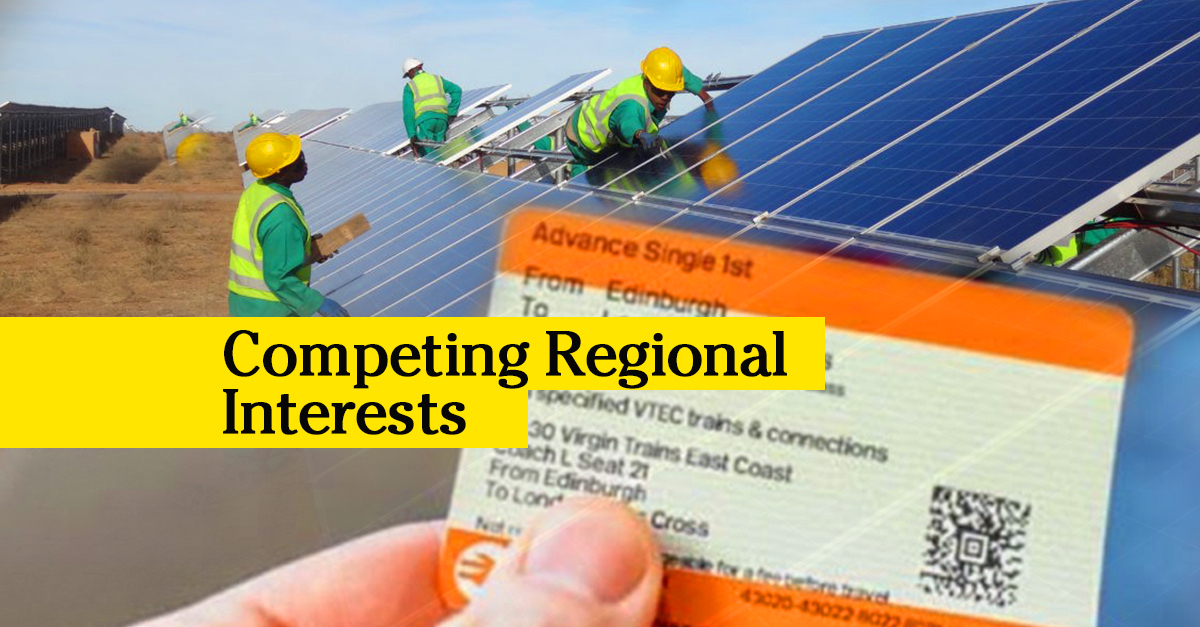 India and China have continued to jostle with each in trying to take the lead in development and infrastructure projects in Sri Lanka. 
Over the weekend, two new investments were announced by both regional superpowers: India has proposed a solar power park while China secured a deal to introduce a smart card system for train stations in Sri Lanka. 
Both investments have piqued general interest and debate since announcement. 
Smart Card For Trains
It was in February that the Ministry of Transport Management first announced a smart card for quick train travel and an e-ticketing system for seat reservations would be introduced in the near future.
Now, five months since, the contract for the project has been granted to a Chinese firm.
The e-ticketing system is expected to enable local and foreign tourists book tickets more efficiently, and to also eliminate the chance of selling tickets at higher prices by third parties. 
The Asian Development Bank (ADB) is collaborating with the government to set up the e-ticketing system, the Ministry of Transport Management said. 
The decision to grant the contract to a Chinese firm, however, has been met with some resistance. Sanjiva Weerawarana, former board member of the Information and Communication Technology Agency (ICTA) tweeted:
While I was on the ICTA board I helped write a report on this project which said we can build a more modern solution to railway ticketing locally at a fraction of the cost.

Tragic that we lost this opp to go all mobile and paper/card-less.
Smart cards are dead old now. https://t.co/fCHv6sG7sk

— Sanjiva Weerawarana (@sanjiva) July 25, 2020
Indian Solar Power Park
Meanwhile, India's livemint reported that India had agreed to set up a solar power park in Sri Lanka.  
Quoting anonymous sources, the report suggests that NTPC Ltd—one of India's largest power generation utility companies—plans to commence work on the project under the supervision of International Solar Alliance (ISA). 
The ISA is an alliance of 121 countries, led by India. It is the result of a 2015 proposal by Indian Prime Minister Narendra Modi to endorse clean energy, sustainable environment, public transport and climate. Sri Lanka is a signatory and has ratified the framework of the ISA. 
According to the livemint report, the proposed solar park comes on the heels of  NTPC Ltd's 2011 plan to establish a coal power plant project in Trincomalee, which was eventually  scrapped. 
The company has established similar projects in Gambia and Malawi to develop solar power parks.
Bad Blood
China has been the largest investor in Sri Lanka, with funding and investments surpassing USD 15 billion since the end of the civil war in 2009. The country's flagship projects are the Hambantota Port Development and the Colombo Port City Project, both strategically located on the global sea trade routes classified as integral investments under China's Belt and Road Initiative.
India's relationship with Sri Lanka has, in comparison, been far softer. It's roots are founded in bilateral economic links and trade agreements. In 2018, Sri Lanka owed China $5 billion while it owes India about $960 million. 
The competition between China and India is not new. The cold war between the two even transitioned to open skirmishes early this year, when the two countries opened fire on the opposing forces in Ladakh.