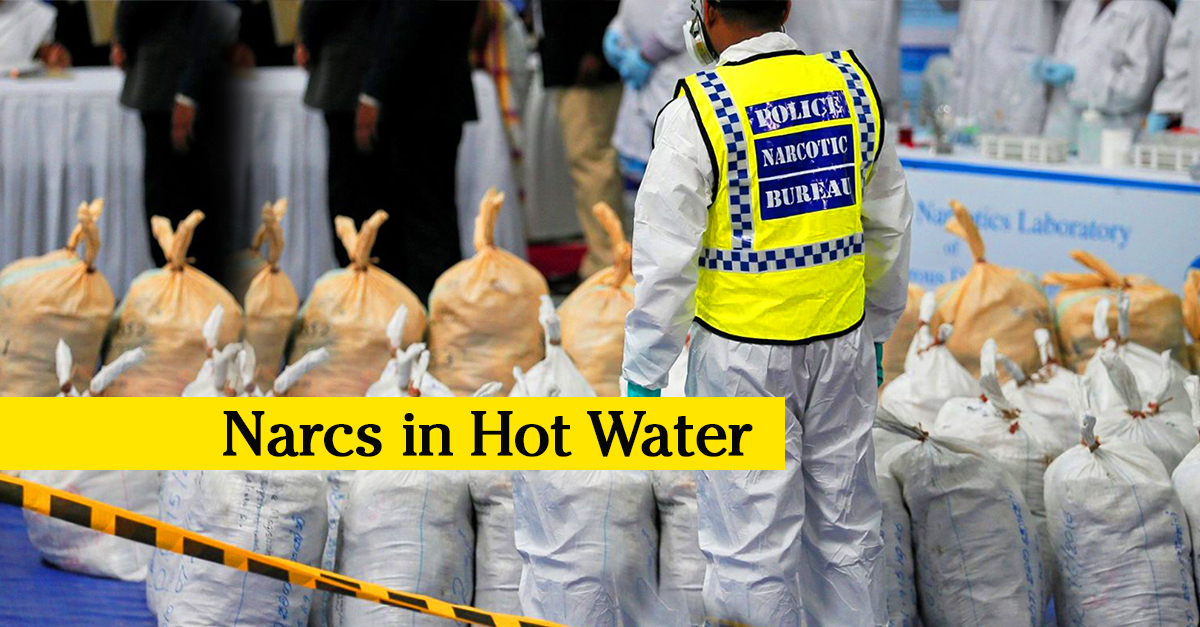 A series of arrests and the transfer of its chief due to allegations of collusion with drug traffickers has brought national attention to the Police Narcotics Bureau (PNB).
On Wednesday (1), Police announced that three special investigation teams have been tasked with probing the alleged links between four PNB officers and drug traffickers. 
Deputy Inspector General of Police, (DIG) Ajith Rohana and Police Spokesperson Senior Superintendent of Police (SSP) Jaliya Senaratne, during  a special press conference said the special investigation teams were put on the job following the arrest of two civilians who had divulged information regarding the involvement of the four PNB officers. 
Earlier today (2), twelve more PNB officers were arrested by the Criminal Investigations Department (CID) for selling a consignment of drugs to a trafficker. Among the arrested are a Inspector and a Sub Inspector attached to the PNB. 
This is the second group of PNB officers arrested in the crackdown of corrupt officers. 
Narcs In Hot Water
On Monday (June 29), days before the investigation teams were appointed, four other PNB officers—a Police sub-inspector, two sergeants and a constable—were arrested and interdicted for the suspected involvement with drug traffickers. The officers are being held under detention orders until investigations are complete. 
Police have also begun a hunt for a fifth PNB officer currently evading authorities. DIG Rohana and SSP Senaratne however, have refused to divulge more details of the suspect.  
"The Sri Lanka Police will not be lenient regarding these crooked Police officers," DIG Rohana stressed, however. "They will be prosecuted to the fullest extent of the law." 
Preliminary investigations into the four interdicted PNB officers have led the Police to the discovery of  nearly Rs. 31.2 million in cash buried at one of the suspect's residences. 
Several vehicles belonging to one of the suspects have also been confiscated. Police believe these were used to smuggle narcotics. 
Meanwhile, twenty sovereigns worth of gold jewellery and ten acres of land owned by the suspects have also been confiscated. DIG Rohana further noted that the assets of suspect officers will be seized under provisions of the Prevention of Money Laundering Act. 
Thus far, sixteen PNB officers have been arrested since the beginning of the crackdown a week ago.  
PNB Chief Ousted
As a result of the four arrests, head of the PNB, DIG Sanjeewa Medawatte's integrity has also come under  question. 
The Police Department on Monday (June 29) requested the National Police Commission to authorise the transfer of DIG Medawatte. The request was approved on the recommendation of Acting Inspector General of Police C. D. Wickremeratne on Tuesday (30 June) and DIG Medawatte was transferred to the Police Welfare Division in Kehelwatte. 
DIG Medawatte was replaced by DIG G. K. J. Aponsu. 
This controversial series of events has gained the attention of the Ministry of Defence. 
Secretary to the Defence Ministry, Major General (Rtd.) Kamal Gunaratne issued a strict warning to senior Police officers representing all provinces, at a special meeting on Tuesday (June 30), to hold themselves responsible for effective crime control in their respective areas of responsibility.
"You need to curb illegal activities that are increasing at an alarming rate without heeding to forces that might influence you against it," Major General (Rtd.) Kamal Gunaratne said. 
"You should also protect the dignity of the uniform that you wear. No Police officer, from senior DIGs, DIGs to OICs in their respective areas of responsibility, can wash off their hands as they all are responsible for the increase in crimes rates in their areas," he stressed.