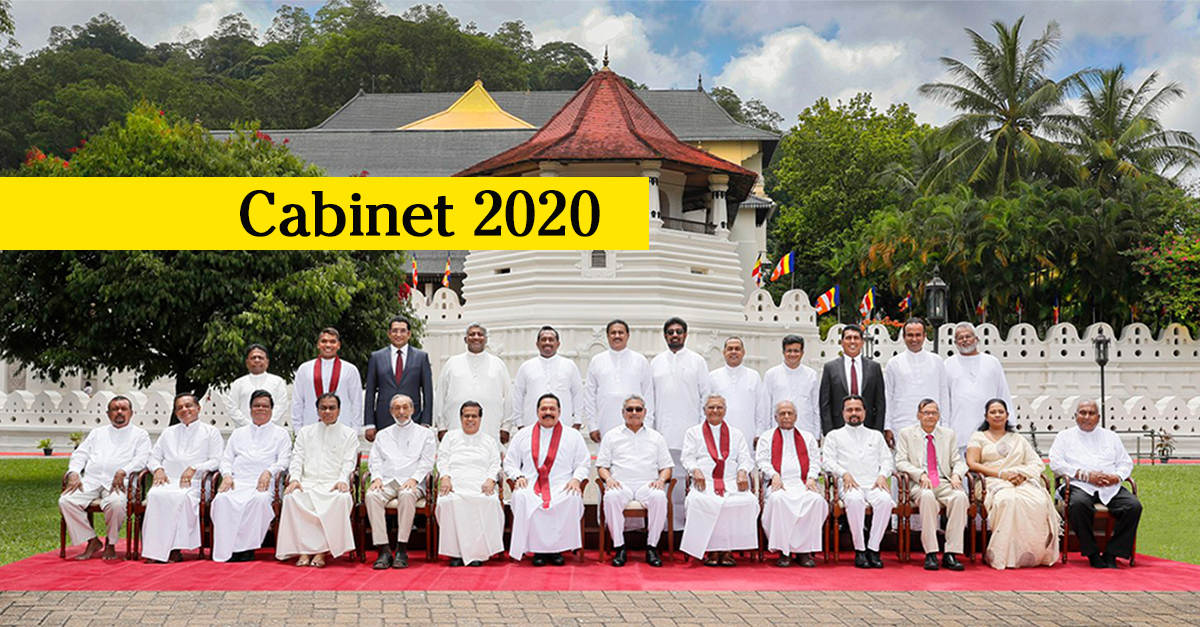 The 2019 Presidential Election elected Gotabaya Rajapaksa as the eighth President of Sri Lanka on the Sri Lanka Podujana Peramuna (SLPP) ticket. Eight months later, the SLPP won 145 seats at the 2020 Parliamentary Election, a clear majority, ushering in a brand-new SLPP-led government. 
On August 9, just days after the election concluded on August 7, President Gotabaya Rajapaksa's vision for the new government was outlined through the Extraordinary Gazette 2187/27, in an organisational structure that contained 28 Cabinet ministries and 40 State ministries.
The new Cabinet and the state ministry portfolios were modelled on a policy-based hierarchy; the Cabinet ministers would be responsible for policy formulation while the state ministers would carry out implementation. 
A New Cabinet
One August 12 morning, at the historic Magul Maduwa at the Temple of the Sacred Tooth premises in Kandy, President Rajapaksa ceremoniously appointed 25 parliamentarians to Cabinet positions and 39 parliamentarians to State Ministerial positions.  
The following are the Cabinet appointments;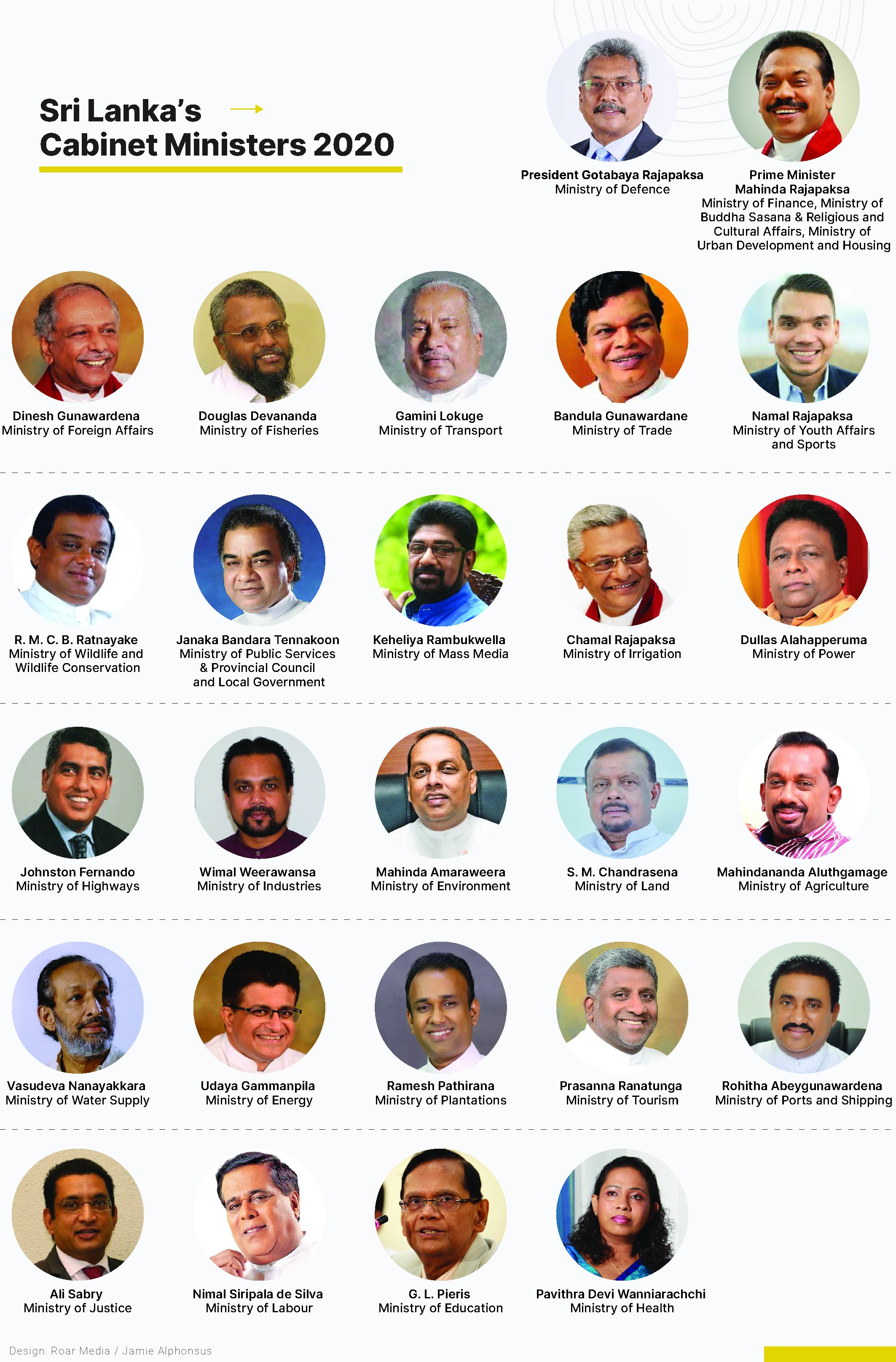 The 39 State Ministries that come under the 28 Ministries are as follows.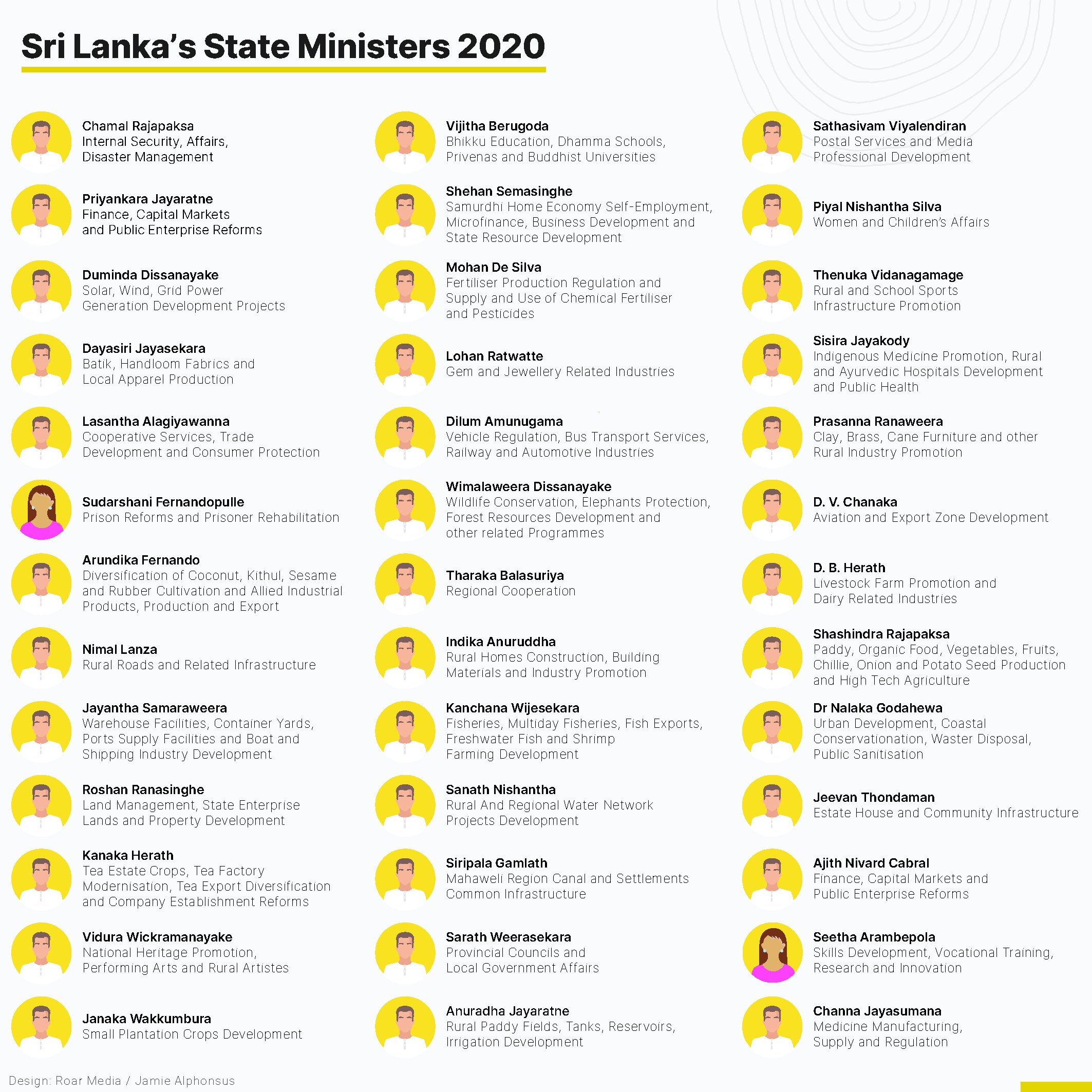 Not-So Scientific
A Cabinet of Ministers is critical to efficient and effective governance, but unwieldy, cumbersome bodies—which have been the hallmark of governments and Cabinets in the past decades— have led to instability, corruption and politicisation. 
After the 2019 Presidential election, President Rajapaksa appointed a small Cabinet with only 16 members. The newly-appointed Cabinet is considerably larger in comparison.
A number of newcomers count among those appointed to Cabinet and State Ministerial positions. These include Prime Minister Mahinda Rajapaksa's oldest son, Namal, who at 34, as Youth and Sports Minister, becomes the youngest minister in this Cabinet. 
Political bigwigs who have traditionally enjoyed enviable  positions in the Parliament—Susil Premajayantha, Wijedasa Rajapaksa and even outgoing President Maithripala Sirisena who led the preferential votes in the Polonnaruwa district have not received any portfolios. 
Another issue that has been hotly reacted to, is the decision not to appoint a ministry for Women and Children's Affairs, but instead handover all decisions pertaining to them to a state ministry, led by a male, not a female. 
At present, some political parties are yet to announce their National List nominees for Parliament, which are due before the Parliament is called to session for the first time. Once those have been submitted to the Elections Commission, the remaining open positions in the Cabinet and State ministries filled and Gazetted, the ninth parliament of Sri Lanka will meet for the first time on August 20.