News that ethnicity would no longer be listed on a child's birth certificate has been rejected as untrue by the Registrar General's Department, even as it confirmed it would go ahead with plans to drop parent's marital information. 
Registrar General N. C. Vithanage, speaking to Roar Media today (23) said plans to modernise the birth certificate did not include the removal of a child's ethnicity. 
"References to race or ethnicity, be it Sinhala, Tamil or any of the minorities, will continue to be included in the birth certificate," he said. "The old birth certificate as well as the new one—when it comes into being—will include the race and ethnicity of the child." 
Confusion And Debate 
On Wednesday (22), both local and international media, quoting Vithanage, reported that Sri Lanka was to do away with race and religion, in addition to the previously reported information on parent's marital status. 
While this was met with positivity on social media, former Sri Lanka cricket captain Mahela Jayawardene tweeting his support:
Finally... This is something good for the country. We are moving in the rite direction 👏👏👏 https://t.co/NsiiRrcrj8

— Mahela Jayawardena (@MahelaJay) July 22, 2020

and former Minister Harin Fernando tweeting,
Glad to see what we started is implemented. It's the need of the hour. This is a great initiative, I hope President @GotabayaR
will not back down because of political extremists objecting to this for their survival https://t.co/Wakp3vGvKu

— Harin Fernando (@fernandoharin) July 23, 2020

Minister Wimal Weerawansa, however, led the charge against the move, telling those gathered at a political rally last night, "those changes will not happen under this leadership."
"I read on social media that the Registrar-General had told the media that race and religion would not be mentioned in birth certificates in the future," he  said. 

"I was astonished to see that. I told it to the Prime Minister and he advised the Ministry Secretary of Public Administration to immediately correct it. I [even] told the President also that there is such a move."
Religion Never Mentioned 
References to religion are not included in the current birth certificate, and will not be included in the new one, Vithanage said. 
"It is unnecessary to include one's religion in the birth certificate."
Although he is unsure about the source of the misinformation, he suspects the news may have been distorted to gain political mileage. 
"Even the Bodu Bala Sena and Ravana Balakaya visited the Department today (23) to obtain a clarification on this matter," he said. "When explained about the true proposal, they were also satisfied."
Vithanage also noted the new birth certificate is yet to be finalised.
"This is still a proposal which is yet to gain approval from many authorities. We will seek public opinion on the matter and refer it to the Parliament for approval. It has to be approved by the Cabinet as well as the Attorney General," he said. 
The New Birth Certificate
The proposal to transition from a handwritten format for the birth certificate—which is the current practice—to a more modern, digitised one has been in the pipeline since last year. 
"The new digital birth certificate will be a more secure document that cannot be forged," Vithanage explained. 
Some of the new additions to the new birth certificate include: 
Having considered a 'National Birth Certificate'
Including a QR code, a bar code and a 12-digit identification number which will be unique to each and every child that is registered, for security purposes
Be signed and verified by the Registrar General
Issued in both Sinhala and Tamil, with English translations made available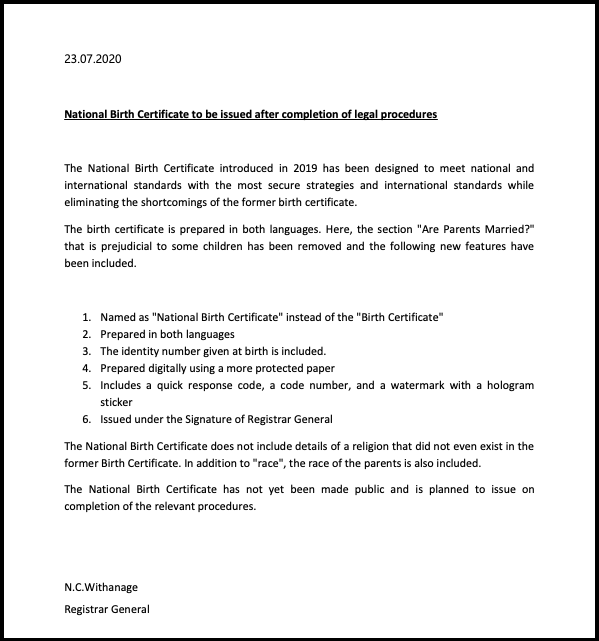 The biggest change would be the omission of the parent's marital information.
"This is an issue many children face, especially when a child is to be enrolled in a school. They could be orphans or children of a single parent," Vithanage said. 

"This has been requested by many groups for so many years." 
History
Under the Dutch rule however, a system was introduced known as the 'School Thombos' or parish registers in Colombo and Galle. The purpose of the Thombos was to keep record and legitimise conversion of families. 
Even under British rule, the country did not have a formalised civil registration system until 1867. It was only then, that the Registrar General's Department, under Sir Ponnambalam Arunachalam, founded a formalised system for the registration of births, marriages and deaths.