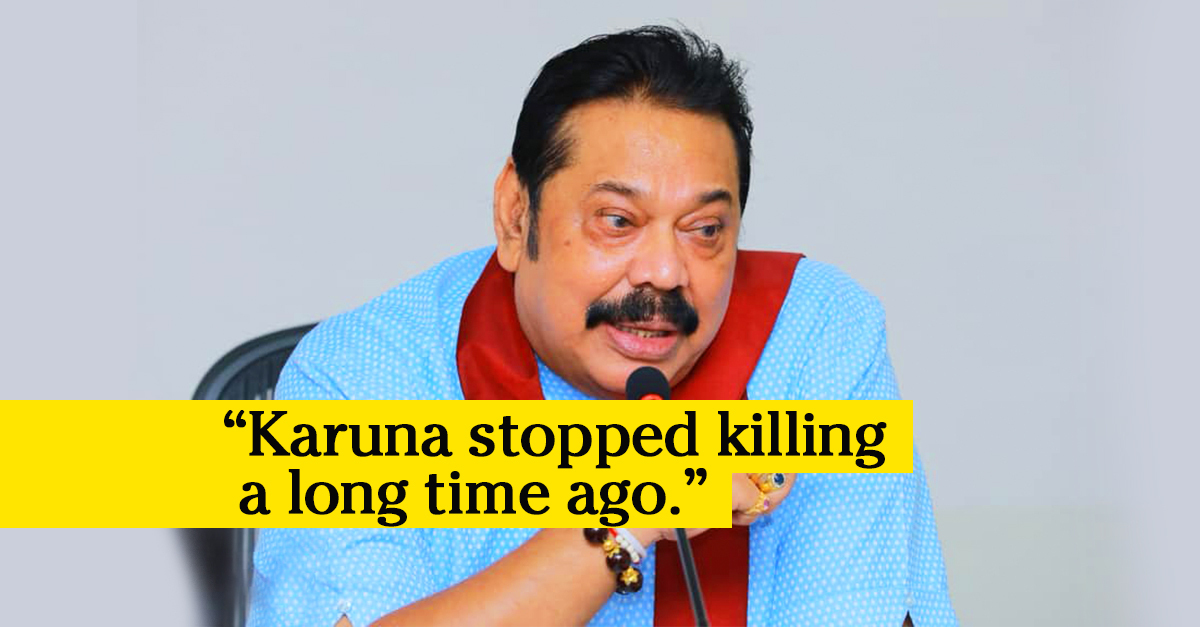 Prime Minister Mahinda Rajapaksa said people need to be careful not to allow themselves to be 'distracted' from the 'bigger picture', saying the country would be 'destroyed' if people fail to "distinguish between what is politically important and politically unimportant."
In a statement, the Prime Minister referred to a number of incidents that had grabbed headlines in recent time—like the furore over the absence of social distancing at former minister Arumugam Thondaman's funeral, allegations of match fixing and former militant Karuna Amman's incendiary comments on the number of army personnel he killed, the Prime Minister said, "these are not politically important matters." 
"The biggest problem that we had to face after President Gotabhaya Rajapaksa came into power was the Covid-19 pandemic," he said. "[And] what is politically important is whether that major issue was handled competently," adding —"I wish to state that we are right on top in the world in controlling Covid-19."
Referring to the comments by the former militant Karuna Amman, who defected in 2004 to hold a portfolio in his government, he said that while the 'Yahapalana cabal' had been quick to make a 'hue and cry' about it they had forgotten that it was those now in the Yahapalana cabal that had given lorry loads of weapons and gunny bags full of cash to the LTTE in 1989, "in a foolish attempt to win them over". 
"For years afterwards, the LTTE attacked us with our own weapons," he said. 
"Karuna may have given up murdering people, but the Yahapalana cabal has not given up trying to divide the country," the Prime Minister said, repeating, "If we allow ourselves to be distracted and forget the broader picture even for a moment, the consequences could be disastrous." 
The Prime Minister warned that if people voted on the basis of minor distractions, "we will lose everything, our country, our nationhood, our religion, our culture and the future of unborn generations." 
"People should always ask themselves who can rule this country effectively, ensure economic development, eliminate terrorism and ensure the security of the nation?" he said.
 "Who can safeguard democracy by holding elections on time? Who can build a Sri Lanka where future generations will be able to live freely and be proud of? I need not spell it out, every Sri Lankan knows the answer to those questions."