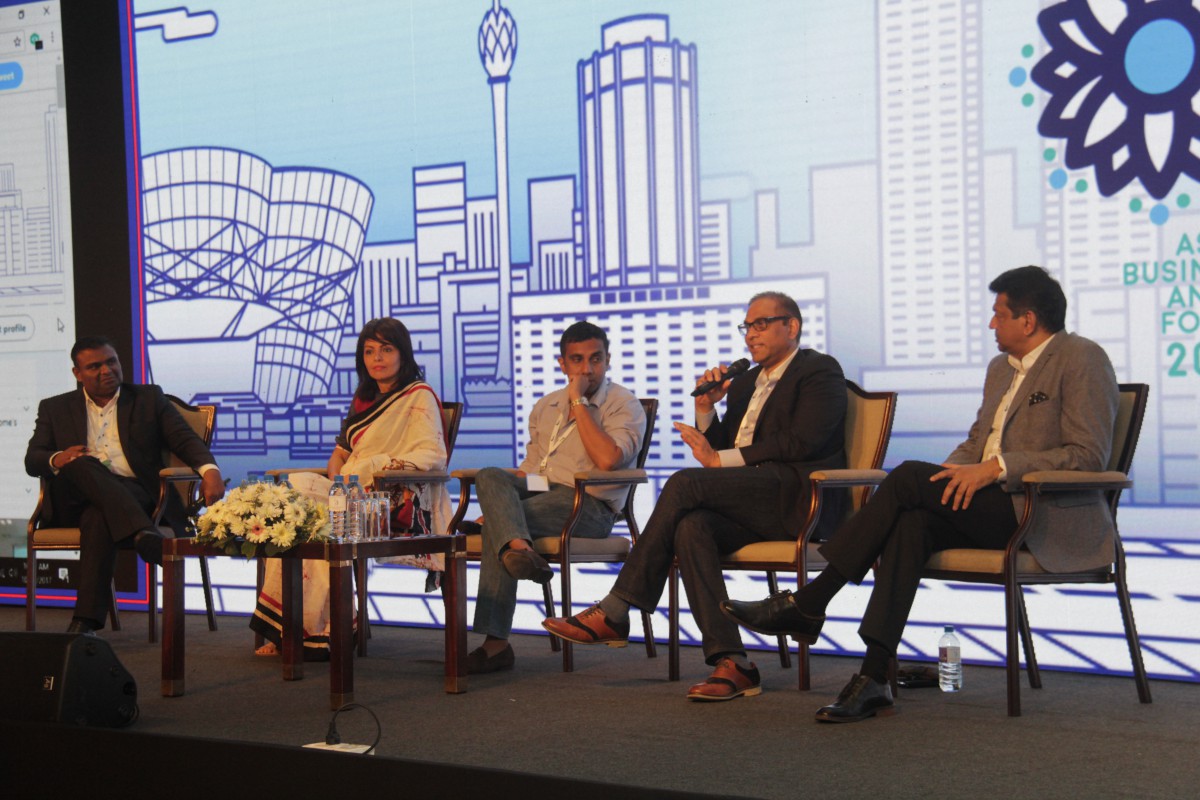 "I have one trick when it comes to making investment decisions in startups in Sri Lanka," began Rajan Anandan, Vice President of Google of South East Asia and serial Angel Investor, whilst announcing the Venture Engine (VE) 2017 winners. "I call the business leader at 12pm on Sunday and if they're enjoying a long brunch, I think "no way", but if they're in the office, I'm in!"
Events like this mark a new age of progress and development in Sri Lanka. VE is Sri Lanka's signature annual Entrepreneurship Program and provides the country's brightest innovators the opportunity to launch and grow their businesses with the support of some of the most inspirational figures in the region. The organisers, Asian Business Angel Forum (ABAF), are Asia's largest startup investor forum and there is a real sense that this event will catapult Sri Lanka's already thriving startup community into the stratosphere.
Yet, whilst the finalists are certainly a part of a vibrant community, there is a serious competition at stake. The twelve finalists, most of whom are first time founders and looking for seed-funding, are pitching for the opportunity of a lifetime. And by 9.30pm on day one of the event, after all the finalists had pitched, and the judges had beard-scratched their way to a head-spinning decision:
Roar Media, we are pleased to say, were announced winners of VE 2017.
Inspiration From Above
The first morning kicked-off with five seasoned Sri Lankan business founders, all with organisations of 3-10 years old, revealing their backstories, their motivations, and providing inspiration on how to position oneself above the competition.
Lakmini Wijesundera, a serial entrepreneur with eighteen years experience in technology management and global distribution, introduced her burgeoning new company: BoardPAC. As the world's most powerful organisations and governments make the shift from physical documentation to paperless technology, Wijesundera's hyper-secure server and product enable board directors to access and share confidential documents to their iPads. Wijesundera, described, that in this case:
"Less is more. We have built one product company and that's what sets us apart from our competitors. Dropbox and Microsoft are juggling multiple services, whilst we focus on one: Board Document Automation. And that's what makes us the leader in the Asia-Pacific marketplace."
Founder, Chairman and Chief Architect of WS02, Sanjiva Weerawarana humbly explained that most people in Sri Lanka and elsewhere probably would not have heard of his company or his trailblazing API, because it's "middleware". So although tens of millions of consumers use his products every day—"from every eBay user to any bus or tube commuter in London"—people never know because "it's a behind the scenes company; two or three degrees removed from the consumer." His unassuming approach has seen him step down as CEO of his own company in August 2017 and hire a Californian, Tyler Jewell, to take the reins on business development. "Mainly", Weerawarana concedes, "because I'm a tech guy."
The Finalists
Over 200 unique business plans were submitted in this year's VE competition and the judges had whittled the finalists down to the twelve most sustainable ventures. The aim of the program is to ensure that every participant gains from the experience, regardless of funding; a notion encapsulated by Naafiah Saleem, co-founder of finalist Plush Box, a premium curated gifting service. At the event, she told Roar Tech:
"As we only began in January [2017], we were delighted to be selected for the final—a testament to the quality of our products.And although we have grown tremendously in the last few months, the Angels' post-pitch questions have inspired me to revisit our business plan and rethink it with the intention of going international, sooner."
The finalists presented products and services spanning multiple sectors. In the health department, Ultimma Occta has developed appendage devices enabling visually impaired people to use smartphones to their fullest potential. In the entertainment arena, 444's slogan of "Less Missing Out, More Going Out" perfectly captures the imagination of Sri Lanka's nightlife scene as their concierge platform simplifies ticket bookings for movies, events, restaurants and more, all under one app.
The founder of 444, Amila Fonseka spoke to Roar Tech at the awards:
"We are extremely thankful for the Lankan Angel Network for creating a platform for us entrepreneurs to showcase our ideas to the world. We are proud to be recognised by ABAF as one of the top 10 startups in the Sri Lanka; the interest shown in the product by both local & foreign attendees has been overwhelming positive and further strengthened our vision of connecting Sri Lanka."
Winners of the Social Impact Entrepreneurship award was IgniterSpace, Sri Lanka's first technology creative-space for kids. Charismatic leader Jehan Wijesinghe delivered an impassioned pitch and caught up with Roar Tech after picking up their award:
"IgniterSpace exists for a reason: to impact the lives of the future generation of kids, to make them develop creativity and inspire them to develop novel innovations to solve real world problems. Winning the Social Impact award from Aavishkar at VE 2017 is a great inspiration & motivation for us! This award has validated us as a startup with a tremendous amount of social impact. We hope to impact the lives of every single child in the world to make them more creative."
Dr. Tan Steals The Show
"Hilarious", "genius" and "a privilege" were some of the words used to describe Dr. Clarence Tan's—former Ambassador for Singularity University and author and entrepreneur in the field of Artificial Intelligence (AI)—keynote discussion.
Expounding on "exponential technology reshaping future startups", Dr. Tan talked with enthusiasm about almost every innovation imaginable that will improve human life on earth and beyond: a hand-glove that can test women for breast cancer; 3D printing on a space-station allowing for onsite modernisation whilst out in space; and a robotic chef called "Moley" who has been trained by UK Masterchef to perfectly reproduce 2,000 dishes (although, Dr. Tan quipped, he would have preferred a French chef!).
His explanation of the "4D" tenet of digitalisation is a masterclass in lucidity:
When a product or service becomes 1) Digital, it is information technology-enabled, allowing it to 2) Dematerialise (disappear), meaning it can 3) Demonetise (become free), empowering it to 4) Democratise (be accessible and available to all).
To illustrate his theory, Dr. Tan uses photography giant Kodak, "a household brand whose dominance in the photographic film business was unparalleled", as an example. When Kodak led the innovation of the digital camera, it engineered its own downfall. Because whilst Kodak's core industry was paper, ink and production of tangible photographs, they invented a digital product that would eventually render their service obsolete. Dr. Tan concludes, "the year Kodak went bankrupt [2012], Instagram sold to Facebook for $1 billion."
Another of Dr. Tan's observations is that "80% of GP's will be redundant in the next generation" because of AI's advances in the medical sphere. Arguably, best representing this idea at the event were startup Pregbuddy, who were second runners-up in the competition. Their product is a smart communication platform between doctors and chronic patients to provide faster care and reduce revenue leakage. Roar Tech spoke to one of PregBuddy's founders, S.L. Sivareena:
"We're super excited to be the second runner-up for Venture Engine 2017. We met investors from all over Asia which has opened up several investment and partnership opportunities. It has been a great learning curve throughout the program and we want to thank Lankan Angel Network and BOV for such an opportunity. We're raising our first round of funding to build our technology across platforms and build partnerships across India."
Plenty More To Discuss
Day two hosted a powerhouse of guest speakers.
During the discussion on "Regional Trends in Startup Investing" the pan-Asian panelists offered great insight into the startup ecosystems in their native countries. Putting Singapore firmly on the map, Dr. Mark Hon, Chairman of Business Angel Network Southeast Asia (BANSEA), described how 2016 saw the birth of approximately 4000 companies, only 800 fewer than startup behemoth, India. Contextualising India's incredible growth potential, Padmaja Ruparel, "the woman behind the Indian's largest angel network" (IAN), said they expect India to produce 10,000 startups in the year 2020. Whilst, Dr. Shuki Gleitman, Chairman of Guangzhou Israel Biotech Fund (GIBF), described how Israel, a country of only 8 million people, has cultivated a near perfect innovation ecosystem—comparable to Silicon Valley—with 62 accelerators, 40 co-working spaces, 60 "tech community" spaces and almost 70 investors.
On the "Sri Lankan Ecosystem in Context" panel discussion, Tony Weerasinghe, whose career spans founding MillennuimIT, then eChanneling, and latterly becoming the Director of London Stock Exchange Group, described how tech innovation is in the DNA of Sri Lanka. "Did you know", he questioned, "that Sri Lanka was the first country to develop a smartphone app anywhere in the world?"
Mano Sekaram, chairman of Lanka Angel Network (LAN), who steered Sri Lanka's flourishing tech industry into the $1 billion industry that it is today, said he was proud of seeing the second generation of innovators coming through and doing it even better.
Lahiru Pathmalal felt like "he was standing on the shoulders of giants"—specifically Weerasinghe and Sekaram—when he launched Takas, Sri Lanka's foremost e-commerce business. In a conversation about disruptive technologies, Pathmalal described how e-commerce has changed the face of consumerism in Sri Lanka forever:
"In a demographic like Sri Lanka, where there is a high rural population, people did not have access to a large diversity of products, as flagships stores would ordinarily only be in Colombo, and maybe in one or two other cities. But Takas enables anyone from anywhere in the island to have access to thousands of products. This has disrupted the traditional market. Six percent of our top line comes from Uva Province, probably fuelled by a lack of access to products before."
Let's Celebrate!
The overriding feeling of the two-day event is one of celebration. A celebration of Sri Lankan entrepreneurs, business and software. And a celebration of Sri Lanka's role in shaping the future of Asia and global business.
Capturing the joyous atmosphere was the spontaneous applause that followed random announcements of birthdays across the speakers and panelists: Prajeeth Balasubramaniam, BOV Capital Partner was first, then Satveer Thakral, CEO of Singapore Angel Network, and finally, Dr. Shuki Gleitman, on day two.
Australian Jordan Green, Chairman of ABAF, summed up the success of the event in the wider global context:
"The funding and intellectual support of Angel investors are key drivers of the entrepreneurial ecosystems that are growing all our economies. ABAF 2017 in Sri Lanka celebrates the Angel pioneers in this country and epitomises the cross-border reality that is the Asian Century."
Cover Image. Sri Lankan Panel.