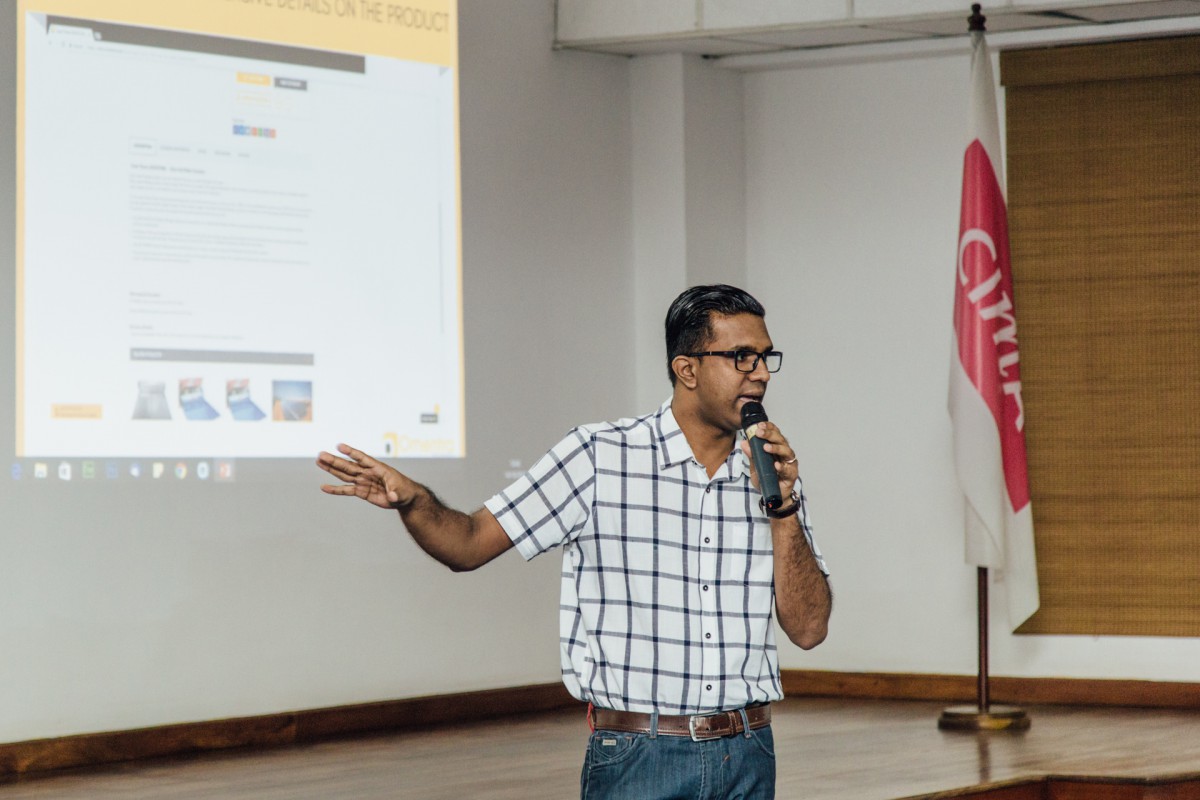 Last Saturday, at the auditorium of CIMA Sri Lanka, a group of young entrepreneurs competed in the first round of what is now one of Sri Lanka's most selective startup incubators. CIMA Launch Pad has helped several startups implement their ideas by teaching them new skills and helping expand their reach to investors and mentors. The Elevator Pitch was just the beginning of this year's participants' adventure.
Held for the fourth consecutive year, Launch Pad aims at nurturing Sri Lanka's next generation of entrepreneurs. Held in the form of a competition, the incubator encourages startups to engage in a series of pitching events and workshops before competing for the grand prize. Even those who don't win stand to benefit from the programme, which fine-tunes their pitching and marketing skills, builds confidence, and helps them learn from mentors and expand their networks.
The winning team receives a Startup Bundle, which differs in its offerings each year. In 2016, the winners of Launchpad received a package that included consultancy from Pricewaterhouse Coopers (PwC), market research by Nielsen, re-branding and marketing consultancy by Response Marketing, and startup loan facilities by Hatton National Bank (HNB). They were also invited to attend SLUSH, in Helsinki, Finland, one of Europe's most prestigious startup accelerator programmes.
This year's programme started with a pitching session for the teams that applied this year, where they each delivered a three-minute presentation to a panel of judges, which comprised of Ravindu Dalugoda, Group Financial Controller, Viluxur Holidays; Nissanka Seneviratne, CEO, Skylar Tech Labs; Damith Jayawickrama, Country Manager and Software Architect at ZorroSign Inc.; and Ajantha Weerasekara, Director, KPMG Sri Lanka.
The teams that were selected to move on to the next phase of the competition brought in fresh, innovative ideas that aimed at disrupting their respective areas of industry. 'HelloMom' is the only competing team to focus on healthcare through a new SMS platform that enables pregnant women to receive daily updates based on their week of pregnancy. It also allows both pregnant women and new mothers to seek advice by asking questions related to pregnancy and childcare. 'Bear Appeal' is also the only fashion startup in this year's programme. A fairly new clothing brand, it creates fashion basics, such as t-shirts that are designed with a 'bare' minimum, but are both stylish and affordable.
Food and lifestyle remain two of the most popular categories for startups in Sri Lanka today, and three competing teams are using design and technology to introduce new services to these markets. 'Smashed' is an app that creates a fast and hassle-free nightlife experience for those who enjoy clubbing and partying. The app allows partygoers to pre-book tables at their favourite nightlife spots and take advantage of deals that help them save money while having fun. 'Wildcard', on the other hand, is trying to get people off their smartphones and laptops and instead enjoy interacting with friends and family offline. Their concept is simple: a 1970s-themed cafe that lets patrons play board games while enjoying their coffee and desserts. 'Foodictive' brings the taste and fulfillment of home cooking to those who don't have the luxury of a homemade meal. The platform connects home cooks to those looking for a change from restaurants and fastfood outlets. Eventesia is a platform that lets users find the ideal talent for an event. It lists singers, bands, and photographers and helps promote young talent.
Among the final two startups is Neobrix, which aims at reducing waste by creating a brick that is made of 30% sludge, clay, and waste materials collected from fabric manufacturers. This new formula produces a brick that is stronger than the standard bricks often used in buildings. Omentra is a B2B marketplace that connects suppliers to buyers by offering a 360-degree solution to procurement, which is usually a long and exhausting process for most companies.
For all the teams that applied this year, the Elevator Pitch was one of the most crucial steps in the competition, where they had three minutes to best present their ideas and prototypes. The eight shortlisted teams will now proceed to participate in a series of workshops that focus on business concept development.
Launchpad is yet to announce this year's grand prize, but it has no doubt started the learning process for the participating teams. In the following weeks, it will host successful entrepreneurs and business leaders who will give inspirational talks and mentoring sessions to the teams.
Roar Media is the Digital Media Partner of CIMA Launchpad 2017.
Cover image: Nazly Ahmed