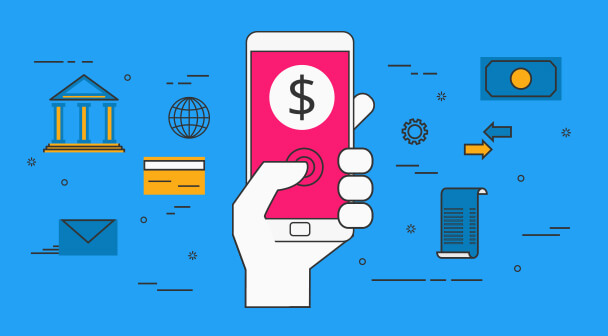 The hottest buzzword in the startup industry lately has been FinTech. The marriage of Finance and Technology isn't new. We've all used credit cards, e-banking and other similar technologies. But this new age of connectivity and mobile computing are opening up new opportunities for smart and savvy tech entrepreneurs to make their mark on the world.
FinTech has been called "the intersection between finance and technology." It's all about emerging technologies which help consumers or financial institutions deliver financial services in ways that weren't traditionally possible.
Mr. Prajeeth Balasubramaniam, Co-Founder, BOV Capital and a  Founding Board Member, Lankan Angel Network said that, "Fintech is a significant area of interest in Sri Lanka and worldwide. Further, we are seeing huge opportunities for growing local Fintech startups across Asia, and beyond. With access to the right resources and networks, there is no limit to what Sri Lankan Fintech companies can achieve in this space."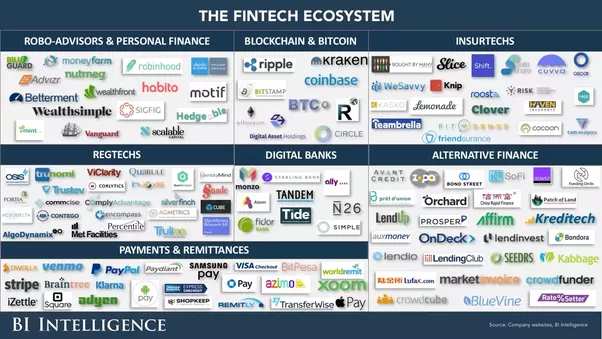 According to global auditing firm KPMG, investments in global Fintech companies have reached 31 billion US dollars and the industry has tripled in size over the last decade. Global growth projections for the industry have consistently exceeded 25% or more.
Fintech technologies cover many areas. They include lending, personal finance, payments, consumer banking, retail and institutional investment platforms, insurance, and regulatory tech among others. The space continues to be disrupted with technologies such as AI and Machine Learning. Payments and remittances are a more familiar area of Fintech. Payment Gateways that allow you purchase online, e-wallets which store money outside your bank for easy access, and apps that allow you transfer money are examples for FinTech. Cryptocurrencies and their underlying blockchain technology are also part of the FinTech landscape. This digital currency and the public ledger system it's based on has the potential to disrupt the financial industry in many ways, but it's so new that the best minds are still figuring out how. Enterprise Tools and Software is a well established category of FinTech. That is where "Software as a Service" comes in. In "SaaS" financial applications that would traditionally be hosted on site are hosted on a service provider for security and accessibility.
FinTech can also be about getting you the investment that you need. Capital can be raised based on rewards, donations, equity or even debt with ease now through Alternative Finance apps and portals. You no longer have to do the grunt work when people who support you are right there with the click of a virtual button
But for anyone to start their innovation journey you need support to get your idea off the ground. Resources to develop a startup aren't cheap and supplying the necessary capital by yourself isn't within the capabilities of most startup owners. This is where BOV Capital, The Lanka Angel Network and the Dialog Digital Innovation Fund come in.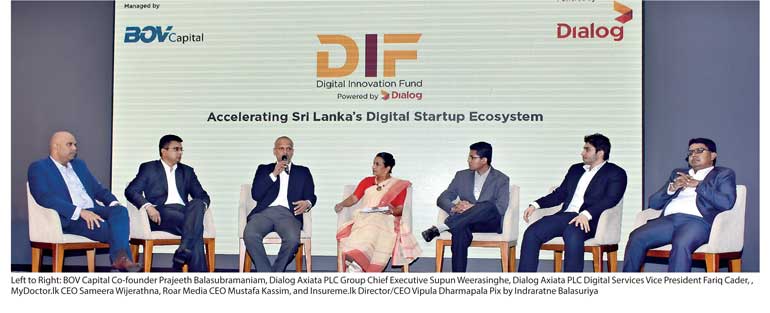 BOV Capital is a Venture Capital Firm based in Sri Lanka and Singapore. It was established with the aim of helping Sri Lankan startups achieve success both regionally and globally. They invest and work closely with selected startups in their early stages across all aspects of the business.
The Lankan Angel Network is Sri Lanka's first alliance of Angel Investors. They are a group of investors that comprise individuals, venture capitalists, and angel investors that want to promote entrepreneurship in Sri Lanka. Their express purpose being the bringing-together of the Sri Lankan investor and mentor community and to scale the startup ecosystem.The Digital Innovation Fund, powered by Dialog Axiata and managed by BOV Capital, is specifically for assisting startups as well building on digital technologies within Sri Lanka.
According to Dialog,
"The Rs. 2.3 billion Digital Innovation Fund was debuted by the Malaysian Prime Minister in December 2017, and invests in growth stage Sri Lankan digital startups, with investments ranging between Rs. 50 million and Rs. 200 million. 20 percent of the total fund has also been set aside for investments in early stage or seed startups, particularly those looking for investments less than Rs. 40 million."
Startups that have been given a boost by the Digital Innovation Fund include:
InsureMe – An innovative insurance broking company offering a transparent and unbiased professional service comparison of key insurers in the country.
MyDoctor.lk –  Sri Lanka's pioneering digital health platform that provides a complete suite of medical and wellness services using cutting edge medical thinking and digital technology. It came in as first runner up at The Commonwealth Digital Health Awards in 2017.
And last but not least, Roar Media, South Asia's premier new media platform offering quality content in five language across three countries drawing in millions of readers and viewers each month for articles and video.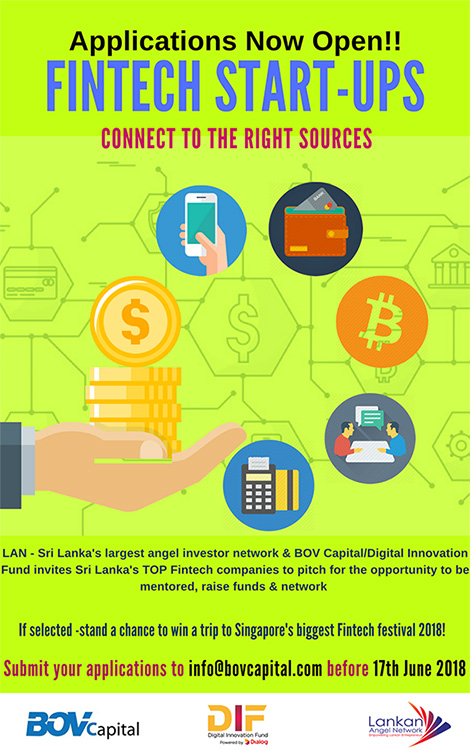 Now it can be your turn. If you are a startup entrepreneur and all you need is the capital to make a positive disruption in the FinTech space, the Lankan Angel Network, BOV Capital, and the Digital Innovation Fund invite you to pitch for a chance to be mentored, to raise funds and to network. They are partnering with HATCH; a startup incubation and acceleration platform that will provide acceleration support for local innovative solutions. KPMG also serves as a local partner. KPMG is a global network of professional firms providing Audit, Tax and Advisory services and they have been the knowledge partner of the Lankan Angel Network since its inception and has partnered in events such as the annual Venture Engine program.
Selected companies from the first round will be mentored to apply for the Global Fintech Hackcelerator in Singapore. They will also get an opportunity to raise funding through BOV Capital's DIF and LAN. If any of the finalists of the local competition are chosen by Singapore's largest Fintech festival, they will be sponsored to attend the 2018 Singapore Fintech festival. This will be a great opportunity to get exposure in the region.
Send in your applications before midnight of the 17th of June to [email protected]
Cover Image: alithya.com