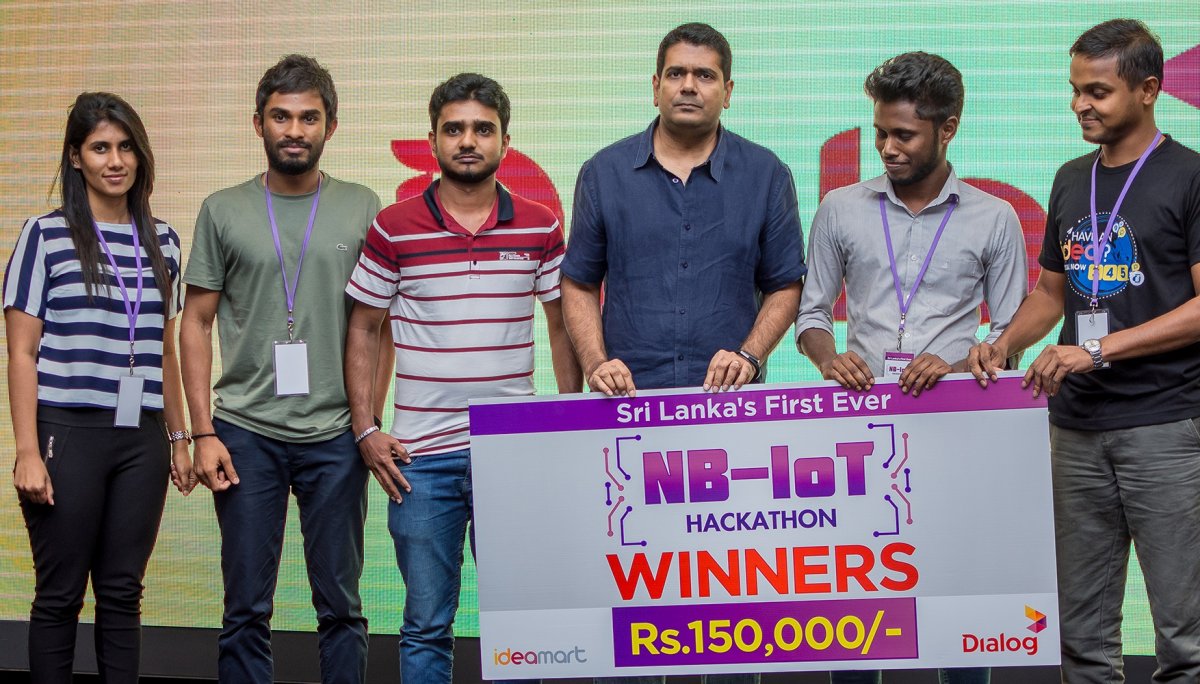 By 2020, tech experts predict that globally there will be 26 billion devices connecting to the Internet of Things (IoT).
Current IoT solutions will not be able to serve such exponential growth. So, the tech world is racing to develop the next generation of wireless networks that will handle the coverage and sheer volume of connections needed.
Narrowband radio technology appears to be the solution as it connects a wide range of devices and services using cellular telecommunications bands. It provides highly efficient connectivity, security, competitive subscription models, and, crucially, requires a low power source, therefore not zapping the battery life of the IoT device.
To bring Narrowband IoT potential to Sri Lanka, Dialog, with their developer relations and community development arm, Ideamart, have conducted over 15 NB-IoT awareness sessions around the country for students, technologists, and startups.
IoT Hackathon
To continue the introduction of this groundbreaking technology, Dialog hosted a a first in Sri Lanka: a hackathon exclusively exploring NB-IoT.
For anyone wondering, a hackathon is an event where experts in the tech world trial a new technology and operate a fast-paced competition to see who can get the most out of the tech; testing its limits, and hopefully, revealing its scalable potential.
Held on the 17th of March at the Dialog Head Office Auditorium, the hackathon consisted of 9 teams tasked with creating NB-IoT solutions using Dialog's IoT platform, or making existing solutions NB-IoT compatible.
Speaking at the event, Guest of Honour, Jaikishan Rajaratnam, Global Head of Technology, GSMA said:
"Events like these are a great way to accelerate the adoption of these new networks and encourage the development of innovative new products and services in the IoT space."
Everyone's A Winner
Submissions to the competition included a water quality monitoring solution for the Anuradhapura district, a innovative infant healthcare solution, and a comprehensive fitness brand that use the NB-IoT network and Dialog's existing IoT platform.
First place winners: Team Death Squad, from Innova IT Systems, won Rs.150,000.
1st runners up: Bite Code from the University of Peradeniya won Rs.100,000
2nd runners up: Team Strangers from University of Rajarata won Rs.50,000
2nd runners up:Team Myhub from MyHub.lk won Rs.50,000.
Dialog Group Chief Executive Officer, Supun Weerasinghe said:
"The deployment of the NB-IoT Network in South Asia was a not only a significant milestone for Dialog Axiata but a key enabler towards a Digital Sri Lanka. It is paramount that we place this technology and infrastructure in the hands of our local talent to continuously innovate and create new solutions that would empower and enrich Sri Lankan lives and enterprises."
Going Forward
The introduction of NB-IoT to the market will increase the adoption of emerging IoT technology and other related devices. Operating in a licensed and regulated spectrum, the NB-IoT hackathon proved that, as network, it is less susceptible to interference that other models, and enables secure and reliable communication.
With key features such as long battery life for devices, unified coverage, secure connectivity, high reliability and easy deployment into existing cellular network architecture, NB-IoT is to set to be the global-enabler of IoT.
Cover image courtesy: Dialog