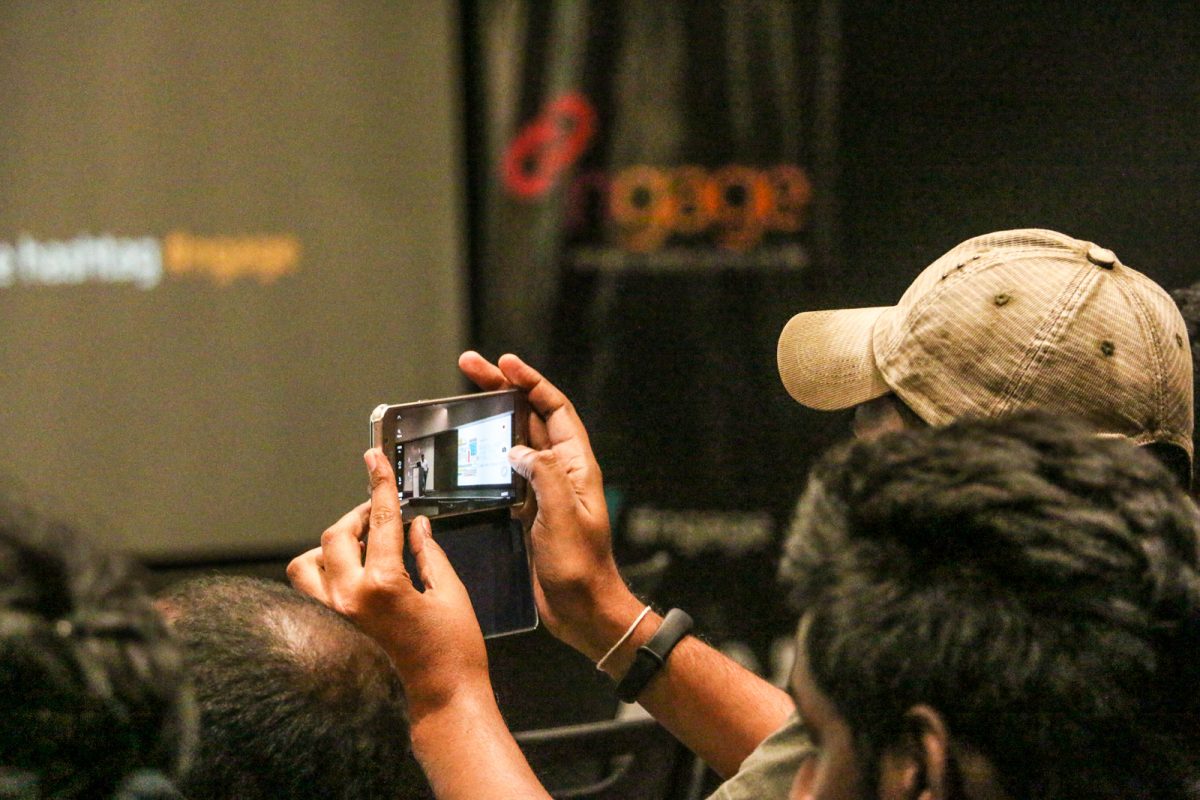 #ngage is an open forum organised by Dialog, where tech and social media enthusiasts can come together, interact, and engage ideas. This January 18, #ngage 3.0 was held at the Dialog Auditorium and brought together speakers and performers from a broad cross section of society ‒ from environmental conservation and public sector services, to popular music. The venue was intimate, the topics fascinating, and the audience engaged.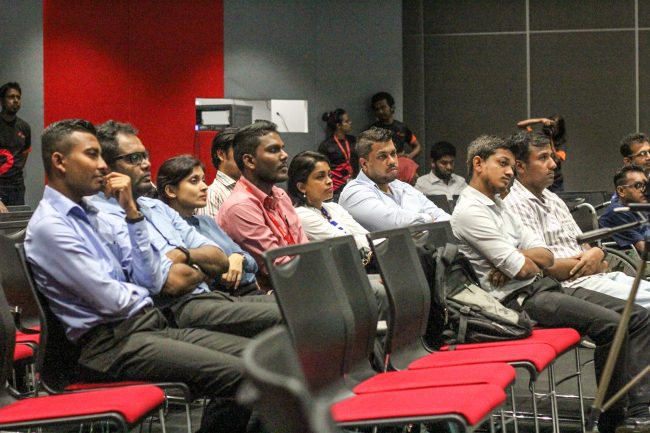 First up was Heminda Jayaweera, the co-founder of Thuru. He was followed by Gopiharan Perinpam who is the Assistant Superintendent of Customs. Kalpana Nayanamadhu's acoustic rendition of Ashawari ended the session.
Thuru App ‒ One Tree For One Person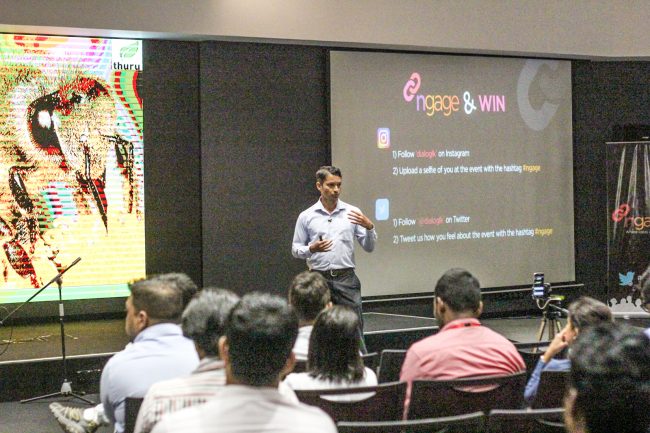 Heminda Jayaweera started off his talk by explaining that forest coverage in Sri Lanka now is about 29 percent. That's a reduction of 10 percent over the last couple of decades. He also noted that the world average forest coverage is 31 percent, which makes Sri Lanka no longer a "green country". Pulling up a few more numbers, Heminda said that Scandinavian countries have over 70 percent of forest coverage, while India has maintained 22 percent forest coverage from 1990 to 2016, and China has gone up from 23 percent to 30 percent coverage. According to Heminda, once a country goes below 25 percent forest coverage, they start to lose biodiversity, and Sri Lanka is expected to reach that mark in five years. The effects of deforestation are being felt even now. The population of bees, for example, is reducing because of excessive pesticide use, the loss of flora, and the planting of vegetation that is not native to Sri Lanka.
To create awareness and an understanding of the impact of deforestation, the Thuru team has compiled some numbers to graphically explain the value of a single tree. A thirty foot tree will produce 550 litres of oxygen a day. That is equivalent to the daily oxygen intake of an adult. To put a monetary value on the tree, that's a half a billion rupees worth of oxygen a year.
While social media is used for such things like sharing your lunch menu and random selfies, Heminda feels that the way to combat deforestation is to make things like planting trees a social trend as well. To this end, the Thuru app was created as a sort of social media for trees. Users can select a type of tree on the app, tag the exact location where it was planted, take pictures, and share it on the app. The whole system is gamified on a point system. Users get points for each tree they plant and for how long it is up. The more trees you plant, the higher up you go on the leaderboard. People who reach certain goals receive rewards from sponsors, like hikes up Sri Lanka's most scenic trails. For people who don't have space but still want to help, Thuru looks for open land and organises tree-planting events that people can attend.
Their aim is to increase Sri Lanka's forest coverage to 31 percent by 2018, which means planting 2 million trees. They've planted 500 already, so the goal is lofty, but the cause is worthwhile.
Social Media And The Public Sector ‒ Are We There Yet?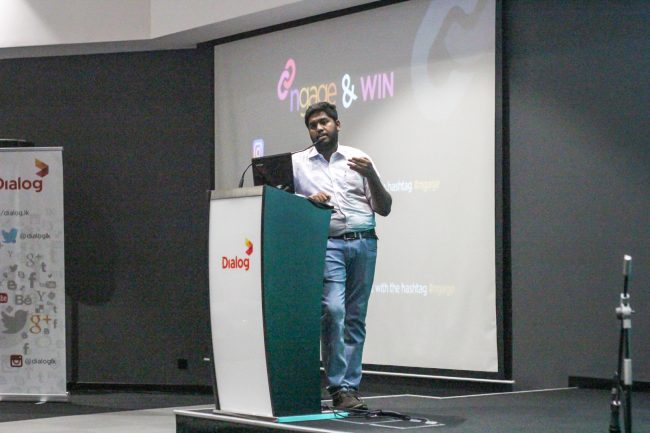 Gopiharan is the Assistant Superintendent of Customs, and his presentation was on how the public sector could use social media to serve people better. The private sector has a pretty good handle on providing customer service through various social media channels like Facebook, Facebook Messenger, and Twitter, but the public sector is yet to embrace social. There are, however, compelling reasons for them to use social media more. Thirty percent of Sri Lanka has access to the internet, which works out to nearly 7 million users ‒ a number which is growing daily. Fifty percent of the population falls between the ages of fifteen to forty four. This segment also has the highest computer literacy rate, so social media is simply a much better way of reaching out to the public.
A case in point is the Qlue app used by administration in Jakarta to accommodate citizen complaints. Instead of visiting in person, or using Facebook to send in complaints, citizens can use the Qlue app (launched in 2014) to send pictures of clogged drains, heavy traffic, damaged roads, and a host of other municipality problems to the authorities. The authorities can then direct the relevant departments to respond to the complaint. Users can also monitor the status of the complaint, and check to see whether it is in progress, or completed.
In Sri Lanka, the ICTA has started what it calls "smart social circles". It creates different Facebook groups for villages and townships. These villages use Facebook groups to organise shramadanas, events, and to contact authorities when action is needed. The government and a few politicians have also experimented with social media. Examples were the live Twitter Q&A sessions with former president Mahinda Rajapaksa and with the governor of the Central Bank of Sri Lanka. Even the customs department experimented with setting up a Facebook page, but had to shut down the messaging option because they were getting far too many queries to respond to.
Gopiharan observed that there needs to be regulation and policy in place for government institutions to guide them in using social media to serve the public, and that this regulation needs to come right from the top. He pointed towards Estonia's remarkable adoption of technology in every part of public service, and stated that this is the future Sri Lanka should be dreaming of.
Ashawari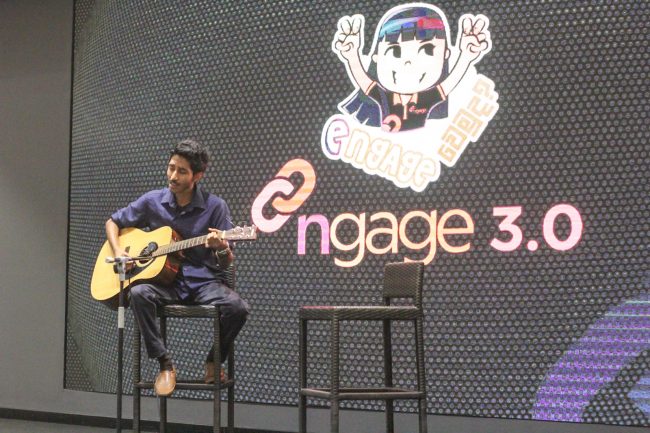 #ngage concluded with a question and answer session with Kalpana Nayanamadhu, the vocalist behind the sinhalese song Ashawari, which has racked up over a million and a half views on YouTube already. The questions and answers were light hearted and focused mostly on the making of the music video and Kalpana's thoughts behind it. He then performed an acoustic rendition of the song which was very well received.
The meetup closed with a mingling session over sandwiches and coffee, which was also very well received.
#ngage is a free and open forum of tech and social media enthusiasts from all walks of life that come together to share knowledge, exchange ideas and discuss emerging trends in technology and the internet. It is a community driven event that is open to the public, typically attended by IT professionals, Internet buffs, entrepreneurs, bloggers and journalists.
Dialog is Sri Lanka's No.1 Brand on Facebook (1.7 million Fans), Twitter (260K followers) and Viber Public Chat (235K followers) making it the largest and most popular brand online. Dialog was recently awarded the Most Connected Brand by LMD, in a digital study conduct by TNS Lanka, and its latest Viber Sticker Pack 'Ridmeta Rockwela' has reached over 2.5 million Viber users.