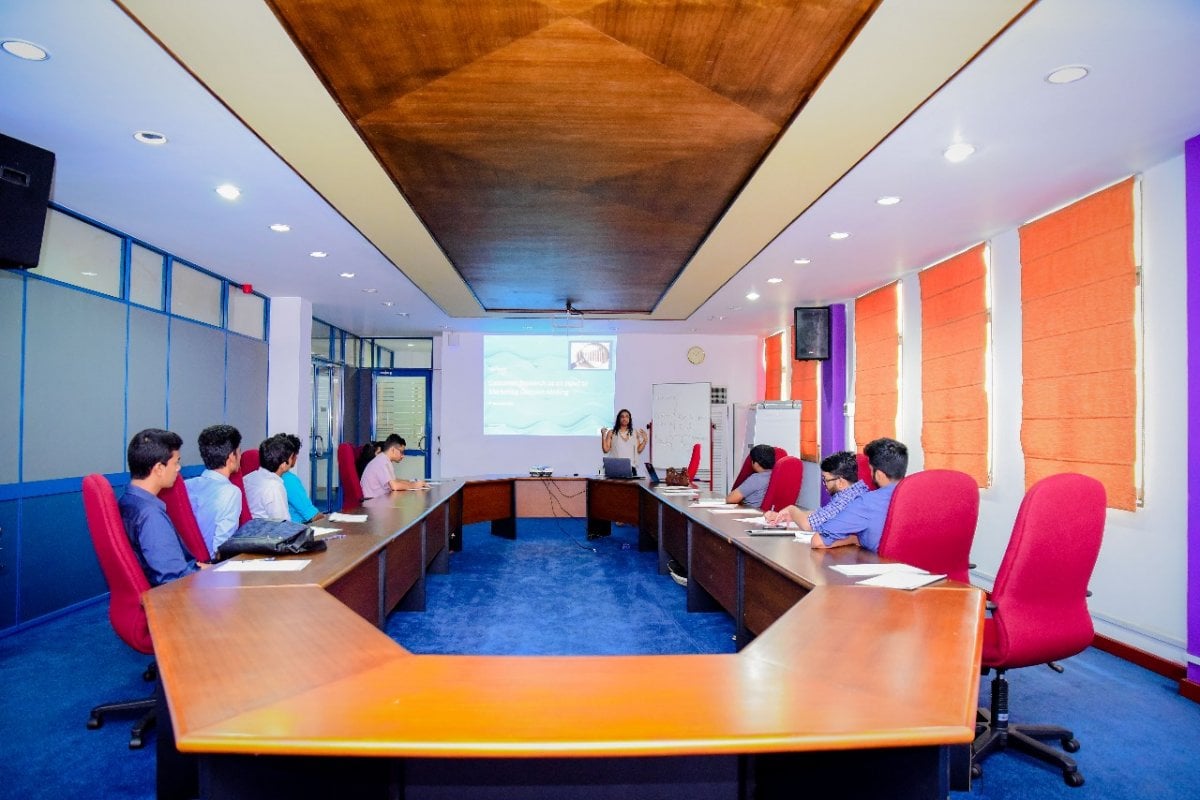 CIMA Launchpad recently held its third workshop at the auditorium of CIMA Sri Lanka. The four finalists who will compete at the grand finale on 12th of November were able to learn from two business experts, who covered topics that are crucial to the growth strategies of startups.
The workshop sessions were conducted by industry veterans in marketing and branding.
The first workshop focused on 'Marketing Research', a step that can often slip through the minds of startup founders when forming the concept of their product. This session was conducted by Therica Miyanadeniya, Director, Neilsen's.
The second workshop covered the subject of 'Branding/Analytics', key factors in the growth process that are often missed by startups and lead to their failure. The workshop was conducted by Dinesh V, Managing Director, Reap Digital.
The four teams that were selected as finalists entered this stage after competing in a Mock Investor Pitch, held on 29th of October. Eight teams participated in this event, and had to make their pitch to a panel of five judges, comprising of:
Mahaz Ishaq, Director, Calamander Group; Jithendra Chitty, Director, Strategic Advisory Services KPMG SL; Varatharajah Kumaraguru, CEO, Youth Business SL; Senaka Kekiriwaragoda, Managing Director, NDB Zephyr; and Mahesh Yogarajan, Executive Director, Walkers Colombo Shipyard.
After hearing the teams pitches, the judges had the task of selecting the final four. The startups that were ultimately selected were Bear Appeal, HelloMom, Neo-Brix, and Board Game Cafe. The four startups will now move on to the finals, where they will have a shot at launching ahead with their startup journey by being part of one of Sri Lanka's most distinguished startup incubators.
We asked each of the finalists about their goals and what they managed to get out of being involved in CIMA's Launch Pad thus far.
Bear Appeal
Co-founder of Bear Appeal, Thamara Kandabada, on Bear Appeal's story:
When we launched Bear Appeal, we were scratching our own itch. We wanted a convenient solution to shop for basics, and when we couldn't find anything we liked, we decided to build our own. We based our business on a sample size of one, essentially. We've been in operation for the past 6 months, and our products have been well received. We are now convinced that we're solving a real problem. Going forward, we want to keep growing while being extremely customer-centric. We want to build an iconic brand that is synonymous with the driven, entrepreneurial doers of our generation.
HelloMom
Areefa Thassim, founder of HelloMom, on what their startup is all about:
HelloMom is an SMS platform that provides advice, tips and reminders for vaccinations to expecting moms and new moms(with infants under the age of 1). HelloMom could also answer questions by our users instantly using our AI Engine and broadcast alerts to our users during times of national crisis providing them with precautionary measures.
On how CIMA Launch Pad has proven beneficial to their startup journey:
CIMA launch pad has helped us grow our product into a business by providing us with the correct tools and feedback to improve our business strategies. Through CIMA launch pad we were able to learn how to carry ourselves as a business because of the workshops and mock investor interview we were able to take part in.
Neo-Brix
Hasith Senevirathne, founder of Neo-Brix on the difference CIMA has made so far:
By participating at CIMA Launch Pad, we learned how to build a business from scratch, because none of us had a background in building a business. We had only learned business strategy as students. We learned how to make a business plan, how to value our business and outsource work, and other important tools related to marketing and online sales. Through the incubator, we changed our business plan to make it more attractive to investors and make our product available to almost everyone in Sri Lanka.
Board Game Cafe
Shanil Wickremaratne, founder of Board Game Cafe  on the role CIMA has played in his startup journey:
CIMA launch pad has played a pivotal role to  those who aspire be to be entrepreneurs by providing the right tools, resources and the platform to transform a business idea from inception to a fully fledged business.  The workshops offered by CIMA Launch Pad were useful to understand the importance of the legal framework, methodologies to assess the valuation of a company, market research and the structure for a great business plan.
CIMA Launch Pad's finals take place on the 12th of November. Prior the finale, CIMA hosting a panel discussion on the startup ecosystem in Sri Lanka, and on entrepreneurship at the Ministry of Disaster Management at 3PM.