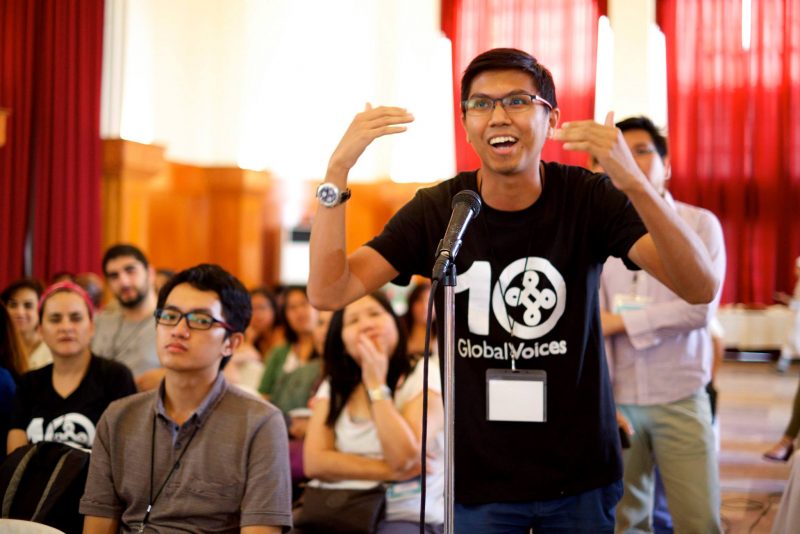 Global Voices—a "border-less, largely volunteer community of more than 1400 writers, analysts, online media experts, and translators"—bought their unique brand of citizen journalism to Sri Lanka for the first time last weekend.
Via interaction sessions, panels, and debates, the Global Voices Summit brings together the international digital journalism community, to delve deep into the complex issues "that could make or break the future of the internet". Past summits have hit diverse cities, like Budapest, Nairobi, and Santiago de Chile, and December 2017 was Colombo's turn.
Renowned for an activist spirit, Global Voices curates, translates, and edits trending news and stories from around the world. By translating the global zeitgeist into local vernacular, and vice versa, they give indigenous voices greater reach, and provide their readerships with access to content that would normally not be available in their local language.
Surveillance and Security
Panel discussions on the main stage such as 'How can we keep the internet open and safe all for voices?' drew in three-figure sized crowds.
The conversation began with the biggest challenge threatening the internet: Shut Downs. The panelist discussed the Indian government's recent use of internet shutdowns (60 shutdowns in 2017) to quell social uprisings and hate speech.
This quickly transformed into a much more animated discussion about wider surveillance and how the internet and Big Data has blurred the line between the physical and the virtual. After all, we are all tracked and farmed for habits and life choices so more products and services can be marketed to us.
Sahar Habib Ghazi, Global Voices Managing Editor, told the audience: "The internet and platforms like Facebook have changed so much. And if we knew what Facebook would become ten years ago, none of us would have signed up!"
The flurry of audience questions climaxed in a new postulation: Is there an alternative business model for the internet? For instance, rather than the status quo of being tracked and targeted (in return for a free internet), could we not pay for internet services and regain our privacy?
It's a thought-provoking idea.
Evidently, the panel discussion raised a lot more questions than it answered, but that's more a reflection of the quality of the speakers, the spirit of Global Voices, and the intense engagement from the crowd.
Indigenous Languages
Smaller 20 person roundtable discussions add a welcome intimacy to some topics. Can Indigenous Languages Co Exist with the Internet? unpacked a salient question in digital anthropology.
Sri Lankan, Ramla Wahab-Salman, is a researcher and speaker of Arwi. This ancient language is spoken Tamil with Arabic script. A language that is not geographically bound, its use has dwindled in communities around the Indian Ocean for centuries and was believed to be extinct.
Technology has historically been a detrimental force to indigenous languages. Wahab-Salman describes how the advent of the printing press in the nineteenth century curtailed Arwi as traditional Tamil took precedence with its much more widely understood, traditional script. And in a more contemporary example, Subhashish Panigrahi illustrates how Wikipedia—with its "ambition to bring together the sum of all human knowledge"—fails on some levels because it is only published in several major languages and therefore renders indigenous languages redundant.
However, technology, used in the right way, can also do the opposite.
Nick Lunch, Director of InsightShare—a UK non-profit, that delivers "transformational projects with some of the world's most marginalised communities"—is an important cog in giving voice to indigenous people. He provided recordings and transcripts so that the table could hear from Senso of Nagaland, a tribe in Amazonian Ecuador, and a Maasai leader.
Never has technology felt so vital.
Snapshots of the Global Voice Worldview
Quickfire 15 minutes presentations throughout the busy two-day schedule brought to life this new found ability of digital tech to harness indigenous voices.
The beleaguered, Zone 9 Bloggers, from Ethiopia, discussed their daily struggle against the state and censorship and facing terrorism charges for simply writing about their lives. Writing in Amharic—the official working language of Ethiopia—Global Voices translated their work and were part of an international movement to emancipate a collection of imprisoned journalists and academics.
Elsewhere, Elaine Diaz from Cuba reports to a buzzing, supportive audience how Periodismo de Barrio is challenging the Cuban media landscape? Her story of citizen journalism was born out of a frustration of state-owned media for misreporting extreme weather and subsequent damage. Periodismo de Barrio asks the question, who is best suited to report on a country, the citizens or the state? The website provides a real-time coverage on weather uploaded by citizens, a invaluable resource in extreme conditions such as Hurricane Irma.
It Does What It Says On The Tin
The ambition of the Global Voices could easily be its failing. But from the sheer diversity of speakers and participants, it achieves its goal of being "a truly global campaign and conversation".
In a roundtable discussion on Threatened Journalists in South Asia and their Rights, anonymous Sri Lankan journalists were talking side-by-side with individuals from Bhutan, India, Kashmir, Maldives, and Pakistan. The central theme was that freedom of speech is under threat in the region and that journalists need to come together to protect these rights.
For Sri Lanka to be the forum for such a conversation feels like a massive, positive step forward.
Cover Image. Image courtesy Global Voices Summit 2017.
Roar Media was the Digital Media Partner of Global Voices Summit 2017