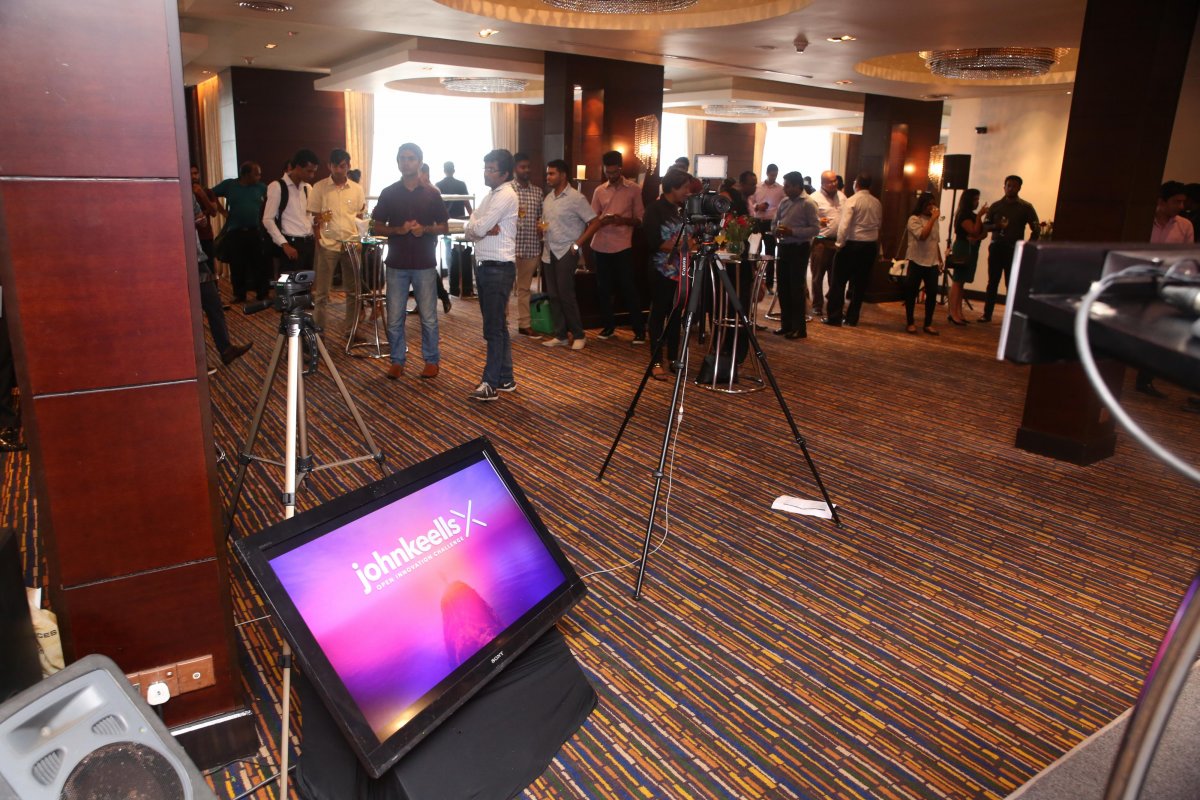 The John Keells X Open Innovation Challenge closed its application deadline on the June 25, with hundreds of teams applying to take part in the months-long challenge-slash-accelerator. Sorting through such a large number of applications was no easy task, but over a month and a half of hard work, twenty teams were shortlisted from the hundreds that had applied.
Teams were selected based on their core strengths, rather than just business plans. The people on the team, the intellectual skills they brought to the table, how motivated they were, and their sense of design were the factors taken into consideration during selection. The ideas were important too, but since ideas change so much over the growth of a startup, what was more important were the people who made up the groups, the scalability of the business models, and their alignment to John Keells Holdings' verticals.
The Shortlisted Teams
These are the teams shortlisted to take part in the JKX Challenge. They come from a variety of disciplines and their products span a variety of industries.
1. adora.lk – Allows users to order bespoke apparel online, design it themselves and check its fit on a virtual model, using virtual reality.
2. Direct Pay – A convenient electronic payment option providing an alternative to cash, POS, and MPOS systems.
3. Direct2door – A household concierge platform
4. RODA – Vehicle and fleet management through a cloud ecosystem that uses the OBD port to provide diagnostics and analytics.
5. iLoan – A borrower-driven online loan aggregator/powering engine aiming to bring a variety of lenders to borrowers.
6. Urbandine – Providing a seamless customer experience for restaurant table reservations, ordering of menu items, splitting of bills and payment, customer reviews, and engagements.
7. Team AD – Making home services simple for Sri Lankans by leveraging mobile technology.
8. Greasemonkey.lk – An e-commerce platform dedicated to automotive products and services.
9. Vyral – A location-first social platform that helps you discover what is happening around you by connecting with the local community.
10. WebSutra – A secure and convenient payment option through your mobile phone.
11. Traverlust – Using artificial intelligence to create relevant and informative travel packages.
12. EatFit – A one-click lifestyle app for customers to get healthy and affordable meals delivered to them.
13. Shoutout – A customer engagement platform to collect customer data, segment them and send targeted content to improve engagement.
14. Travellers' Conquest – An activity-based real life travel game
15. Local In Your Pocket – An artificial intelligence based human – tech 'guide' to traveling in Sri Lanka, combined with offers from handpicked vendors.
16. Team Mytuition – A simple, efficient and interactive learning platform for anyone to learn anything at any time.
17. Meal Rides – An on-demand food delivery business, powered by a suite of mobile and web apps that connects consumers, restaurants, and delivery riders.
18. Senzagro – Sensor-based precision agriculture solution
19. Helios – Peer-to-peer lending, leveraging blockchain technology.
20. Park & Pay – An app you can use to find a parking slot and pay through your mobile phone.
What's Next
On the August 15, all the shortlisted teams met up to network, be introduced to their mentors and hear what they have in store over the next quarter.
For the next three months, the teams will attend weekly meetups, progress review meetings, and webinars with experts who will train them on startup methodologies. They will also go through finance and legal workshops, hackathons, mentor sessions, and pitch sessions to improve their business sense and fine-tune their interpersonal skills.
The teams will have access to a curriculum based on the Disciplined Entrepreneurship methodology created by Bill Aulet at MIT Sloan. This curriculum will train the teams to think and act like entrepreneurs.
On Demo Day, the teams will present their MVP for a chance to win entry into the JKX accelerator programme. The programme provides a wide range of advantages to these startups, including seed funding, a growth marketing curriculum, senior mentorship, access to JKH services, office space, and above all, a platform to accelerate their growth by aligning themselves with John Keells Holdings.
Stay tuned to the JKX Facebook page for updates.