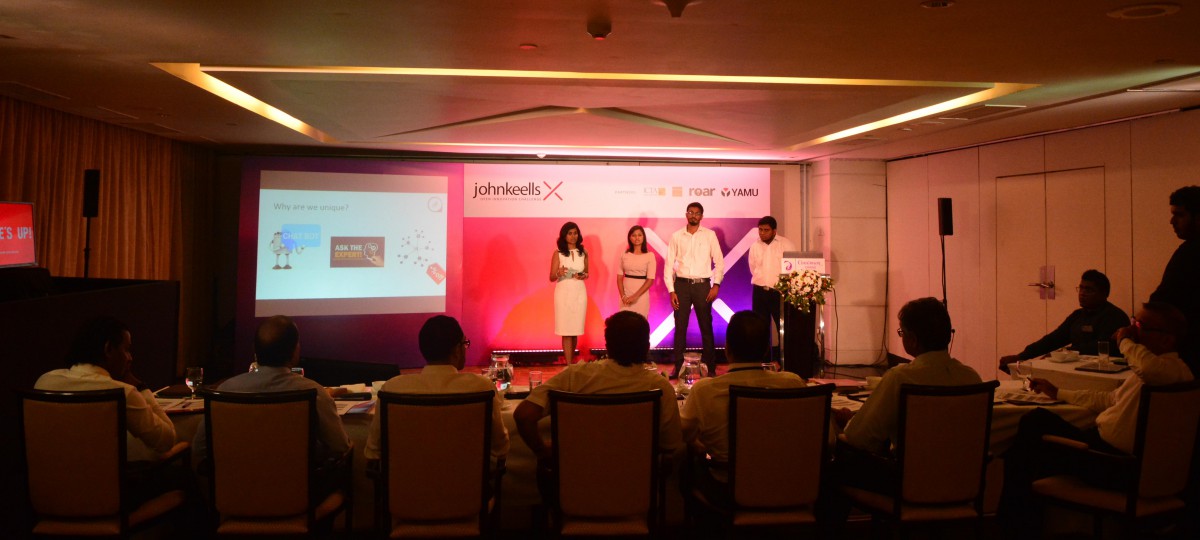 It's been six months since applications opened for the John Keells Open Innovation Challenge. Since then, organizers have had to sort through a flood of applications, assign mentors, and short list the best teams for the programme and competition ahead. The teams themselves then went through training that taught them to be better at business, finance, and entrepreneurship. The shortlisted teams not only learned how to build better products, but also better companies, with training on matters related to the legal aspects of building a company, its finances, marketing, and growth.
On Demo Day, which was held on the November 13, the shortlisted teams presented their final pitches and products to a team of judges. The judges had to decide which teams would win, of which up to seven teams could win an initial seed round investment of Rs. 2 million.
The result of several months of hard work on their products and on themselves was evident, as by Demo Day teams had sharpened up their presentations, refined their pitches, tightened their business models, and were a whole lot more confident that when they'd first begun. Whatever the result of the competition, each team had come through with a whole new set of skills.
The Finalists
By the 13th of November, seventeen teams had made it through the programme to pitch the judges their final product.
Direct Pay – Direct Pay is an electronic payment product that provides an alternative to cash and POS machines. Customers can use their app to pay for transactions.
Eat Fit – Eat Fit is a healthy lifestyle app that allows users to select healthy meals, have it prepared in custom kitchens and then delivered to their doorstep.
Team AD – Team AD created a platform that allows users to choose any service (such as home repair, for instance) and have it delivered to their door.
Vyral – Vyral is a local-first social platform that allows you to find out what's happening around you, by connecting with the local community.
SenzAgro – SenzAgro develops IoT systems for agriculture, using sensors and cloud-based technology to monitor and control irrigation.
Helios – Helios aims to create a peer-to-peer lending platform.
Direct 2 Door – Direct 2 Door is a household concierge platform aiming to make grocery shopping much easier.
Local In Your Pocket – An AI based guide that travellers can use to get more localized information while traveling.
MyTuition.lk – MyTuition.lk provides a more efficient platform for students to learn online.
Ready – Ready is a centralised hub for mobile, cashless payments.
Park & Pay – Park & Pay allows you to find and pay for a parking spot through a mobile app.
ShoutOut – ShoutOut is a customer engagement platform that allows for segmenting and targeting customers through a variety of channels.
Urbandine – Urbandine connects restaurants with diners, allowing for easy reservations and targeted campaigns.
Grease Monkey – Grease Monkey is an ecommerce platform for automotive products and services.
iLoan – iLoan is a borrower-driven, online loan aggregator.
Adora.lk – Adora.lk would allow users to order clothes online, while allowing users to check the fitting through a virtual reality system.
Meal Rides – Meal Rides is an on-demand meal delivery service and app.
The Winning Teams
Of the teams that made it to Demo Day, six made it through, winning Rs. 2 million in investment. Here they are, in no particular order:
iLoan
MyTuition.lk
Grease Monkey
SenzAgro
Helios
Direct Pay
While the competition may have ended, that's not it for the teams. The winning teams also get office space, access to JKH companies and channels, as well as further mentorship and training. As the teams grow their products and build their companies, they have the opportunity to raise upto Rs. 50 million in further funding at the Investor Pitch next April.
Roar congratulates the winning teams of the JKX Open Innovation Challenge, and wishes them the best in the months ahead.