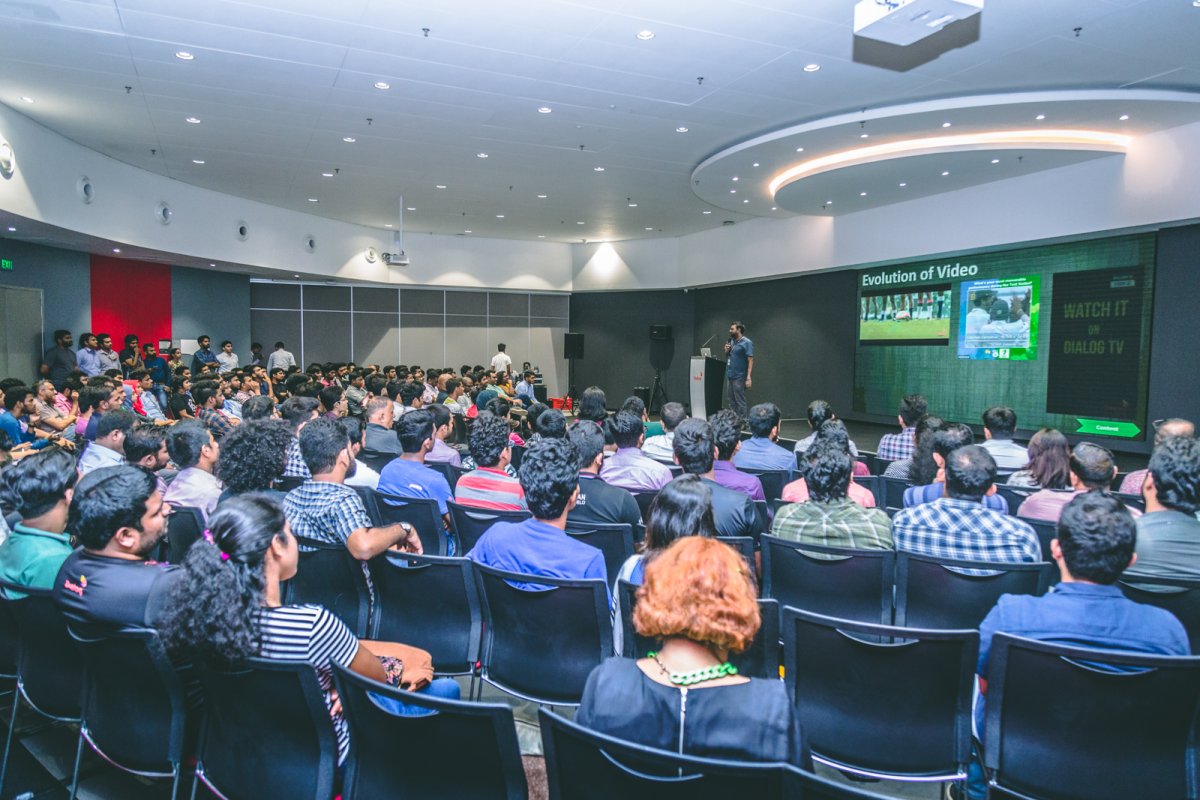 The 12th edition of Dialog's tech and social media meetup, #ngage, happened on Tuesday the 24th and featured an exciting panel of speakers and a packed auditorium full of content creators, techies, and industry enthusiasts.
The speakers for #ngage 12.0 were:
Mustafa Kassim, Founder and CEO of Roar Media who spoke on "New Age Vernacular Content", Milinda Tillekeratne, Senior Manager – Online, Dialog Axiata who spoke on "Behind the scenes of a Social Media Campaign",and Anuradha Sigera and Adeesha Hewawasam, the Founders of FTT who spoke on "Digital Creative Advertising and Content Creation".
What Goes On Behind A Social Media Campaign?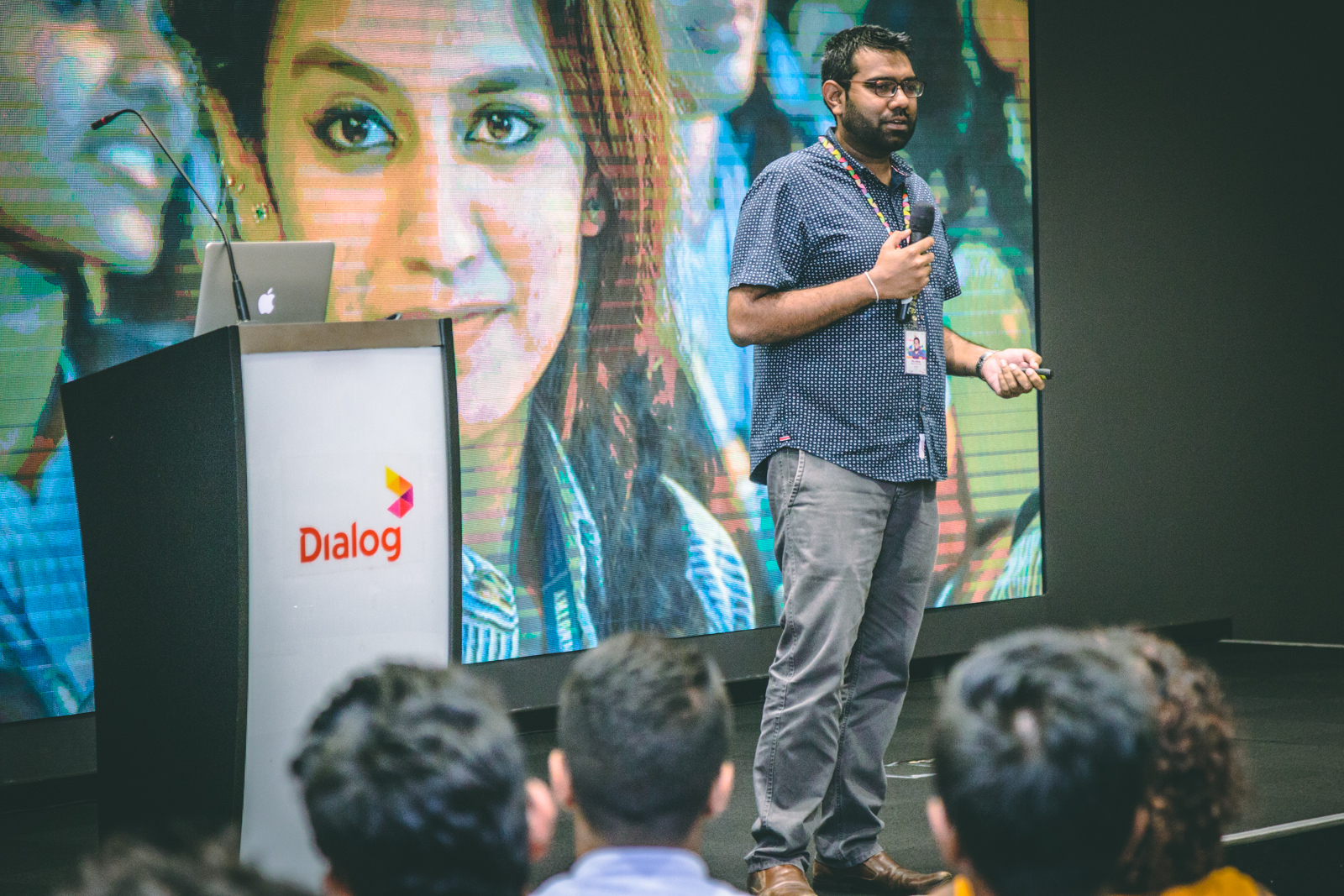 First up was Milinda Tillekeratne who spoke about how a social media campaign comes together. He began with an acronym that many of us are familiar with: S.M.A.R.T. – Specific, Measurable, Achievable, Relevant, and Time Based. He spoke about the importance of specific targets, and that you can't "make" a viral video. You need to think about your targets and plan out your video accordingly.
He also talked about how important research was. He showed the Dialog digital Vesak pandal. Instead of just using a graphic artist and putting some pictures together, his team approached a Buddhist priest and did their due diligence.
Once you've done your research comes the mechanics on the campaign. Milinda described how you need to simplify your campaign for your customers interact with you. He showed examples of promotional campaigns that ask consumers to comment, tag several other people, subscribe and so on. These campaigns ask so much of the audience that they switch off. He also spoke about how Dialog launched an app for the FIFA World Cup but that the audience simply commented their answers on the facebook post itself. It shows how making interactions simpler is better.
You also need to choose which platform to launch your content on. With video, each social media platform is good with a different kind of video. Long videos with a widescreen aspect ratio are great for Youtube, while short videos with a 1:1 aspect ratio are best on Facebook. Tall videos with a vertical orientation are a new phenomena that is used on IGTV on Instagram. Milinda also spoke about how important it was to reach "seeders". People who would propagate your content further.
Roaring Good Content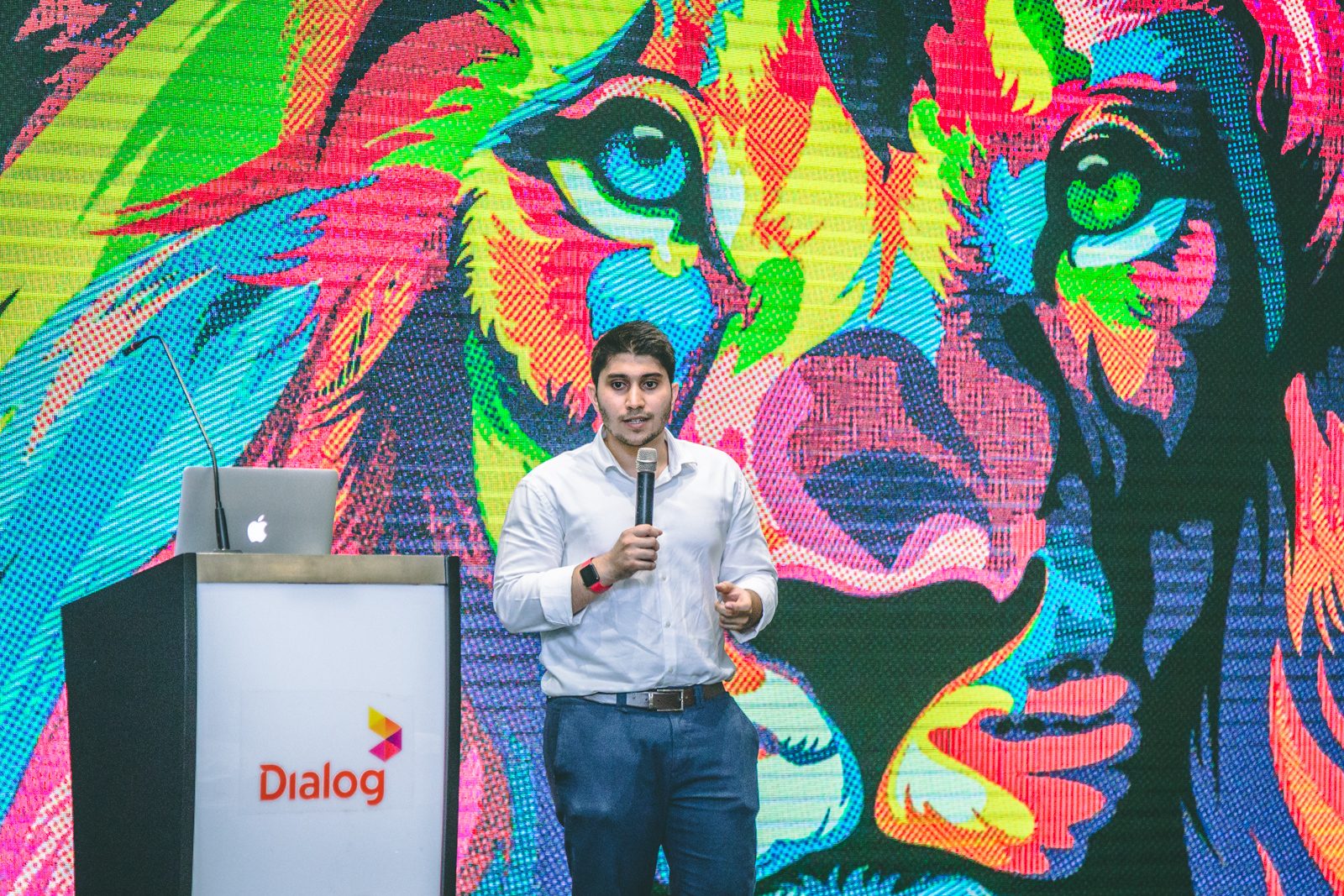 Next up was Mustafa Kassim, CEO and founder of Roar Media. He began with a recounting of the story of Roar, and How he realised in 2014, as he graduated from studying Economics in the United States, that there was a gap in online information for Sri Lankans. The Lankan web was dominated by news and gossip sites with no one addressing the lack of rich infotainment content. Enter Roar Media.
He spoke about how Roar was not a success for several years. The company was running with freelancers and that just wasn't enough. Things started changing after he decided to focus completely on Roar. They revamped the team and at the same time he also realised that Roar was publishing only English content. So they began by translating an English article to Sinhala and the response was so strong that Roar's servers crashed. And so began Roar Sinhala and it soon became became the number one content platform in Sinhala.
"The type of content that works for the vernacular, is infotainment. That's the type of content we do. Essentially the stuff you learn in school, but better packaged," he said.
Roar duplicated this in Bangladesh and met with the same success. This gave them confidence to tackle India. But that wasn't so successful at first.
"We were very bold, and very naive, and got into India. It was bloodshed. We didn't make any profit – India was very difficult for us. One good thing that came out of it was that we were able to learn and optimise," he said.
Now Roar has good numbers, and is a thriving brand in India.
Speaking about content in the region, he said that in 2017 there were 500 million internet users in the region and by 2021 that number will increase to over 1 billion. 90% of those users will not speak English, so it's important that startups use native languages if they want to reach these markets.
Creative Digital Content And Advertising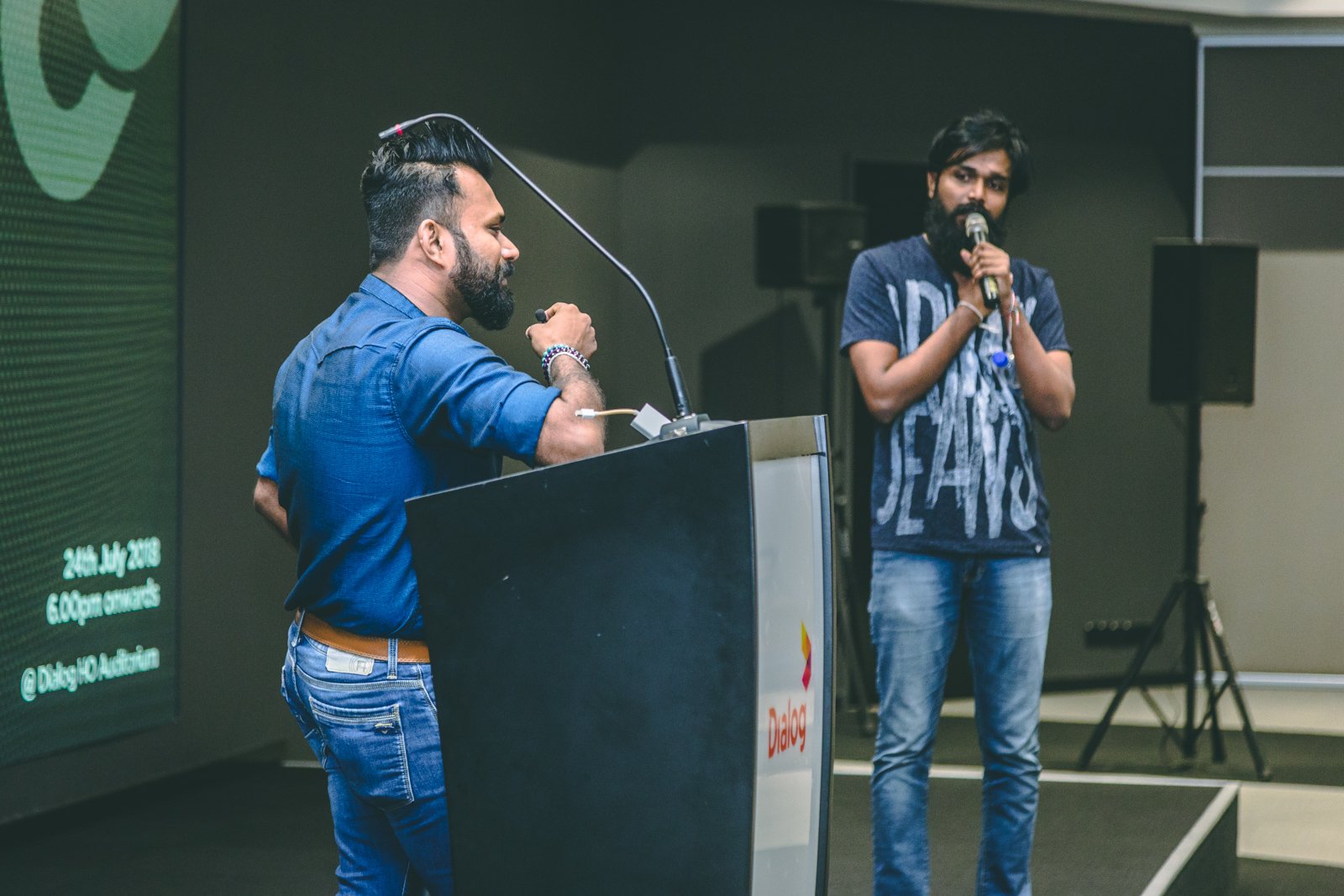 Anuradha Sigera and Adeesha Hewawasam are founders of FTT. A sketch comedy video channel that has been generating millions of views with their content. They began their presentation with a behind-the-scenes look at their popular video "FTT tribute to Sri Lankan Ads". We got a look at all the work that goes into making these impressive videos.
Adeesha went on to say that Sri Lanka needs solid content and a revolution in the digital field. According to him, something that Sri Lanka desperately needs is original, organic, 'streamable' content. Similar to what India achieved with the Netflix series 'Sacred Games'.
When an audience member inquired how streamable content is feasible in Sri Lanka with the data caps on the internet connections, he said that if the content is good enough the audience will think it's worth spending that data and the service providers will have to change their services accordingly.
He also spoke about how the ideal market to tap into is the intersection between the audience that consumes information through television and the audience that consumes information through the internet. He explained how in many countries with a developed internet culture the emerging trend is offering programming simultaneously through television and streaming services to capitalize on both markets.
Adeesha also said that our problem is that we as a country always promote the product, but not a habit that leads to the use of that product. He said that a good example was how he was conditioned to watch movies through his phone even though he prefers watching them in a theatre with a large group of friends.
The segment closed with a very entertaining demonstration by Anuradha on how he used the "Tarzan Bappa" character passed down to him during his stint in radio to create comedic content.
#ngage 12.0 concluded with refreshments and a fellowship session where participants engaged with the presenters. Audience members also took to Twitter to live-tweet their thoughts on the speakers and the event. Follow the hashtag #ngage for more.
All photos courtesy of Nazly Ahmed, Dialog Axiata.