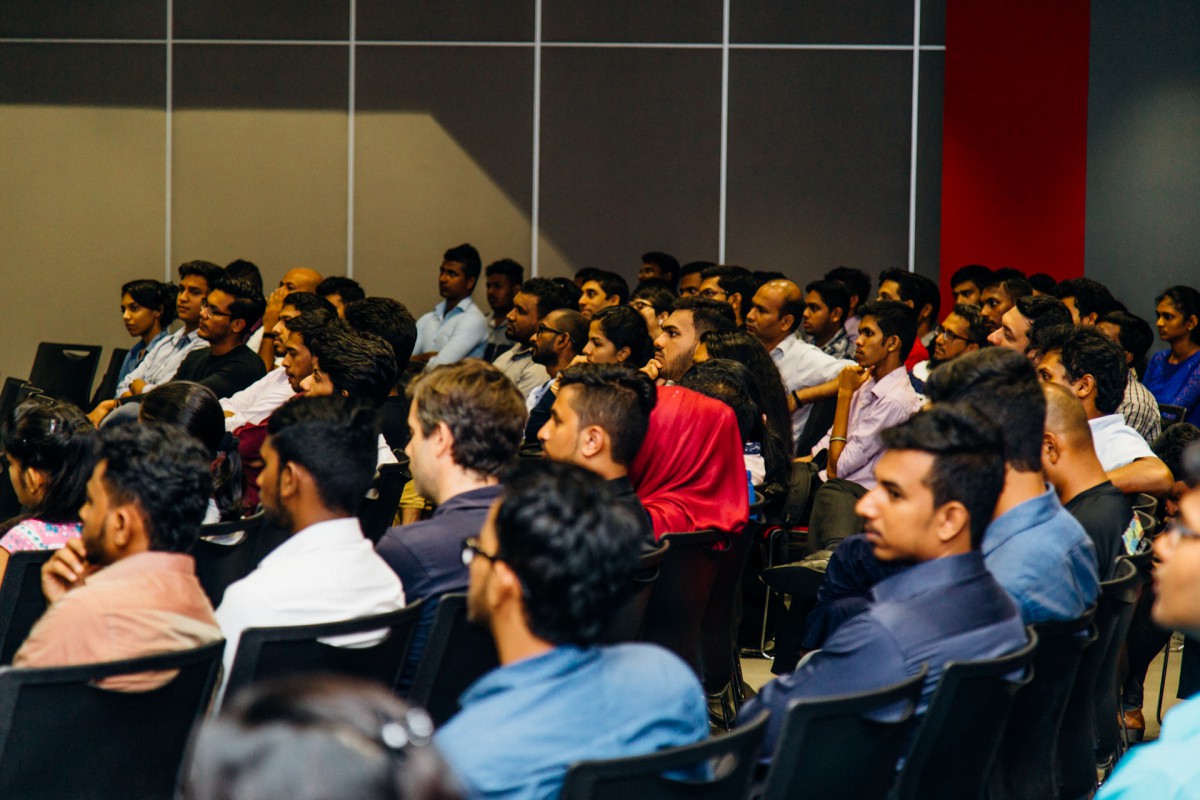 The sixth edition of Dialog Axiata's #ngage tech and social media meetup took place on Thursday (July 26) at Dialog HQ, Colombo, once again attended by a full house of geeks, techies, and startup enthusiasts. This month's installment of #ngage featured four presentations on innovation, Instagram aesthetic, fighting dengue with an app, and social media as a tool for social good.
Curiosity Of Design
Opening the presentations, CEO of Innovation Quotient (IQ) Ahmed Irfan highlighted the importance of empathy when it comes to designing solutions to new and old problems.
"It's not about what you build, it's about how you make people feel," said Irfan.
According to Irfan, many startups fail not because they're built on a bad idea, but because the founders don't really understand the target audience.
"Empathising with the customer will provide a better start for a successful final product," he said.
The process can then be redefined as: Design thinking: Empathy → Define → Ideate → Prototype → Test
"The whole science of design-thinking is to come up with an idea and then prototype," said Irfan.
Referencing the title of his presentation, Irfan said Curiosity of Design is about getting obsessed with a problem.
One needs to obsessively study the problem and gather as much information as possible, he said, adding that the more information one has, the more clarity one will find when setting out to design.
"Empathising and being obsessed with the problem is just the start of one innovation. The process keeps reinventing itself," he said.
"Why converge when you can diverge?"
Entrepreneurs should first walk a mile in the customers' shoes, said Irfan, drawing local examples from the founders of PickMe who, he said, would spend hours talking to three-wheeler drivers at three-wheeler stands.
Identify their problems, really understand those problems, and then see what solutions you can provide, he said.
"Get to the depth of the problem you're now obsessed with, and empathise with your target market," he reiterated.
Fight Dengue With Veta
Manager of Digital Inclusion and Stakeholder Affairs, Group Sustainability, Dialog Axiata, Asith De Silva unveiled a brand new app that could potentially be used to fight the ongoing dengue outbreak.
Dengue has reached epidemic proportions, he said, with over 110,000 reported cases of infection and some 300 deaths.
"Accurate numbers are not available, and doctors are overworked, resulting in low reporting," he said.
"Most of the deaths resulting from dengue were due to a lack of awareness," he added, introducing the Veta app.
According to the app's Twitter bio, Veta is an endeavor to see a world free from vector-borne diseases, such as malaria, dengue, and Zika, which impact billions across our planet.
The idea behind Veta is deceptively simple: it is an effective way to report and discover incidents of vector-borne diseases by providing users—and in some cases entire communities—with access to vital and potentially life-saving information, explained De Silva.
You can download Veta by dialing  #999# on your Dialog mobile or directly from the Google Play Store.
De Silva said that Veta may prove useful in other national disaster situations as well, natural or otherwise.
Visual Communication And Content Creation
Popular Instagrammer Ayshcharya Pinto (@sollakella) educated the audience on how to get more out of their Instagram accounts by utilising hashtags, geo tags, and other native features. More importantly, she highlighted ways in which Instagram could be used to promote tourism in Sri Lanka.
"You need to put effort into what you post on Instagram," she said, emphasising on the need to create your Instagram content around your specific audience.
Drawing from her own experience, Pinto offered advice on how to lay out one's Instagram profile by not posting pictures of similar colour schemes back to back, etc.
As for how Instagram can help promote tourism: "Use hashtags and location tags which help you increase reach for your posts," she said, adding that tourists browsing through those tags may see your pictures and decide to plan their next trip to Sri Lanka.
Ultimately, she said, it boils down to the quality of your content.
"The good thing about social media is that you don't need to go after followers. Followers will come to you if the content is good," she said.
Beyond Cute Cat Memes
Well-known youth activist and founder of Hashtag Generation, Senel Wanniarachchi, who introduced himself as "I'm what some people call a social justice warrior" offered an insightful look into internet activism and the power of the internet that goes beyond meta humour.
"Be responsible about what you share on social media," he said, highlighting the weight that words carry, even on the internet.
Using examples from both Sri Lanka and abroad, Wanniarachchi illustrated the power of social media as a tool for social good.
Recalling his own personal experiences, he recounted how, at the height of Sinhalese-Muslim tensions, he posted a status update on Facebook offering to paint the gates of any Muslim household that had been graffitied with the word 'Sinhale'—a post that went viral and generated much conversation on the importance of communal coexistence.
However, internet activists also need to consider the large number of people who have yet to get online.
He said, "25% of the Sri Lankan population has access to the internet. That means 75% of the country is in the dark." According to Wanniarachchi, at a recent workshop on online safety conducted by his organisation in a classroom of about 50 students, only six raised their hand when asked if they knew what the internet was.
"There are people who are not online, you have to [take into account] them, too," he said.
#ngage 6.0 concluded with a refreshments and fellowship session where participants got to mingle and engage with the presenters on a personal level. Audience members also took to Twitter to live-tweet their thoughts on the speakers and the event overall. Follow the hashtag #ngage for more.
Dialog is Sri Lanka's No.1 Brand on Facebook (1.9 million Fans), Twitter (290K followers) and Viber Public Chat (280K followers) making it the largest and most popular brand online. Dialog was awarded the Most Connected Brand by LMD, in a digital study conducted by TNS Lanka.
All images courtesy Nazly Ahmed