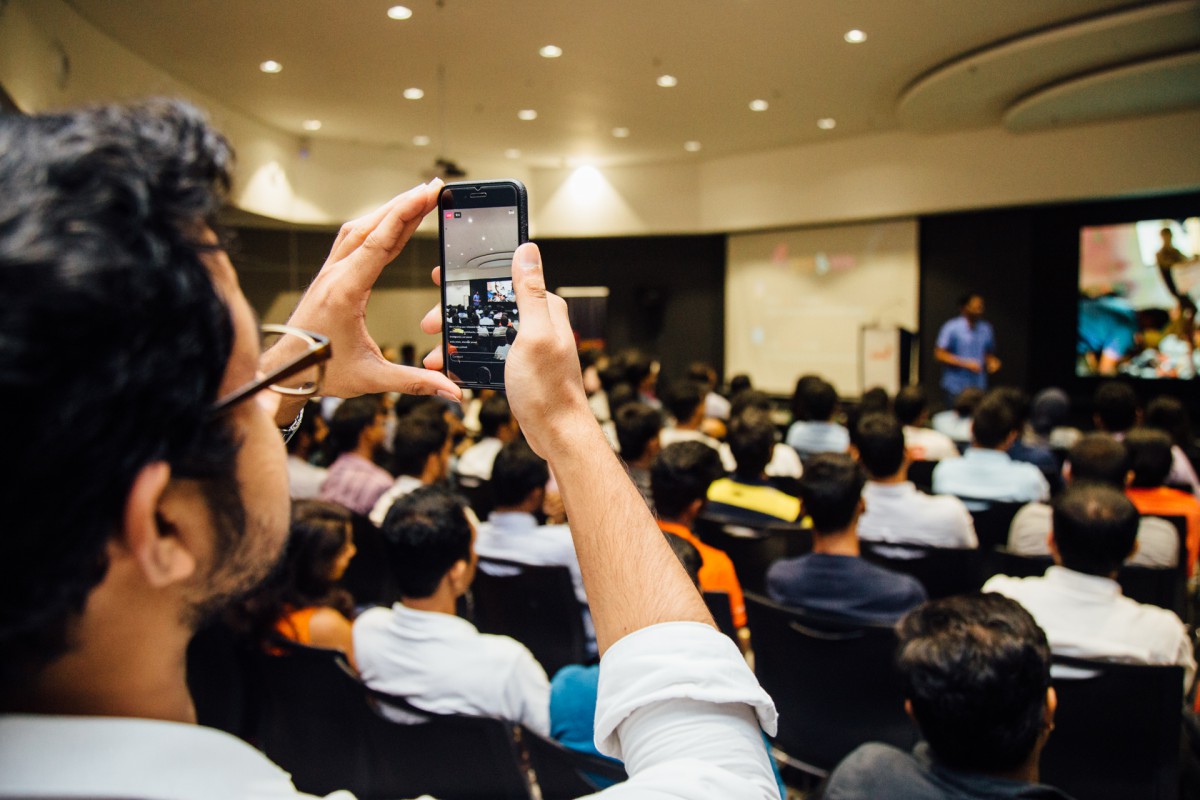 The 7th phase of Dialog's #ngage tech and social media meet happened on the 27th of September at the Dialog HQ in Colombo. A full house of tech, language and innovation enthusiasts came to hear three presentations on being relevant in the digital age, engaging with a foreign language, and how to be a Sri Lankan author focusing on publishing internationally.
"Being Relevant in the Age of the Inevitable"
First up was Isura Silva, General Manager of Sarvodaya Fusion, who spoke on the tragedy of Sri Lankan education through his 12 years of experience as a social entrepreneur.
He spoke on how he was invited by Microsoft to participate in a workshop in Seattle. Instead of the technology immersion that he was expecting, the participants from all over South East Asia were forced to leave their phones in a basket and simply have open conversations without even a slide show being used for 10 days. They got a lot more work done without distraction because they were unplugged. They were shown smart home technology and how Microsoft employees and their NGO partners in the US were hacking solutions for problems using machine learning and artificial intelligence, which he had little knowledge of.
Isura then spoke of how the rural schoolchildren he encounters during his work in career guidance workshops always have the same ambitions of being a doctor, engineer, or they simply say what the previous girl or boy said, but they have little knowledge of what is required for these occupations.
"[School is a factory that] you're going to from grade 1 to 12 and your specific skills are not being recognised by the system." Isura said.
He made the point that even with smartphones these children do not know the opportunities that are available to them. But when they do have the opportunities, they make the most of them. He spoke about a team they worked with from Udubaddaawa Nenasala that beat other teams from Sri Lanka and around the world in a code relay.
"That gave them confidence that with new technology the education field is flat."
He also spoke of what a waste it is that many girls stop utilising the education that earned as soon as they get married. How many young people in rural areas are looking for government jobs simply because they are planning for their pension upon retirement. How this culture that we have created is damaging for innovation in the country.
"Would you give the same respect to a technician that you would give to a software engineer?" he asked. Isura mentioned how a friend of his in school failed maths in school. But he was very skilled in auto mechanics even back then. He followed his passion, studied in Japan and now he's in demand in Japan and Dubai because he's an expert in software-hardware integration.
Isura also gave an example of a workshop his organisation conducted for rural children. Although they initially said they did not use mobile phones, they admitted they used Whatsapp, Viber and other forms of communication with their friends. Once the workshop was completed, they started a facebook page called Nena Shakthi and starting sharing information on their own, without any social media training.
"If someone says Sri Lankans don't know how to make use of technology, it's wrong. They do. But the problem is what they are using it for."
Isura ended the presentation by coming full circle to his time in Seattle. He explained how he used his mobile phone to learn about the subjects that he was unaware of in Seattle, and became an example on how to use technology for learning.
Lost in Translation
Aysha Maryam Cassim was the second speaker. As a teacher, translator and writer she spoke on the art of translations.
Aysha spoke on how emoting in a different language is difficult because it requires context. To be a good translator you need to be able to decode all the nuances. She explained how the phrase "pulling the leg" means two different things in English and Sinhala. The cultural context is important for the correct meaning to be communicated. This is why services like Google translate and other text to speech converters do not give accurate translations most of the time. It's because they lack the cultural context.
Another reason many translations fail is that many translators use big words instead of communicating succinctly. This is not only between languages, but also business and marketing jargon which are good examples of failed communication in the same language.
She spoke of how we learn foreign languages through pop culture. A good example of this is how many learn Spanish words from songs like Despacito and dramas like Netflix's "Narcos". We are also familiar with words such as pizza and mozzarella now because of how popular these foods are.
She would recommend to her students to follow a youtuber or a youtube channel in the language that they are trying to learn, adding that reading the comments on these videos is also a great way to learn common phrases. She herself improved her French skills by making friends with native speakers across social media.
"You don't have to physically cross borders and spend months there to immerse yourself in that culture with all the facilities that we have now," she said.
Being a Sri Lankan author in an International World
The last speaker was Yudhanjaya Wijeratne. He a big data researcher at Lirneasia andthe author of two novels; The Slow Sad Suicide of Rohan Wijeratne and Numbercaste.
Both novels are self published on Amazon's direct publishing service. The Slow Sad Suicide reached the number position on several of Amazon's best selling charts. Yudhanjaya said he found ways to circumvent the conventional publishing system, where writers often wait months to hear back from publishers, to a quicker way of publishing his manuscript.
Yudhanjaya spoke of how he had a difficult childhood, his first jobs, and how he kept working on his manuscripts and on his blog, icaruswept.com through all that. When he joined WSO2 and worked alongside the data science teams, it sparked in him a latent interest in data science. He spoke of how he started learning data science virtually through Coursera and gained the knowledge he needed to write Numbercaste. He then found that he had the time and knowledge, and had trained himself to churn out words through years of blogging and writing.
He broke down the sixty to eighty thousand words that would make up novel into a weekly target. He could write four thousand words a week and so he estimated a completion date for the draft. Then added the time he needed to learn editing, and to do a second draft of the novel and arrived at a tentative date of December 2016. By this point he had spent 2 years on this novel.
The publishers he reached out were not very receptive. One said that they will get back to him in six months. Another asked why he hadn't written in Sinhala. Yudhanjaya said that at that point he felt he was not going to waste time waiting for publishers, that it was a broken system that wasted time, and was ripe for disruption. He turned to Amazon publishing. Amazon's Kindle Direct Publishing service allows authors to upload a digital manuscript and publish it as ebooks and paper books. The catch is that the author has to do his own editing, cover design, marketing and so on.
For these things Yudhanjaya arrived at a semi crowdsourcing system. Instead of using a professional cover design, he created several variations of a cover himself. Then, after posting them on facebook, he asked for opinions on those covers. He then selected the best received features from each and created a composite of them to create the final cover image.
Yudanjaya further said that no one is a born an expert, and how you can be an expert in anything is if you put 10000 hours of work into it. He spoke of the time he met Sri Lankan Youtuber Kalumalli after his presentation at #ngage and how Kalumalli said that people only see the success but not the years of effort behind it."If you want to write a book, you write a hundred words a day, and you write for a thousand days you end up with a large fantasy epic and that's still faster than Arundhati Roy's writing." he said.
Yudanjaya discovered that most of the world's successful writers treat writing as work. They consistently keep churning out words, and commit to putting out one or two books a year on schedule.
He also said that marketing is about 60% of the success of a book. When it came to his own work, he looked up what the best selling 500 authors were doing to sell their books. They use aggregators, they use mailing lists, they use services like digital billboards to promote their work. But the hard part as an author is marketing in such a way that seems genuine and does not make you look like a sellout. Yudhanjaya instead started sharing snippets of his novel on Facebook over the time that he was writing it. That built up an audience that wanted to buy his book when it was eventually published.
His advice was to keep trying. If you try a little every day, it adds up in the end.
"It doesn't matter who you're running against, all that matter is whether you are even 1% better than who you were yesterday," he said
#ngage 7.0 ended with a refreshments and meet-and-greet session where participants got to engage with each other and the presenters face to face. Audience members also live-tweeted their thoughts during the event, and you can follow the hashtag #ngage for more.