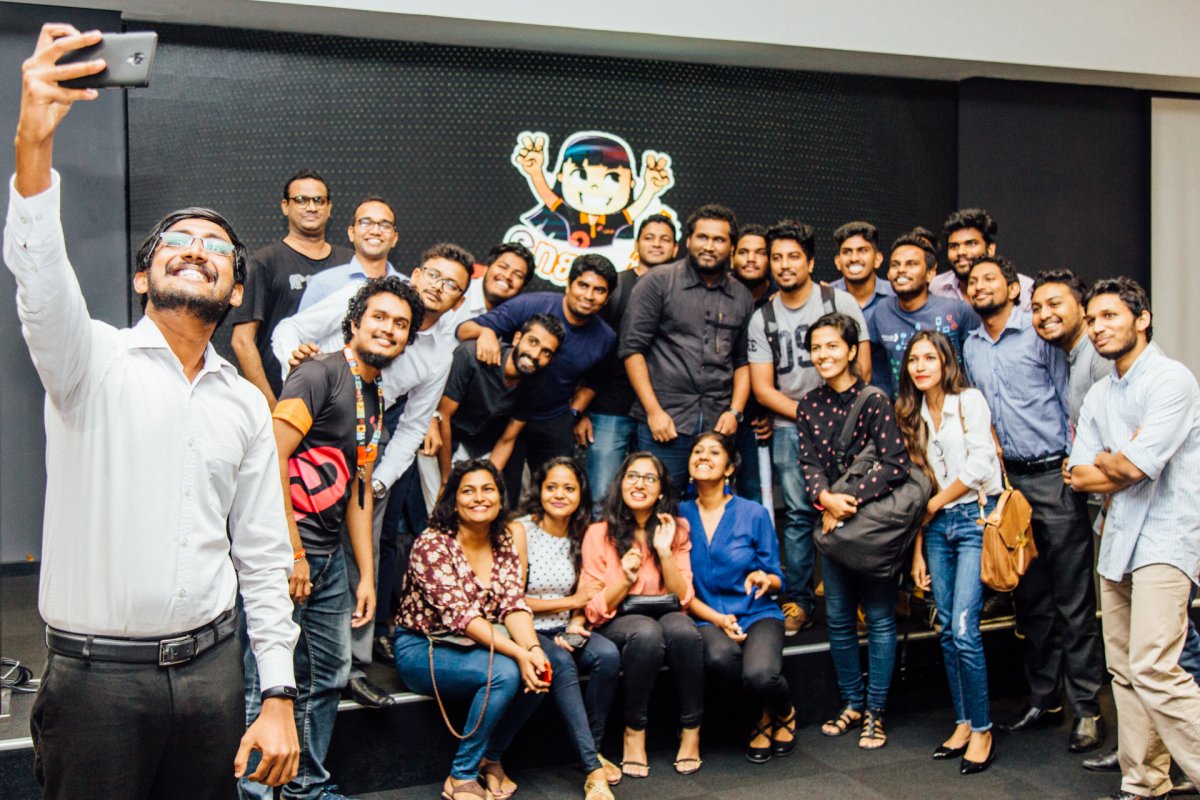 Techies, innovators, internet buffs, and people from many other walks of life came to the Dialog Axiata Auditorium for #ngage 8.0. The #ngage event themes itself as "a free and open forum of tech and social media enthusiasts from all walks of life that come together to share knowledge, exchange ideas, and discuss emerging trends in technology and the internet."
This month's edition of #ngage featured talks on Innovation, leveraging your Instagram into a productive money spinner, and youth awareness.
Innovating for the Future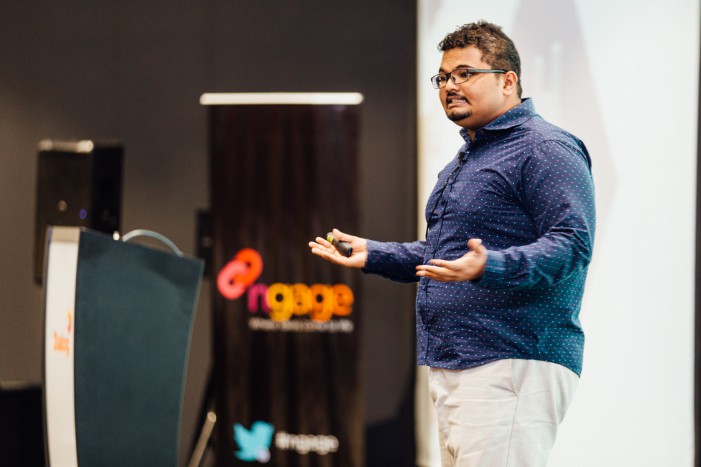 First up was Jehan Wijesinghe of IgniterSpace. Wijesinghe spoke on learning and how you should capitalise on learnability. Which is something that we haven't done in Sri Lanka, he stated. As CEO of IgniterSpace, he said they look at teaching kids how to solve real-world problems and come up with innovations. They are trying to solve the problem with Sri Lanka's outdated education system where students are fed knowledge and tested for compliance instead of being encouraged to be creative on their own.
He said that in our education system we have an idea that we need to gather knowledge, when in fact we should be fostering our 'learnability'. Learnability is the ability to acquire knowledge efficiently and effectively. He quoted the famous saying, "If you give a man a fish you feed him for a day, if you teach a man to fish you feed him for a lifetime."
Then he spoke about skillfulness. In his professional experience, the differentiating factor between a great career and a mediocre career is skillfulness. Not knowledge. You may know everything about football but for you to be good at playing the game you need to get out there and practice it.
How do you develop these skills? One was by exposing yourself to different domains. In whatever industry that you are in, expose yourself to every skill domain that relates to your field. You also need to constantly challenge yourself, never settling for the status quo. it's wrong that we try to shape ourselves according to social norms, he stated. This trait is there in our education system and that is why we don't see innovation.
"Always understand. Always put yourself in the shoes of someone and try to understand their problem."
Instagram through her eyes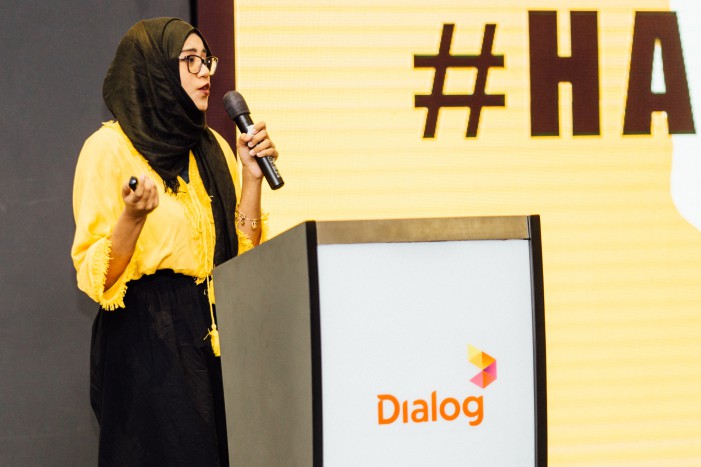 Zainab Faisal is a popular blogger and Instagrammer who was here to speak about turning your Instagram into something productive.
She started off by saying that you can actually make money through Instagram and introduced some statistics. In a survey of 5000 Instagram "influencers," 42% said they charged $200 to $400 per post. According to Forbes an Instagram user with 100000 followers can charge $5000 for a post made in partnership with a brand or company. In the current market, an Instagrammer can charge $10 per 1000 followers in an engaged community. But how do you engage with this audience?
She further said, "people like to be inspired when they get on Instagram." So it's good to post things that are inspiring [and] that are relatable to you. That's a good thing." Giveaways are something that can achieve that. You might not be able to give away an iPhone X, but you can give away something else.
if you want people to notice your picture, tags are important. If you are wearing something branded you should tag that brand in your picture. People can find your post when they search for that brand. If you convert your normal profile to a business profile it will give you more information on who viewed your account.
"If you are really looking forward to building your name on Instagram, you have to say goodbye to your private life," she said. Depending on what you post, people are going to follow you because they look up to you as an influencer. Always use the platform to be humble and support good causes.
Are YOUth Aware?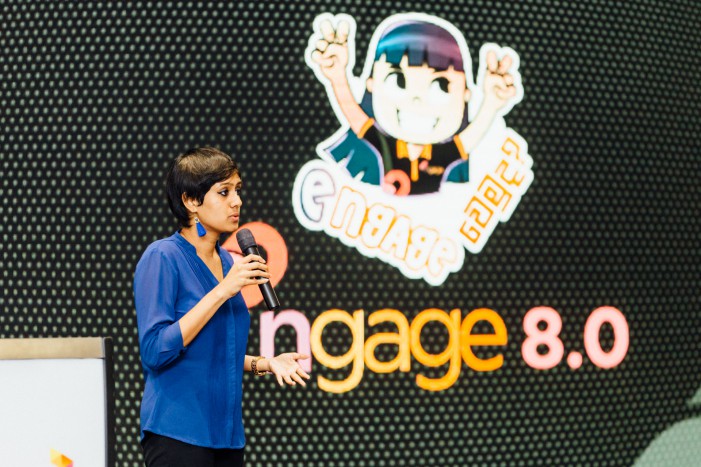 The next speaker was Sheshadri Kottearachchi. She is the communications director for Oxfam and was the Youth Delegate for Sri Lanka at the United Nations.
She spoke on how at her first job interview the panel asked to see her online activity, and then how she never heard from them again. The panel believed that the information she shared online would misrepresent the powerful organisation. She said that this showed the power all of us have to make a difference.
"It's very easy for all of us to go up there and give an opinion. But that doesn't necessarily make us an activist, that makes us an advocate." Yet people like the ones on that interview panel thought that merely sharing opinion made one an activist.
Sri Lanka has a growing number of people and it's not just about Colombo, she said. Her organisation is looking into social media to contact people in more rural areas. She expects the entire island to be connected as well as Colombo soon because of the rapid growth of smartphones. There are 4.4 million people under the age of 30 in Sri Lanka that can make a difference.
She also said that it's great that platforms like #ngage exist but it's all meaningless if no one in the audience left #ngage uninspired, without realising their potential as the young people in this country. One way to make a significant change, not only in Sri Lanka but globally, is through the power of social media. You can't deny the fact that it's a powerful tool.
"Social media is a reflection of who we are as a community. Remember that the next time you say Facebook ruined my life or that you have a Twitter addiction. That is a reflection of who you are, and that is how great the responsibility is."
Mashing up The Shape of You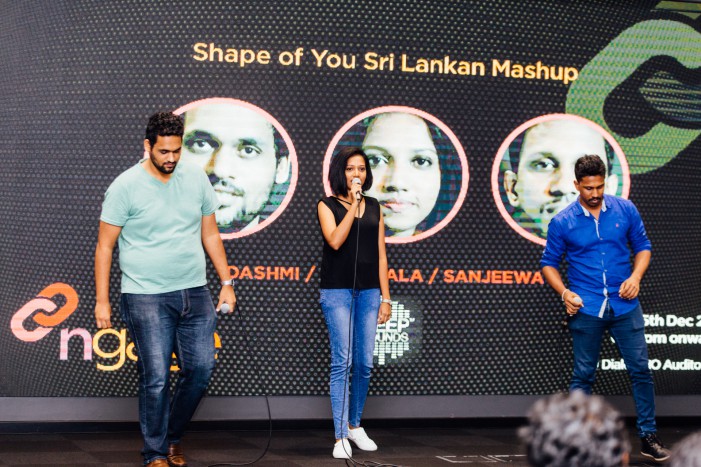 The evening ended with a live performance of the viral smash "Shape of You Sri Lankan Mashup" by Dashmi, Panchala, and Sanjeewa a.k.a Deep Sounds. At the time the video received around 2 million views on Facebook and nearly 450000 views on Youtube.
#ngage 8.0 ended with a refreshments and networking session where participants got to meet and engage with the presenters. You can see reactions from the audience members on Twitter and Instagram through the hashtag #ngage.
Images by Nazly Ahmed